At No 1 on Guitar World's list of "Ten Female Guitarists You Should Know" is Nita Strauss. She's recently become known to many as the new guitarist in the Alice Cooper Band, but many will have been aware of her work with bands such as Femme Fatale and the Iron Maidens before that.
I spoke to Nita via Skype on 26th September to talk about working with Alice Cooper, her previous work, future plans and a few other things.
The interview was broadcast on the Friday NI Rocks Show on 3rd October but is now available from our MixCloud page - http://www.mixcloud.com/NIRocks/nita-strauss-interview-on-the-friday-ni-rocks-show-3rd-oct-2014/
The Show also features tracks from Alice Cooper, Femme Fatale and Iron Maiden as well as a few more. The interview has been transcribed below.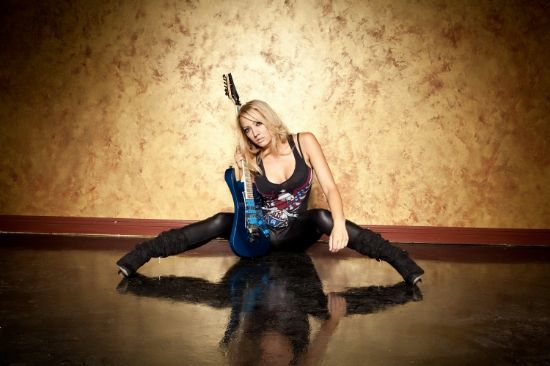 Previous interviews with current Alice Cooper Band members Ryan Roxie and Chuck Garric can be found on the website, along with one with former member Orianthi. http://www.rockradioni.co.uk/interviews.html
Find out more about Nita at http://nitastrauss.com/
NI ROCKS – Thanks for taking some time to answer a few questions for Rock Radio NI. 2014 has been a fairly amazing year for you. Nine months ago could you have had any inkling of what was to come?
NITA – You know, I've always kinda thought that something like this was going to happen, or at least you know, as a guitar player you've gotta keep your eye on the prize and keep focused. I guess I had some inkling of what was to come, but I could never dream that it'd be as amazing as it is now.
NI ROCKS – How was the connection made with Alice Cooper? Did his people approach you or were there mutual acquaintances or how did it come about?
NITA – It was through mutual acquaintances, through a former band member of his who heard he was looking for a female guitar player when Orianthi left the band. I think they were happy with the dynamic of the band, with three guitars and a female band member, so one of his former band members made the connection and I met Shep Gordon and Bob Ezrin, who are of course his long time manager and producer. We met in LA and got along famously. They sent me some songs to learn and then all of a sudden the next thing I knew I was on a plane heading to Michigan for rehearsals.
NI ROCKS – Excellent. That doesn't happen every day!
NITA – It certainly doesn't! (laughs).
NI ROCKS – I've read interviews in which you say that you were kinda used to the theatrical side of Alice's stage show from your time with the Iron Maidens. How would you describe the actual experience of an Alice Cooper show?
NITA – There's definitely a lot going on. There's a lot going on visually and a lot going on musically. You definitely as a guitar player in a three guitar line-up have to be mindful of what you're playing, not to make extra string noise and stuff like that. You really have to be mindful of what everyone else is playing and also where everybody else is on stage. There's a lot of people on that stage and a lot of props. Pretty sharp swords and guillotines! I know Tommy got cut by the sword once. There's a lot going on for sure! There's a lot going on from the audience perspective, but there's even more going on from the musicians perspective.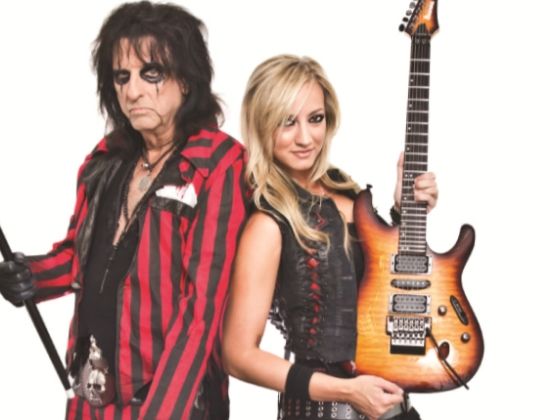 NI ROCKS – You're heading back out on tour with Alice and Motley Crue shortly. Have you confirmation that you'll be part of the band beyond those dates. We're hoping that we might get to see you next time we get Alice across to the UK.
NITA – As far as I know. You know my names on the band members page on his website. I get asked that question a lot. People seem to think that this is a temporary thing! I was never told it was a temporary thing, they said welcome to the band. (laughs)
NI ROCKS – Do you know are there any plans to bring the band over to the UK?
NITA – I hope so, I really hope so. I haven't played in the UK since 2009 I think so I'm long overdue a trip back.
NI ROCKS – I've managed to interview three other current or past members of the Alice Cooper Band this year. All have mentioned Alice's commitment to the performance and giving the fans 100%. How would you describe working with him?
NITA – Absolutely. Alice is a true professional, true performer in every sense of the word. The man is a legend. I have never seen him have a bad show and that's the honest truth. Like you said, he always gives everything he's got. He leaves it all on stage. Even off stage, he's really amazing with his fans. He's definitely passionate about what he does and is really amazing with the fans; even if someone interrupts him when he is having a meal or is busy with his wife Sheryl who's on the tour with us, he always takes time to greet the fans, take pictures, answer questions and re-enact the "Wayne's World" scene where they say "we're not worthy" (laughs). He always takes time for everybody.
NI ROCKS – On tour you've committed quite a bit of time to Ryan Roxie's "International Rock n Roll Parking Lot". That just looks like such a fantastic idea, giving fans the opportunity to meet members of the band. Are you hoping to continue that for the next part of the tour?
NITA –  Absolutely. I think Ryan has been doing the Rock N Roll Parking Lot for years, and for a long time it was just him doing it alone and when I found out about it, I'm not one to get left out of a party so I went along. Fans want to meet you. I felt it was important as the new member of the band, replacing someone who was very well loved by the fans to get out there and meet everybody, shake some hands and tell everybody how happy I was to be there. And hopefully they're happy to have me there too. Then it really evolved into this really fun thing. You're able to put merchandise of ours separately from anything at the merch stand. On the next run of the tour I'll have my t-shirts and stuff that everybody will be able to buy. It's a really great time, though every once in a while there's someone who ruins it for everybody else.
NI ROCKS – Yeah, we all know those type. I've seen some of your merchandise. You've a pendant / chain that I quite liked! It's pretty cool.
NITA – Yeah that's true. Actually, I'm supposed to be getting those in on Monday. A big shipment of them and I'm really excited about it.
NI ROCKS – How many guitars would you take on the Alice Cooper tour and are there a couple of favourites that you like to play?
NITA – I take four and it's not enough (laughs). I love every one of my guitars like a child and I wish I could take them all, so it's always a battle thinking which one am I going to bring on tour. Unfortunately, there's just not space. Especially on a tour like this one where we're in a support slot for Motley Crue there's just not room on stage to have a huge vault of guitars. So you pick and choose. My favourite, my go-too has always been my red Ibanez RGT. As soon as I got that one it's been my go-too. That's the one I play during my guitar solo. Then I use a black (Ibanez) S5470, I think demon shadow is the finish. It's a really beautiful glossy black top. I use it for most of the set. Then on "Feed My Frankenstein" I use another RG with a custom finish by a company called Rockstar Trendz (https://www.facebook.com/RockstarTrendz). It has a really cool finish with a Frankenstein or zombie looking hand kinda clawing at the guitar and where the guitar finish is ripped open you see a heart, like the guitar is alive. I asked then to do something like that and they definitely went above and beyond. It's the same company that did my Ninja Turtles guitar so I knew they were going to do a great job.
NI ROCKS – How many guitars do you own, or have you lost count?
NITA – I've totally lost count! (laughs). My main ones that I keep readily available at the house, I probably have about six. But then there are a lot that are actually in my Mum's house. She's nearby and is kind enough to store them for me so that they don't have to be put in a garage some place.
NI ROCKS – A lot of rock fans will have first noticed you as a guitarist in all girl tribute the Iron Maidens, although you'd toured Europe and Africa in bands prior to that. How did you first hook up with the Iron Maidens and have you missed being out on the road with them? Judging from social media it looks like the tours are a lot of fun.
NITA – They're so much fun. You know playing in the Iron Maidens, you get to play Iron Maiden songs with your best friends! It doesn't get much better than that. It's a great time with them. Courtney Cox the other guitar player is my best friend. We were already friends before we started playing with them and when they lost their guitar player they really needed someone to fill in so my best friend says "will you learn 10 Maiden songs as a favour to me, just play 2 or 3 shows, 10 songs at most maybe 12, play some shows and have some fun". I said "I dunno, I don't want to do a cover band" and she says "no, no it's really fun, just come, have some beers and play some Iron Maiden". You can't really argue with that!
NI ROCKS – Sold! There and then!
NITA – Yeah, sold! Done deal! Then all of a sudden, before I knew it, 40 something songs and three years with tours all over the world. It was a really great time. That band is a lot of fun to play with. A lot of fun on stage and off.
NI ROCKS – Working with the Iron Maidens brought you into contact with Lorraine Lewis and you were drafted into the revamped all girl Femme Fatale line-up in 2013. You're much too young of course to have been aware of Femme Fatale in the late 80s. How aware were you of the band and of their music?
NITA – (Laughs) Yeah, I was definitely aware of the band. Actually it wasn't through the Iron Maidens that I met Lorraine. Lorraine got my contact information from a mutual friend, another guitar player Angela Grant. When she decided to revamp Femme Fatale in 2013 she got us all together, or was it the end of 2012 / beginning of 2013, either way, she wanted to project this really strong confident image of females in rock. So she put together a really awesome all female line-up. The funny thing is when we do festivals sometimes people come up to me and say "so what was it like in 1987 when you guys were on tour?" and I'm like "I had just been born when that album came out" (laughs). But I'd heard them of course, Luc Carl plays them on Hair Nation all the time and on Ozzys Boneyard and I knew their stuff. Lorraine is one of my favourite female vocalists of all time so it was great to work with her.
NI ROCKS – That was actually my next question. Lorraine was good enough to answer a few questions for me earlier this year and she said that she met up with you and Courtney in a Starbucks and that you'd agreed then to work with her then. What has it been like working with Lorraine?
NITA – She's so much fun. Lorraine is such a hard worker. I've been lucky in my career to work with some singers who really give it 110% and they leave everything they have on stage. Lorraine leaves everything she has on stage even in rehearsal! She is always performing. She's a total rock star. Even in the rehearsal room she performing her ass off, kneeling on the floor and singing her heart out and it's really inspirational to work with her. She makes us all work a little bit harder to keep up with her huge energy.
NI ROCKS – It's her birthday today too!
NITA – That's right, I gotta give her a call.
NI ROCKS – She looks great for being 56 I have to say!
NITA – She looks absolutely stunning. I have to say I've seen her in a bathing suit many times and that woman can rock a bathing suit!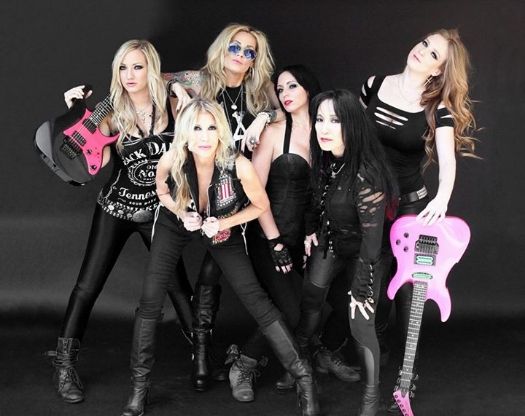 NI ROCKS – Most of the Alice Cooper Band are still able to maintain other music projects when not with Alice. Are you hoping to be able to maintain the links to the Iron Maidens and Femme Fatale and return when you're not on duty with Alice?
NITA – You know, I'll guess we'll see what happens. For now I'm really just focused on doing this tour. When I got the call I only had a few weeks to learn all the material so I was single minded and focused on doing this gig. And I've only been back for a couple of weeks so it wasn't really enough time to jump in and do any gigs. We have a little bit of time off at the end of the year so maybe, we'll see! Right now I'm working on writing my own solo record and going over the Alice set, making sure everything is ready to go in a couple of weeks.
NI ROCKS – That brings me onto my next question! You're pretty active on social media and are great at keeping your fans informed. In your recent updates you've been referring to recording some tracks. What project are they for?
NITA – It's so funny! I should really be posting what these recordings are for. Most of the time when I'm working on sessions its all time secret and hasn't been announced yet, but this one has already been announced and I can talk about it. I sometimes forget that! It's for a band from Italy called Dockers Guild (http://www.dockersguild.com/home). Douglas Docker the keyboard player and band leader has put together a really cool all female line-up of musicians to play on his new album. Myself, a couple of other guitar players, Roxy Petrucci playing drums and Amanda Somerville and Elize Ryd singing. It's a really really cool line-up, the songs are a lot of fun and it's been a lot of fun to record. I actually have to start recording some 12 string today which I've never done in my studio so that'll be fun.
NI ROCKS – You've also been heavily involved in recording tracks for the games industry over the past few years. What is the latest thing that you've been working on?
NITA – That one is actually top secret. I can say that the latest one I've been recording for is a really famous sports franchise, sports game. So that's really exciting for me because I'm a big sports fan. Actually I have a meeting tomorrow morning with a producer and song writer who works on a lot of video games and I think we're going to work on something together as well.
NI ROCKS – I read somewhere that you were a self- taught guitarist, although there were musicians in the family. You've done a few guitar tutorial videos that have been released through the All Axcess website. Do you plan to do more of those and have you ever provided one to one guitar lessons to students?
NITA – Yes, yes and yes! I put myself through high school teaching guitar lessons. Put my self through high school, I say that like I was paying for my high school! All through high school I taught guitar as my job. I haven't done it since high school. I plan, maybe on the next break, to do some Skype lessons or something like that, but definitely for my website http://nitastrauss.com/ and for All Axcess I'll definitely be putting out a lot more instructional videos.
NI ROCKS – Skype seems to have changed quite a bit how people do lessons. I was talking to Dave Rude (Tesla) last year and he said he does a lot of his lessons by Skype. It's widened the access a great deal.
NITA – Yeah, absolutely I think it has. I think I need to take a Skype lesson before I start giving them. As you said I'm totally self taught. I actually took my first guitar lesson of my whole life before the Alice Cooper tour to brush up on some stuff. I found a great teacher in LA and I took my first and only guitar lesson. But apart from that I'm a totally self taught guitar player so I think I should maybe take a Skype guitar lesson and see how other people are doing it. So I'm not like this weird teacher sitting there saying "what do you want to know?" (laughs)
NI ROCKS – Anyone who follow you one social media will know you're a big sports fan.  Getting appointed as in house guitarist for the LA Kiss Arena football team must have been a bit of a dream job? Have you had much contact with Paul and Gene?
NITA – Absolutely a dream job. I haven't had any contact with them since I left for touring. Funnily my last day with LA Kiss was also their last day as they were leaving for the Kiss / Def Leppard tour. But I was at the games with them all the time and of course they had to approve me to do the shows so I met with them a few times and spoke with them a few times. On my last day Paul told me how happy he was for me and said we really hate to lose you but if we have to lose you I'm glad it's to Alice Cooper because it's a great band and of course Eric Singer used to play with Alice. Eric and Tommy were there and they told me some great stories. They're really supportive and great guys.
NI ROCKS – Although you're an LA girl by birth you're a big Seattle Seahawks fan. You must have had a bit of a shock in week two when you lost to San Diego?
NITA – I was in San Diego, right on the side line in the front row for that loss! Thinking "What on earth!"
NI ROCKS – As a sports fan what's your prediction for this year for Seattle and overall?
NITA – I'm going Seahawks – Patriots Superbowl. I think Seattle is going to repeat and it's going to be against the Patriots.
NI ROCKS – Ok. I shouldn't say I'm a Dolphins fan!
NITA – I'm sorry to hear that! (Laughs)
NI ROCKS – Yeah, I know. What can I say!
NI ROCKS – Your musical influences have been well documented, but I wanted to ask a few questions that I usually ask those I interview.
Can you remember the first gig that you went to and first album you bought?
NITA – That's so funny you say that. I actually had this conversation last night. The first gig I ever went to was when I saw Mudhoney here in LA. I saw them because I was just getting into music and I was playing guitar, listening to all kinds of stuff and getting into Nirvana and I saw that Mudhoney was one of Nirvana's big influences and was playing. So I thought if they influenced Nirvana then I'm going to see them. And I think I took a lot away from that as a performer. That band has so much energy on stage. That was the standard of all the energy. Huge huge energy from that band. First album that I ever got must have been "Appetite for Destruction" I think. That was the first one I can remember going to the store and buying.
NI ROCKS – That's a good first one!
NITA – Hey, you know it doesn't get much better than that! (laughs).
NI ROCKS – Fans that follow you on social media will sometimes get to see what you're listening too whilst at the gym, but if we to hit shuffle on your iPod or whatever, what five bands might we find?
NITA – I think I have a couple of hundred bands on there so you'd get a really wide variety. I have a lot of guitar instrumental music. I listen to a lot of Marty Friedman solo albums, Vai, Satriani, Shawn Lane "Powers of Ten". I was in the gym yesterday listening to John Petrucci's solo album. So a lot of guitar instrumental, a lot of really heavy stuff, like heavy technical death metal that I also really like. It would be a great variety if you hit shuffle that's for sure.
NI ROCKS – Are there any new or local bands that you'd recommend our listeners or readers check out?
NITA – My really good friends the Butcher Babies. I know they've played the UK a couple of times and might have plans to go back next year, but they're a great band to check out if you want to see some kick ass live music. And of course, as you mentioned before, all the guys in the Alice Cooper band have amazing side projects – Roxie 77, Tommy is just putting out his solo release, Beasto Blanco which is Chuck's band. Really all amazing bands to check out. I can't recommend them highly enough.
NI ROCKS – Yeah, I think Ryan might have a new Casablanca album coming out soon too.
NITA – I hope so, I really liked the last one. The "AmeriSwede" EP that he put out with Bellyache Records is really so much fun to listen to. It's just a great driving rock album and you don't see a lot of that anymore. A really great straight forward rock n roll album. And Tommy's is very much the same way, very rock ' n' roll and straight forward while Chuck's is more heavy and dirty and makes you just wanna go get a motorcycle and ride it.
NI ROCKS – Do you know if Alice has plans for another studio album? I know he's been working on the cover versions thing.
NITA – Right now he's focused on the covers album. The first time I met him was in the studio when he was working on that and if I may say so it does sound absolutely amazing. He's got some really phenomenal people playing on it. After that who knows.
NI ROCKS – You're not playing on that one?
NITA – Unfortunately not. I came into the picture after all the recording was done.
NI ROCKS – Have you any other plans for the next year or so that you reveal to us yet?
NITA – I've been working on the songs for my first solo album. I'm really really excited about that.
NI ROCKS – Any idea of a release date or title?
NITA – No I gotta finish all the songs first. It's a baby project. I'm just forming the idea in my head and trying to decide if I want it to be all instrumental or have some vocalists. I'm really excited about the concept of adding some vocals, maybe getting some female vocalists, like the girls from the Butcher Babies and maybe get Alissa from Arch Enemy. I know I'm going to ask my friend Tina Guo the cello player to play on it. I just played on her upcoming album so she owes me one, she has to play on my album. It's going to be a really interesting album. I'm really excited to see what it sounds like when all is said and done.
NI ROCKS – Nita, thanks very much for taking the time to talk to us. It's been a real pleasure.
NITA – Thanks for having me, it's been a lot of fun.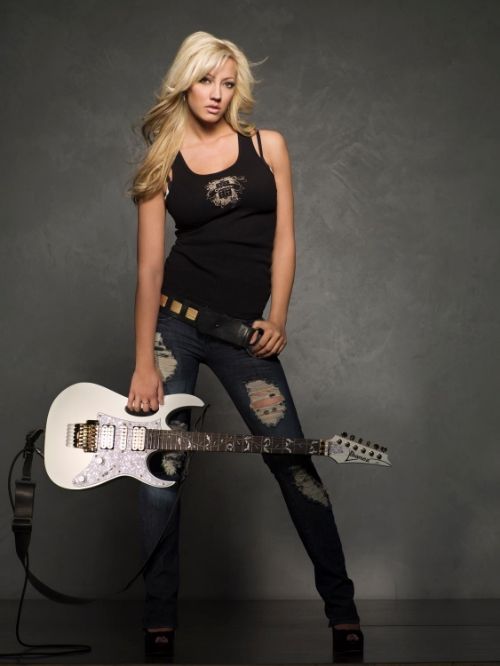 The full playlist for the show is:
MILLION DOLLAR RELOAD – Bullets In The Sky
ALICE COOPER – Hey Stoopid
Nita Strauss Interview Part 1
ALICE COOPER – Feed My Frankenstein
Nita Strauss Interview Part 2
IRON MAIDEN – The Trooper
Nita Strauss Interview Part 3
FEMME FATALE – Waiting For the Big One
BUTCHER BABIES – Magnolia Blvd
BEASTO BLANCO – Live Fast Die Loud
CASABLANCA – The Giant Dreamless Sleep
SCREAMING EAGLES – Rock n Roll Soul