NWOBHM legends Diamond Head released a new self titled album on 22nd April. I spoke to founding member, guitarist Brian Tatler, via Skype on 18th April and we chatted about the new album, the recent record deal, upcoming tours, a new DVD and more. This interview was included on the Friday NI Rocks Show that was broadcast on 22nd April.
That Show is available now on our MixCloud page - https://www.mixcloud.com/NIRocks/interview-with-brian-tatler-of-diamond-head-on-the-friday-ni-rocks-show-22nd-april/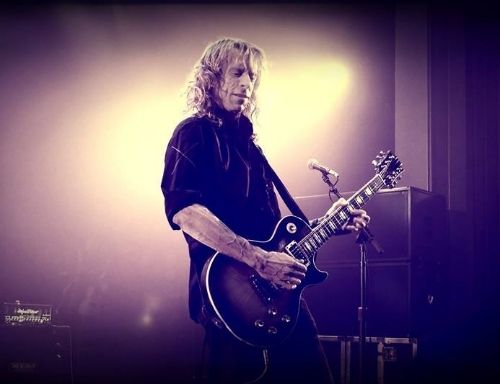 (The photo of Brian is from the 70,000 Tons of Metal Cruise in Feb 2016 – Photo credit unknown.)
Diamond Head are Brian Tatler on lead guitar, Rasmus Born Andersen on vocals, Eddie Mooham on bass, Karl Wilcox on Drums and Andy "Abbz" Abberley on rhythm guitar.
The band play Voodoo in Belfast on 23rd September on a tour that also includes gigs in Dublin and Limerick. They also play quite a few festivals this summer including HRH Ibiza, Sweden Rock and Bloodstock.
*************
NI ROCKS – Hi Brian, thanks for taking some time to chat to us at Rock Radio NI.
BRIAN – No problem, thanks for inviting me.
NI ROCKS - I wanted to talk first of all about the new album which is released this Friday, 22nd April. The album is simply entitled "Diamond Head". Any particular reason for that?
BRIAN – Yeah, we tried to come up with a title. I had a big sheet of paper with the names. People would make suggestions. I got lots of suggestions, but a lot of them weren't right – stupid or pretentious. In the end our bass player, Eddie, suggested Diamond Head and I thought about and thought actually that wouldn't be too bad, it'd be a good name. I said to everyone that if no-one could think of a better name we're going to call it "Diamond Head". That's how it went from there – nobody could beat it.
NI ROCKS – This of course is the first album working with your new singer Rasmus Born Anderson. How was it working with him for the first time?
BRIAN – It's been great. He has a lot of fresh ideas and I think coming in fresh he has helped us figure out what's good about Diamond Head and what was good in the past. He went through every song we ever recorded and listened to them almost like a producer. He said we should do "Diamond Head" in the room and it was his idea to write the songs in the rehearsal room rather than over the net, because we'd done that kind of thing and I really didn't want to do it again.
I didn't have a lot of confidence in my material because I make home demos. But I gave them to Rasmus and he was very positive about them and he picked out ones that he liked. Occasionally he would say 'this sounds very Diamond Head' and maybe I had lost sight of that a little bit; but I understood what he meant and we tried writing together. I thought give it a go, with no great expectation and no pressure on ourselves. It went well and just progressed and progressed. We'd tape every rehearsal and Rasmus would take everything away and work on sections and lyrics. It came together really well in the end. We're all really pleased with it.
NI ROCKS – Had you been writing a lot of material since the previous album or had you stopped writing until you were ready to do this?
BRIAN – I don't work like that. I just come up with ideas. I pick up the guitar every day. I practice and I also teach guitar from home. So I'm playing for a reason or I'm rehearsing and I just find riffs sometimes. I'll think that's a nice riff, I'll take that. I build up these tapes and I review them and pick out all the bits that I like. I've been doing that since probably 2007 – compiling good stuff. I have this friend, Dave Nichols, who is the sound engineer for Slipknot and lives in Wednesbury which is a few miles away from me. I'd go round to his house and he has Pro Tools and we spent a couple of years just putting stuff down. We maybe did about 30 songs at his house; maybe not that many, maybe about 20. I kept hold of the versions and put them on a CD, In the end I gave Ras about 45 pieces of music and he went away and picked stuff he liked.
NI ROCKS – The last studio album was as you said in 2007 with "What's In Your Head". The band has been busy since then touring. Was there a conscious decision not to get into the studio until now?
BRIAN – I've explained this before to people. Our singer Nick emigrated to Brisbane in 2008 and it became really difficult to write together or come up with songs. Nick would come over and tour, then he would go home to his wife and kids and his job. We didn't have time to sit around and work on new material. I couldn't see how it was going to work. Our drummer lives in America, that's bad enough; but the singer living in Brisbane and me not wanting to do another album over the internet. How's that going to work? We had to get a guy who lived in England. Once that happened it was more likely that we could get together and write together. I've been building up my portfolio of riffs for a few years but didn't know what to do with them, until Rasmus came along. He has a fantastic voice and range. It's just a matter of putting some good will into it and see what happens.
NI ROCKS – It was announced last month that you'd signed with Dissonance Productions for the release of the new album and that they'd also be re-releasing the two albums you recorded with Nick Tart - "All Will Be Revealed" from 2005 and "What's In Your Head" from 2007. How difficult was it to get a label that you were happy with?
BRIAN – We had intended on doing this album ourselves. Everything was paid for by the band – the recording, mixing and mastering. We were going to do it ourselves – sell it online and mail order. We started doing that and the orders came in. Then Dissonance came along and they're part of Plastic Head who were know are a fantastic distributor. They said that they would like to take on the new album and once we had agreed a deal it moved very quickly. They'd had a listen and decided they wanted to get on board. It probably took less than a month from the initial meeting to signing a contract. They're a really good company and have put so much effort in so far with promotion and press. They've gone at it really powerfully.
NI ROCKS – We're going to play a track from the new album now. Do you want to pick one and tell us a little bit about it?
BRIAN – I'll pick track one, which is "Bones". I think this is my favourite track at the moment. I had a verse and bridge part for this that I'd had for a while. I took it to rehearsal and we played it for a bit. Then Eddie started playing a different riff and I said "what's that, what you playing there Eddie?" and thought this will work. So I jumped on it and started playing it as well. It sounded fantastic in rehearsal and we started getting really excited about it. I thought that could be the chorus and we worked that into the song and did a version. If it sounds great in rehearsal you're onto something – it's going to sound good on the album and sound good live.
NI ROCKS – Looking at the Diamond Head website, you've a few gigs coming up before starting a run of festival appearances over the summer including HRH Ibiza, Sweden Rock and Bloodstock.
BRIAN – We start on Friday (22nd April) at a place called Level 3 in Swindon, which I've not done before. The day after is The Patriot in Caerphilly in Wales. There are 4 UK gigs before we set off to Malta, Spain, Sweden, Germany etc. We've also added some Irish dates.
NI ROCKS – Yeah, I was going to come on to those. Are there any particular highlights for you personally on the festival circuit?
BRIAN –  I'm excited about Bloodstock because we haven't done it for such a long time. I know it's a great festival and it has got bigger and bigger over the years. That one is going to be great. And Sweden Rock! We haven't played Sweden Rock for probably ten years. That's a very well run festival – very professional. That's going to be really nice.
NI ROCKS – As you mentioned you're coming over to Ireland in September. You've got three dates - Dublin, Belfast and Limerick. Are there any plans to extend the tour to North American, I know you've played there a few times recently?
BRIAN – Yeah, there are plans. We may end up doing that later in the year – maybe November. It'll be the same sort of thing where we do the clubs. It's great. Some of the places are fantastic, some are a bit smaller, but sometimes logistically you to touch the cities you've almost never heard of to make it pay. You can't just do L.A., San Francisco and New York.
NI ROCKS – Over the years Diamond Head have released a few live albums, but as far as I'm aware just the one live DVD – "To The Devil His Due" – back in 2006. With the release of another album and more tour dates arranged, do you think you might do another DVD at some stage?
BRIAN – We haven't discussed it yet. The album isn't even out yet and we haven't done our first gig to promote the album, so who knows what is down the pipeline. It would be nice to capture this line-up on a DVD. The last DVD was without Abbz, it was with another guitarist, and of course Nick singing, so the line-up has changed a bit and we've got a lot of different songs that we could play live now. I'm looking forward to playing these songs live because I think some of them are going to be great.
NI ROCKS – The impact that Diamond Head had on Metallica has of course been well documented and they have released covers of several tracks. If Diamond Head were to record an album like "Garage Inc" focused on cover versions, what tracks would you include? Would there be any Metallica tracks?
BRIAN – I've never been asked that question before. That's interesting. I've got some favourite rock tracks that I like to play. For some reason whenever I pick up a guitar one of the first things I play is " Dirty Deeds Done Dirt Cheap". That riff just sits comfortably under my fingers. If I was going to do a Metallica song I'd probably pick something not too obvious, but that would suit Diamond Head. I'd pick maybe "Blackened" or maybe "Cyanide" off the last album. I like "Harvester of Sorrow" – that would be a good one. Other than that, I always really liked "Sinner" by Judas Priest and I also like "Island of Domination" and "Victim of Changes". One of them might be good. And Black Sabbath. I always wanted to do "Lord of this World" off "Masters of Reality". "Symptom of the Universe" is mighty, but I don't think we could improve on their original version. I'd have to give Black Sabbath some thought because there are so many amazing songs. "Cornucopia" would be good – I'd have to detune a bit for that one! I'd probably do an AC/DC song – "Problem Child" maybe!
NI ROCKS – Lars from Metallica and Dave Mustaine from Megadeth both wrote forewords for the autobiography that you published in 2009 called "Am I Evil"? That book had a very limited print copy. It's available for Kindle but I noticed that the only hardback copies on Amazon are on sale for £126.
BRIAN – That's right. I only did 500 copies
NI ROCKS – Did you ever think of printing more or even doing an updated version?
BRIAN – I'm kinda daft not to really! I paid for the copies to be made. Obviously I made my money back, but at the time I wasn't sure. When a crate load of books turns up at your house you do have a slight panic! How am I going to sell all these? It took about 2 years to shift the 500 copies. I just haven't really got round to doing it again. I did start writing an extra chapter – Chapter 15 – for a start we'd done Sonisphere since the book came out; maybe "The Road to Knebworth". I began writing Chapter 15 and it's still on my PC!
NI ROCKS – We're going to play another track from the new album now. Again do you want to pick one and tell us a little bit about it?
BRIAN – My second choice is going to be Track 5 – "All The Reasons You  Live" . I just think the vocal on this is amazing. This is a song I came up with about 2008. Again, I did it as a demo at Dave Nichol's house. It's just such a fat sound. It has some big chunky riffs. It's the sort of thing I like. Diamond Head is known for that – big riffs and good vocals. The song works for me. Rasmus did a fantastic job on the vocals, but he also did some orchestration for this. He has software to sound like an orchestra and he is very good at that and he did it all by himself at home. He sent it to me and I thought it was brilliant.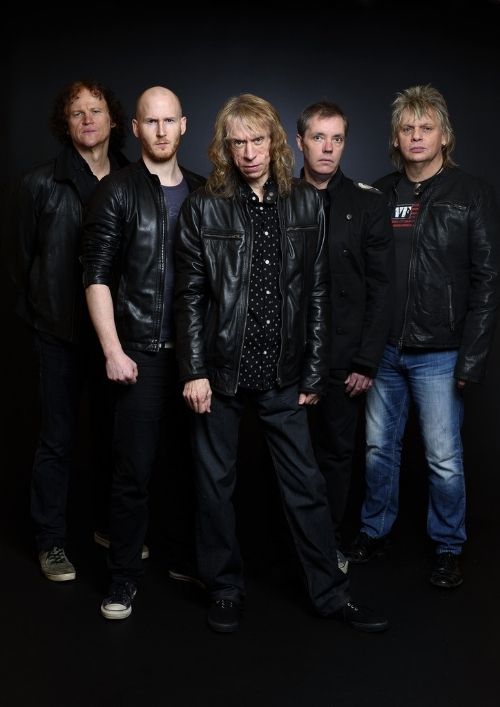 NI ROCKS -  There's a short album promo video on the website, but are there plans to release a video for any of the tracks from "Diamond Head"?
BRIAN – We were going to. We found a video director that we liked and we got talking, but next thing you know he has some proper corporation work and has to put us on hold. We were going to do it this month, around now, but he said he can't even look at it until May. So, we're either going to rethink the plan or get back to him with the original ideas and get him to do it in May.
NI ROCKS – Which track was that for?
BRIAN – I think we're going to going with "All The Reasons You Live"
NI ROCKS – We've talked about the upcoming gigs, is there anything else planned for the remainder of 2016?
BRIAN – No, we've just said that we'll do this tour and see how it goes. We've got feelers out for America and Canada, but for now we've just got to get back into the swing of touring. We did that thing in February – we played on the 70,000 Tons of Metal Cruise. That was the first proper gig we'd done since last June. We need to get back in the saddle as they say.
NI ROCKS – There have of course been a lot of gigs and tours associated with Metallica and Megadeth over the years. Do you foresee any more collaborations in the near future?
BRIAN – I'd love it to happen obviously, but it's just timing. The stars seem to have to align for things like that to happen. I can't really add to that. It'd be great if we could go out with a big band. You play to more people when you're a support band. Most of the time we're doing our own gigs. We got the Thin Lizzy tour in 2007, that was great. We get thrown a bone from time to time.
NI ROCKS – You mentioned AC/DC earlier. I believe Diamond Head supported AC/DC on their  last ever gigs with Bon Scott many years ago. I was wondering what your own thoughts were on the recent news that Axl Rose is going to finish off the scheduled AC/DC tour dates?
BRIAN – I think why not. Axl has the range and he'll probably make it more of an event rather than picking some Joe Soap who may be from an AC/DC tribute band or just somebody who has a good high range that nobody has heard of. I think Axl, as long as he plays ball and plays nice, is a great front-man, there's no question about that. It's a lot better than cancelling the tour because of Brian Johnson's hearing. I'm sure the fans won't mind having a rock star substitution.
NI ROCKS – It's a very good business move.
BRIAN – Yeah! And Angus is the star in AC/DC. Always has been. He is the only irreplaceable member in my opinion.
NI ROCKS – You've stated in previous interviews that you don't think that modern music influences the music that Diamond Head produces. Would that still apply to the new album?
BRIAN – Probably, a little bit. I am a bit of a 70's guy. I think there are probably some modern influences in the sound. The amplifiers we were using and the production tricks; we use the Pro Tools rig. There is some modernness about it. I couldn't compete with these bands – they're so detuned and aggressive; it's just not me. There's no point me even trying to compete with that.
NI ROCKS – What bands do you find yourself listening to now when you get the opportunity?
BRIAN – For pleasure I listen to bands that I've grown up with. Everything from Steely Dan to Genesis, AC/DC, Zeppelin – the classic bands of the 70's. I do like some modern stuff. I like Muse, I think they're fantastic and I've got all their albums. I'm listening to Rival Sons; he's a fantastic singer. The Struts – I think they're good. Ghost BC. On that 70,000 Tons of Metal Cruise we saw Cradle of Filth; I thought they were really good; and I enjoyed Children of Bodom. Bands that I would never have gone to see, but because they're there and it's a big event and we're all having a good time, it was great to see some of these bands that I'd heard of but never been to see. It's a fantastic cruise – I'd recommend that cruise to anyone. This left from Florida and there were 60 bands on board and 3,000 people and it was just amazing.
NI ROCKS – We'll finish off with another track from the "Diamond Head" album which is released on 22nd April. Again, up to you which one we play and what you want to tell us about it?
BRIAN – I'm going to pick "Shout At The Devil". It's just a classic Diamond Head riff. I've had this riff for a long time and we started playing it in rehearsal and it came together quite quickly this one. The verse is quite a tricky riff to play and to sing on. I think Ras did really well to come up with vocals for some of these parts. He did say to me 'I can sing on anything'. So I think wow, that's great. I could fire difficult riffs at him and complicated parts, and he wouldn't say 'no, no I couldn't sing on that'. He'd just go away and do it and come back with something. That kind of freedom is great really, because I can bring these riffs out that I've probably had for a while, that I know are going to be tricky to sing on, but know that Ras can do it!
NI ROCKS – Thanks again for taking the time to talk to us. Good luck with the new album and the tour.
******************
Check out http://www.diamond-head.net/ for tour dates, news etc.
Playlist for the NI Rocks Show on 22nd April
ACE FREHLEY & LITA FORD – Wild Thing
DIAMOND HEAD – Am I Evil?
Interview with Brian Tatler Part 1 (9 min)
DIAMOND HEAD – Bones
Interview with Brian Tatler Part 2 (7 min)
DIAMOND HEAD – All The Reasons You Live
Interview with Brian Tatler Part 1 (8 min)
DIAMOND HEAD – Shout At The Devil
SWEET SAVAGE – Killing Time
CHASING DRAGONS – Devil In Her Eyes
SKARLETT RIOT – Voices
THE ANSWER – Preachin