Framing Hanley released their third album "The Sum of Who We Are" earlier this year and kick off a tour of Ireland and the UK in the Oh Yeah Centre, Belfast on Friday 24th October. The band originally formed in Nashville back in 2005 and has built up a strong fan base in Europe. The current line-up consists of Kenneth Nixon on vocals, Ryan Belcher and Brandon Wootten on guitars, Chris Vest on drums and Jonathan Stoye on bass. Nixon was good enough to answer a few questions for Rock Radio NI ahead of the upcoming gig in Belfast.
NI ROCKS – Thanks for taking some time to answer a few questions for Rock Radio NI. You're kicking off the UK tour next month with a show in the Oh Yeah Centre, Belfast on 24th October.  I know the band has played on the mainland UK before and in Dublin in 2011 but am I right in saying that this is your first gig in N Ireland? Are you looking forward to opening the tour in Belfast?
NIXON - This is actually our 2nd time playing in Belfast, but all the same, we are DEFINITELY looking forward to it.  One thing I remember about our last show there was it was quite possibly the hottest show we've ever played, so hopefully that's different this time ha.  But yes, anytime we come to Ireland and the UK we have a blast, so I expect this to be no different; especially given how long it's been.
NI ROCKS – This will be the first chance for many of your fans to get to see the band and I've already noticed some asking about VIP passes. How would you describe the experience of a Framing Hanley gig?
NIXON – Ya know, we're 5 dudes that realize we're lucky to do what we do for a living.  With that in mind, we go out there every single night with the intention of giving the fans a show they'll remember (hopefully for good reasons).  Not a day in this life is promised, and definitely not in this business…so we go out there, and we do all we can to ensure that when we leave that venue, we leave knowing we poured our heart and soul out on that stage to hopefully let the fans know that we're beyond thankful for them giving us this opportunity.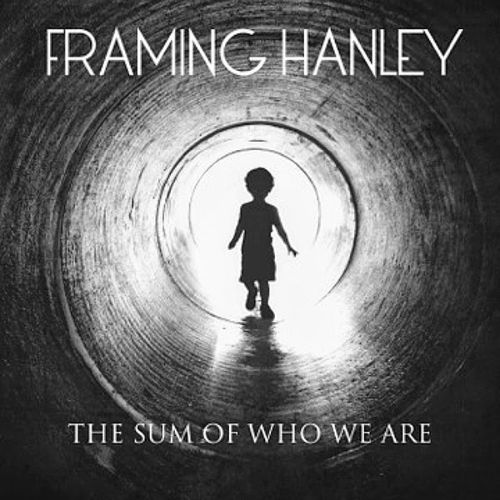 NI ROCKS – Your third album "The Sum of Who We Are" was released back in April; almost four years after the release of the previous album "A Promise To Burn". It was funded after a successful Kickstarter campaign. Would you consider using crowdfunding options such as Kickstarter or the popular Pledge Music site next time around?
NIXON – Never say never I suppose, but I certainly would rather just stick to the mold of recording an album, and then fans being the consumer after the fact, instead of beforehand.  Again, I couldn't be more thankful that our fans gave us this chance, and as amazing as Kickstarter and these other crowdsourcing campaigns are, I'd rather our label put us into the studio, us record a bangin' album, and then the fans purchase it.  The fans funding the album definitely added some pressure.  We knew this album had to be something special since they paid for it, we didn't wanna let them down.
NI ROCKS – The band had to overcome a few issues on the road to releasing "The Sum of Who We Are". Did you ever worry that you might not get there?
NIXON – Ohhhhhh yeah.  I think it was unspoken more than anything, but I worried we'd never be happy enough with this album to release it.  Like I touched on earlier, this album had a lot to live up to being funded by our fans, so we spent all the time we deemed necessary to get this album up to the standard we had set for it.  It's easy to say this now, of course, but I wouldn't change it.
NI ROCKS – How would you compare the latest album to your earlier releases?
NIXON –  It's like comparing apples and oranges, really.  We are at a different place in our lives now than we were then, so naturally the writing is going to reflect that.  That being said, I'd like to think we've "matured" (whatever that means) and maybe gotten a littttttle bit better at perfecting our craft.  I hate using the word "perfecting" because we are by no means perfect, and these songs definitely aren't.  But that's what's at the roots of rock n roll…imperfection.
NI ROCKS – Where was the album recorded and who did you work with?
NIXON –  This is the first album we worked with as many producers as we did.  We did a bulk of the songs in Orlando, Florida with our longtime friend and producer Brett Hestla.  We did a couple of songs in Stone Mountain, Georgia with Rick Beato.  "No Saving Me" is a song we did with our buddy Jasen Rauch who we toured with and grew up in the Nashville scene with when he was playing in Red (now he's in Breaking Benjamin).  And then Eric Bass of Shinedown produced "Criminal" and "Twisted Halos."
NI ROCKS – I read somewhere that you'd written so many tracks that you had trouble selecting which would make it onto the new album. Are some of those tracks that didn't make it likely to be reworked for a future album or are there plans for an extended version of "The Sum of Who We Are"?
NIXON –  Most definitely.  Some of the songs that are on this album were songs that didn't make the cut for "A Promise To Burn" that we just kept working on while touring in support of that album.  I am pretty confident that every idea we had for "The Sum of Who We Are" will in some shape or form see the light of day eventually.
NI ROCKS – There's a great video for "Criminal" the first single from the new album. The next single "Twisted Halos" is released on the day that you play Belfast. There is currently a lyric video for that track. Are there plans to record another feature video?
NIXON –  Yes, we will be doing a video for Twisted Halos and I'm pretty damn excited about it.  That song talks about the issue we as a society have with choosing to overlook the important things in life we should be talking about and instead being zombified with our cell phones, social media, television, etc.
NI ROCKS – Back in 2011 you recorded a version of "In Bloom" for Kerrang's "Nevermind Forever" CD. Would you include Nirvana as an influence on the band? What bands would you consider to have been influential in developing the Framing Hanley sound?
NIXON –  Oh Nirvana was most definitely a band that played a pivotal role in shaping us as musicians at a young age.  The grunge era was a huge influence on me, and Nirvana were arguably the biggest/most important band of that era.  As far as Framing Hanley as a whole, we all listen to a wide spectrum of music.  I think that's what keeps things fresh, is everyone has their own thing they gravitate to.  That's not to say we don't all see eye to eye and love some of the same bands (Biffy Clyro, Foo Fighters, Thrice, Brand New, Matchbox 20 all come to mind).
NI ROCKS – That brings me to a question that I always like to ask. Can you remember the first concert that you went to and first album that you bought?
NIXON –  First concert:  Further Seems Forever with Movielife, Autopilot Off, and Anberlin.  First album I purchased: I wanna say the first album that I bought with my own money was "Razorblade Suitcase" by Bush.
NI ROCKS – What bands are you listening to yourself at the minute? If we were to check out your iPod or whatever what five artists might we get if we hit shuffle?
NIXON –  I'd say my albums of the year for 2014 so far are: 1) Biffy Clyro - Similarities 2) Broods - Evergreen 3) Finch - Back To Oblivion 4) Isaiah Rashad - Cilvia demos 5) The Madden Brothers - Greetings From California
NI ROCKS – You have the UK tour through to November. What plans do you have beyond that?
NIXON –  We'll just continue relentlessly touring.  That's the only way to create awareness for your band nowadays, is to tour your ass off.  And we're no stranger to that.
NI ROCKS – Thanks again for taking the time to answer a few questions for us. I hope the forthcoming UK tour proves to be a huge success and that you enjoy the trip to Belfast.
NIXON - Looking forward to it.  Thanks for taking the time to chat with me, bud.
For more information and links to the band's various social media sites check out their website - http://framinghanley.net/
Check out NI Rocks on Facebook – www.facebook.com/NIRocks or Twitter - www.twitter.com/NIrelandRocks