Most people will know Ryan Roxie as one of the guitarists in the Alice Cooper Band, but that is only one of many musical outlets for the talented Californian who now lives in Sweden. His band Casablanca have recently released their second album "Riding a Black Swan" and there are plans for further releases from Roxie 77 (R77). Ryan graciously agreed to answer a few questions for us just after completing a tour of Spain with Casablanca and a series of Gibson Guitar workshops in France.
NI ROCKS – Thanks very much for agreeing to answer a few questions for Rock Radio NI. We got in touch following the release of the latest album from Casablanca entitled "Riding a Black Swan" so I thought we'd start there. Casablanca was formed back in 2009 and released their first album "Apocalyptic Youth" in 2012. Can you tell us how the band got together?

RYAN – We formed in the living room of our lead singer, Anders Ljung. In that room Anders keeps two things....his red wine collection and 10,000 + vinyl LP's....over lot's of listening to great records (and many glasses of red wine), the 5 of us decided to form a band and make a record that was influenced by all our common favorite albums.


NI ROCKS – "Riding A Black Swan" was originally released in September but is being officially launched in the UK in February. I have to say we love it! It's one of those albums that grabs you at first listen. (http://www.rockradioni.co.uk/back-stage/music-reviews/1415-ni-rocks-recommends-qriding-a-black-swanq-by-casablanca.html) Where was it recorded and who was involved in the production?

RYAN – We really appreciate the support that the UK has thrown our way since the bands incarnation. We recorded Black Swan in more of a 'raw' setting meaning we recorded it in the bands recording studio that doubles as our rehearsal spot....many of the basic tracks were all done together in the same room...that's what gives the album a much more 'live' sound then our first.  Up and coming Swedish producer Jon Borden was at the control desk.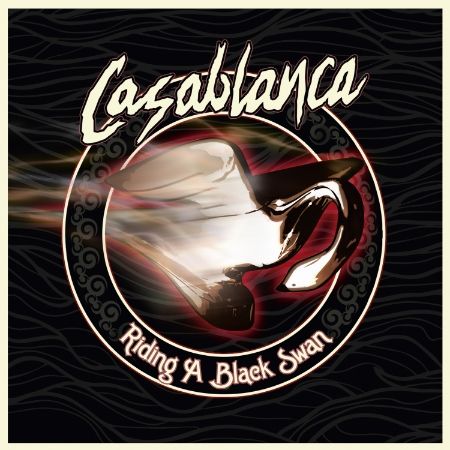 NI ROCKS – Can we ask how a guitarist from Sacramento ends up living in Sweden and why you think makes that country produces so many quality rock bands? It certainly seems that a high proportion of the best music releases are coming out of Sweden these days.

RYAN - To answer the first part of the question, I can tell you it's certainly NOT the weather and the taxes ;)....to answer the 2nd, I think you have to admire the way Swedish musicians approach music...they really take it seriously and they PRACTICE...also, they understand that the 'image' a band portrays plays hand in hand with the music...fashion and music have always been intertwined.


NI ROCKS – The band have just completed a tour in Spain. There seems to a vibrant rock scene there with a lot of bands touring there that we'd love to see over here. Where does your biggest following come from outside of Sweden? 

RYAN – Spain was a pleasant surprise for us....we were all taken aback when the Spanish audience started singing the new songs...not just the video songs, but the brand new ones....that told us that they took the band under their wing....we feel a little bit 'adopted' by Spain ;)  Perhaps our second largest following outside of Sweden is the UK, thanks in part to people like yourselves that have been spreading the word about Casablanca since day one.


NI ROCKS – You re-joined the Alice Cooper Band in 2012. That must be the priority presumably when it comes to personal planning? What plans have Casablanca for further tours this year?

RYAN –  Obviously Alice is the priority....and to be honest, he's a huge part of the reason that people find out about me & my bands. Alice has always spoken nicely about my bands (he even wrote the forward in my 'Roxie Box' box-set), so I thank him for that, and totally respect him for the iconic artist that he is...very few rock stars like him around I can assure you that.

Regarding touring, will fit as many shows around the Alice touring schedule as possible, but if I'm not able to be a part of the live show, I'm very confident that the band can pull it off with the talented Swedish musicians that they have to choose from.

NI ROCKS – What is the current status of Roxie 77? Are we likely to see anything further from that project?

RYAN – Oh yes ! ....R77 just finished mixing a 6-song EP entitled 'The Ameriswede EP'...we collaborated with Tommy Hendriksen (another fellow Alice Cooper guitarist). He mixed the 'American' side of the album, and I'm really pleased with it and anxious to get it into the hands of our fans. We actually recorded it in the same studio that Riding a Black Swan was recorded.....Look for a summer release on that.


NI ROCKS – It's been officially announced now that the Alice Cooper Band will be supporting Motley Crue on their farewell tour. How would you describe being part of an Alice Cooper tour and what are your own thoughts about that tour with Motley Crue?

RYAN –  The 'MOTLEY CrOOPER' Tour I like to call it ;)  Look, being a part of ANY Alice Cooper tour is a big privilege, the fact that it's going to be combined with one of my favorite band's 'farewell 'tour is that much more of a bonus. After me and my friends 'discovered' Motley Crue's Leathür Records release 'To Fast for Love' there was an immediate increase in the consumption of Aqua-net Hairspray, Clariol Blue/Black Hair Dye, and a host of other things far too illegal to mention.
NI ROCKS – We interviewed Chuck Garric recently ( http://www.rockradioni.co.uk/interviews/1408-ni-rocks-interview-with-chuck-garric-beasto-blanco-alice-cooper-band.html) and he said that working with Alice was "like watching a master craftsman at his art or the most skilled samurai wielding his sword in battle. Alice is a machine, and he gives 100% all the time." Is there anything you could add to that?

RYAN –   ...and he's the best 'boss' a guitarist could ask for....His confidence in what he does is so secure that it brings out the best in all of us as well.


NI ROCKS – You've also had a long musical history with Gilby Clarke going back to the mid 80s and a band called Candy. Any plans to work with him again soon?

RYAN – Both Gilby and I sort of 'grew up' together musically speaking, playing all the way from empty bars (at a grim Candy show once in awhile) to packed stadiums (opening for Aerosmith in S. America) plus everything in between....and I'll always be grateful for Gilby putting in the good word to Alice for me that allowed me the opportunity to go out and get that gig. Gilby has also produced some of my favorite songs I've written over the years...so in many ways, working with him again at some point seems like something we could do easily.


NI ROCKS – You've a close association with Gibson guitars. What have you been using on the recent tour of Spain with Casablanca? And how would that vary from being on tour with Alice?

RYAN – On the latest Casablanca tour due to truck space, I was only allowed to bring out my trusty Les Pauls because a Les Paul is probably the most iconic guitar design that signifies 'rock n roll' ...no other guitar that I can think of brings so much reliability, tone & attitude to the table.

When I'm out on tour with Alice  I get to play the Gibson 'Big 6'....The big 6 is a term I made up for Gibson that includes what I think are their most influential electric guitar designs over the years-  The Les Paul, The SG, The ES-335, The Flying V, The Explorer, and The Firebird....all classic guitars that give me plenty of sound options when we are drawing up new set lists.

NI ROCKS – The Internet offers a lot of opportunities as well as challenges for bands. You started hosting your own podcasts and radio shows almost ten years ago and had been blogging before that. How did that come about and is it something you'd like to do more of? How much do you get involved on a personal level in social media such as Facebook and Twitter?

RYAN – As far as Social Media is concerned, I'm convinced it's just as an important 'tool' to your career as owning the right guitar & amp....which would be Gibson & Marshall btw ;)  Promoting your music (or your 'brand') is key...and now WE THE PEOPLE are armed with the same tools that larger corporate companies have.

I think the reason I embrace social media so much is that because the technology wasn't around when I was younger, and I realize it's importance....when I was a kid, the only thing I dreamed of was to be able to find out more about my guitar heroes and somehow find a way that other people in the world could hear my songs....Now a kid can pretty much easily track down any info they need on their favorite artists and if they spend 10 minutes setting up a Bandcamp, YouTube, or Soundcloud account.... BOOM! they have their own 'record' company set up for business....


NI ROCKS – I always like to ask interviewees what the first album was that they remember buying and the first gig that they went to. I was reading somewhere about your association with the number 77 and the influence that 1977 had on you musically so I was wondering if that might be reflected in your answer?

RYAN – Well...my first 'albums' were more bubble-gum pop records like Bobby Sherman, The Partridge Family, and The Osmand Brothers....in fact the first concert my Mom every took me to was the Jackson 5 at the Oakland Coliseum....but the 'real' record that made me realize just how much I wanted to do this for a living did come out in 1977, and it was Queen's 'New of the World'....what a great spectrum of music on that LP, and it had a profound effect for all the years since then.


NI ROCKS – My last question is another that I always like to ask. What 5 artists might we find on your iPod if we hit shuffle and have you heard any new bands that you'd recommend we check out?

RYAN –  How about this, I'll do the experiment live right now with my iPhone and find out what happens :)  Ready, Set, Go:

1.  Nirvana 
2.  Kiss 
3.  Oasis
4.  Hanoi Rocks
5.  Cheap Trick

It's funny when you say 'new' bands...because I discover bands all the time using my Spotify 'radio' feature....but a lot of times those bands are a few years old, or maybe not even bands any longer...but here are a few that have recently made it to my 'Roxie Favs' playlist-
Morningwood - Nu Rock
Local H - All the Kids are Right
Biters - Oh Yeah
Dead Sara - Weatherman
NI ROCKS – Once again, many thanks for taking the time to answer our questions. All the best of luck with Casablanca and for the upcoming Alice Cooper commitments. Hopefully we'll see you over in Northern Ireland some time in the near future.
RYAN: You are very welcome, and just want to put a big invite out to any of you out there reading this that you are always welcome to drop by 'my world' ( www.ryanroxie.com ) and find out more about my involvement with  Alice, Casablanca, Roxie 77 or any other tricks I may have up my sleeve :)  You ask me a straight question, I'll do my best to give you a straight answer.....Enjoy the noise.....and Enjoy the Ri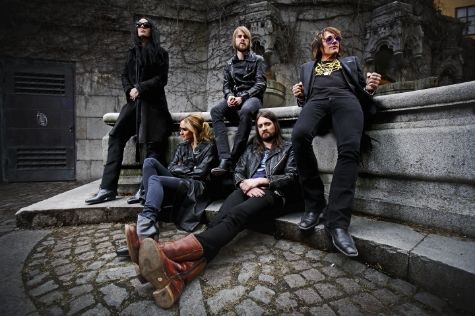 Casablanca consists of Ander Ljung on vocals , Ryan Roxie and Erik Stenemo on guitar, Jospephine Forsman on drums and Mats Rubarth on bass. For more information check out:
https://www.facebook.com/casablanca
Casablanca photographs by Johan Carlen
Live photo of Ryan by Clemens Mitscher via http://stage-photography.com/artists-gallery/artists-c/alice-cooper/
Check out NI Rocks on Facebook – www.facebook.com/NIRocks or Twitter - www.twitter.com/NIrelandRocks