NI ROCKS Interview with SKARLETT from SKARLETT RIOT
English band Skarlett Riot released their latest EP "Sentience" on 2nd May. I've been a fan of the band since picking up their previous EP  "We Are The Brave" in early 2015, though the band have been around since 2010. Skarlett Riot released their debut album "Tear Me Down" in 2013, having already played Download and Bloodstock following the success of the EP "Villain". They've supported or toured with some great bands, including most recently Gus G and Devilskin.
I arranged to chat with lead singer Chloe Drinkwater (aka Skarlett) via Skype on 5th May and you can hear what she had to say on the Friday NI Rocks Show that was broadcast on 13th May. We also play 4 tracks by Skarlett Riot. That Show is available on our MixCloud page - https://www.mixcloud.com/upload/NIRocks/interview-with-skarlett-from-skarlett-riot-on-the-friday-ni-rocks-show-13th-may-2016/complete/
The other members of the band are guitarist Danny, Martin on bass and Luke on drums. Check out https://www.facebook.com/skarlettriotuk for more info.
The interview has been transcribed and posted below.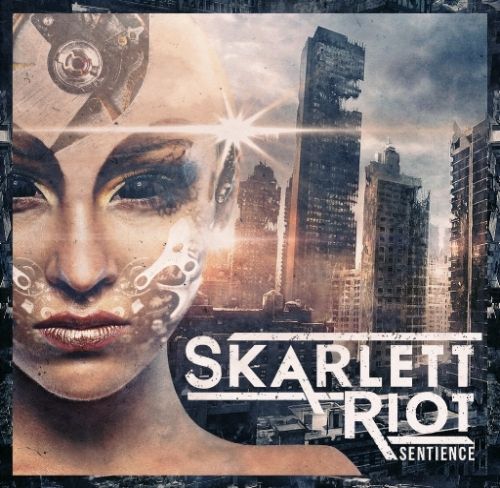 NI ROCKS – Hi Skarlett, thanks for taking some time to chat to us at Rock Radio NI. First of all, for any listeners who don't know the band, you're the lead singer of Skarlett Riot, a band that formed back in 2010. Who else do we have in the band?
SKARLETT – We have me, Chloe, on vocals and guitar. And we've got Danny on lead guitar, Luke on drums; those two are brothers; and Martin on bass.
NI ROCKS - Skarlett Riot have just released their latest EP "Sentinence" on 2nd May. Where was that recorded and who did you work with on that release?
SKARLETT – It was recorded in Wales with Romesh (Dodangoda), who has worked with Funeral For A Friend and Bring Me The Horizon. His name has popped up quite a lot so we thought we'd try him out and try a bit of a different sound and direction for the EP. It's worked out really well for us. He's a great guy to work with and is really laid back.
NI ROCKS – Are you with a label or are you releasing your stuff independently?
SKARLETT - Independently.
NI ROCKS – The new EP is maybe slightly heavier than the previous EP "We Are The Brave" which was released in early 2015, and that again was again a bit heavier than the debut album "Tear Me Down". How would you compare the new EP with that album?
SKARLETT – I'd agree, it is quite a bit heavier. Not massively, but since the debut album "Tear Me Down" the sound has progressively got a bit darker. I think for this EP it has worked in our favour, because I think we have our own sound now. It's more signature to Skarlett Riot; in my opinion anyway. I think musically we've matured and everything that goes with that, since "We Are The Brave" and it has taken another step forward. We don't like to do the same type of thing on every EP and every album, we like people and our fans to think 'this is great, what are they going to surprise us with next?'
NI ROCKS – Last year you provided some vocals on the new Asking Alexandria album "The Blacks". How did that opportunity come about, and is it something you'd like to do more of?
SKARLETT – Yeah definitely. It was in a studio in York. Someone I know who is in a band posted that they were looking for some group chants and a few different vocals on the new Asking Alexandria album. It ended up being about 4 or 5 songs. I went down and put my vocals on it and listened back and thought that sounds great. It's great obviously for the CV to be able to put that down and say that you sang on such amazing songs by a band like Asking Alexandria. It's definitely something that I'd be interested in doing again.
NI ROCKS – We'll play a track from your new EP now. I thought we'd start with the single "Voices". Can you tell us a little about that track?
SKARLETT – Yeah sure, actually this one was written last out if all the songs on the EP. I think it was written about 2 weeks before we were due to record the EP. In my opinion, it's one of the best songs that we've written. It's quite dark. And lyric wise it very much relates to depression and anxiety. Lyrics which a lot of bands maybe tip-toe around. It's a bit of a sore subject to write about, so I thought I'd write about something people can relate to and listen to and think "yeah, right now I can relate to that and I'm going to play it at full blast".
Dim lights Embed Embed this video on your site
NI ROCKS – You recently released a video for the track "Voices".  How much input did you have to the video concept?
SKARLETT – Quite a bit, but the company that we used to produce the video we used from the start. So they're very good with their ideas and the treatment . I sent them the lyrics and they're quite good at arranging videos to the lyrics and developing a story. What we wanted from it was that when I was singing "voices in my head" the girl in the video who is doing ballet and stuff is like the voice inside my head. She's like my alter ego and it worked out really well and helps express the song.
NI ROCKS – Going back now to the early days of the band and you must have hit the ground running. Within 2 years of forming, the band had released two EPs ("Skarlett Riot" and "Villain") and was playing prestigious events like Download and Bloodstock. Is there anything in particular you'd attribute that achievement to?
SKARLETT – It was so weird. We formed and in the space of 2 or 3 years everything kicked off. We've got a massive drive in the band. When we started out and released "Villain" it was something completely new and had a massive buzz around it. It just kinda kicked off from there really.
NI ROCKS – And any advice you'd offer to young bands getting started?
SKARLETT – Don't give up. It takes a lot of patience, a lot of time and a lot of dedication. You've got to make sure that all the members are as driven as each other , that you've got a clear plan and idea of what you want to do. Just make sure that you play music that you enjoy – that is the main thing when it comes down to it.
NI ROCKS – That brings me on nicely to the next question. When the band started back in 2010 who were your main musical influences and did you have a firm idea of the kind of music you wanted to make?
SKARLETT – In 2010 I think we were all into completely different music than we like now. For me, it would have been Shinedown, Bullet For My Valentine, Papa Roach – the American style of rock – Nickelback. Dan on guitar he goes all the way back to loving Def Leppard and the 80's as well as Avenged Sevenfold. Now he's listening to quite heavy music – Asking Alexandria, Bring Me The Horizon. I think we all have massive varieties of influences and we put all them into our music, which I think makes it a little different. Our drummer loves everything from John Mayer  to Taylor Swift to Asking Alexandria and Bring Me The Horizon. I think because we're quite open to music it makes it a little more varied when we're writing; we don't stick to the same thing.
NI ROCKS – When you're writing are you all in the same room at the same time or do you swap ideas over the internet. How do you sit down and write a track?
SKARLETT – We used to all write together, but for the past couple of EPs we've found it a lot easier for our guitarist and me to work on a  basic idea – completely stripped back, like a little guitar section, a little riff and a little vocal melody. We'll take that to the guys in rehearsal and show them it, see if they like it and carry it on from there to start to develop it into a Skarlett Riot song.
NI ROCKS – You've already partly answered this, but what bands do you listen to most these days? What's the last album you bought for example?
SKARLETT – There's Nothing More and Wovenwar at the moment. They influence because they've got really heavy guitar parts and really heavy instrumentals, but throughout all the vocal sections it is all singing and no screaming, which is the kinda thing we're doing. There is no screamy vocals in there but it's got this heavy instrumentation and singy vocals over the top. Those were the last albums I bought and they did influence the new EP.
NI ROCKS – Ok, we'll play another track from the new EP "Sentience" now. Would you like to pick one and tell us a little bit about it?
SKARLETT – This one is called "The Wounded"  and again is off the EP "Sentience". It was one of the later ones to be written and recorded and I absolutely love this track. It's really powerful and we played it live for the first time last week – it's just got some balls and power behind it, so turn it up load and enjoy.
NI ROCKS – You've played some great festivals over the past few years and have toured with some great bands. Any personal highlights for you?
SKARLETT – Oh, that's a hard one. Festival-wise, the one that stuck in my head last year was playing the Dames of Darkness Festival in Bilston with quite a lot of symphonic metal female fronted bands like Leaves Eyes who were headlining the day that we played. We went down really really well. We nearly sold out all our merch on the day. It was just a great festival – a lot of people turned out and everyone was up for a good time. Everybody turned up early because it was an all day and they stayed from when the doors opened until it finished. It was rammed and everyone was just up for it. That sticks out in my head for a festival and one-off show.
Tour-wise, we supported Gus G, who plays guitar for Ozzy Osbourne. We played with him last year and that tour sticks in my head, because I was allowed to get up with him to sing a song; one off his solo album called "Long Way Down". It's such a beautiful track and it was just a massive honour to be able to get up stage with him and sing that song.  So that sticks in my head as well.
NI ROCKS – His solo albums are very good. You also toured recently with a band from New Zealand, Devilskin. They're a great band.
SKARLETT -  Yeah, they'll really good and really down to earth as well. Great people.
NI ROCKS – If we're thinking bucket list – is there a band or artist that you're really love to work or tour with?
SKARLETT – I'm sure there are a fair few! Off the top of my head, I'd say Bullet For My Valentine, because I've liked them since I was 10 to 12 years old. They influenced me to pick up a guitar and we've been to see them live. I think they're brilliant and I love all their albums; every single one they've done. They don't stick to the same thing on every album either, so they're quite influential.
NI ROCKS – What's next on the agenda for Skarlett Riot during 2016?
SKARLETT – We've got a couple of headline festival slots, on the smaller underground scene. 14th May we're at the Upload Festival and we're heading to Europe for the first time in October, playing the Metal Female Voices Fest (http://www.metalfemalevoicesfest.be/home.html ) in Belgium. We're looking forward to expanding into Europe and we've heard lots of good things about that festival. It's in a massive room, like a big sports hall. On the quieter side, we've got a tour coming up but we haven't announced anything yet and it's all under wraps at the moment. Keep your eyes open and we'll be back between September and December again.
NI ROCKS – Obviously, the new EP is just out, but are there are plans for a new album in the near future?
SKARLETT – Not in the near future, but we are already starting to write again. We're trying to get as many songs together as possible and then we'll take the best of those and release something; probably next year, if not late next year. We're taking our time on the writing; we're going to make sure that whatever we release next is again another step up from what we've already done.
NI ROCKS – An EP or an album?
SKARLETT -  Personally, I think an album. I think we're ready for an album now.
NI ROCKS – Ok, we're going to finish off with another track from the band. It doesn't have to be from the current EP. Just tell us which one and why?
SKARLETT – This one is called "Rising" – it's from our "We Are The Brave" EP and I've picked it because it was one of our hit singles. It kicked off on YouTube and the response and reception has been really good for it. That song has helped us move forward with this new EP and started to develop that heavier sound.
NI ROCKS – Thanks for taking the time to talk to us Skarlett. Best of luck with the new EP and everything the band has planned.
SKARLETT – No problem, thanks for having me.
Dim lights Embed Embed this video on your site
Playlist for the Friday NI Rocks Show on 13th May.
STONE TRIGGER – Rattle Your Bones
TYGERS OF PAN TANG – Rock & Roll Dream
DIAMOND HEAD – Our Time Is Now
SKARLETT RIOT – Villain
Interview with Skarlett Part 1 (4 min)
SKARLETT RIOT – Voices
Interview with Skarlett Part 2 (5 min)
SKARLETT RIOT – The Wounded
Interview with Skarlett Part 3 (5 min)
SKARLETT RIOT – Rising
NEW YEARS DAY – Malevolence
ELECTRIC CITIZEN – Evil
DOOMSDAY OUTLAW – Fallback
VEGA – White Flag
RECKLESS LOVE – We Are The Weekend
BLACKWATER CONSPIRACY – Hanging Tree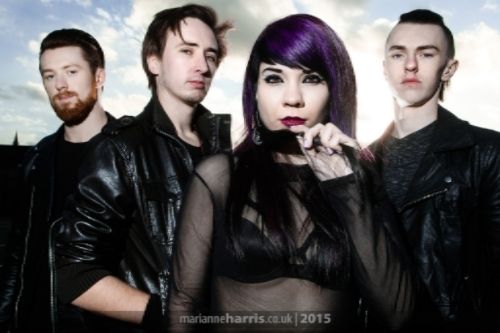 Our recommendation for "Sentience" can be read here - http://www.rockradioni.co.uk/back-stage/music-reviews/2583-ni-rocks-recommends-qsentinenceq-by-skarlett-riot.html
The recommendation for "We Are The Brave" can be read here - http://www.rockradioni.co.uk/back-stage/music-reviews/1814-ni-rocks-recommends-qwe-are-the-braveq-by-skarlett-riot.html
Last Updated (Saturday, 30 July 2016 16:54)