NI ROCKS Recommends "Sentience" by SKARLETT RIOT
"Sentience" is the latest EP to be released by English band Skarlett Riot and follows on from "We Are The Brave" which I posted a recommendation for in February 2015. "Sentience" is released on 2nd May. There are a lot of young rock bands out there; all doing their own style of rock music, and all with their own predominantly younger (than me) fan base. There are a lot of those younger bands that I find trouble connecting with musically, but there are a lot of others that I really like. Skarlett Riot and their brand of rock definitely fall into that second category and I've been a fan since first hearing them. Should they ever make their way over to Belfast you'll find me at the gig – possibly standing off to the side or at the back, but definitely enjoying the experience!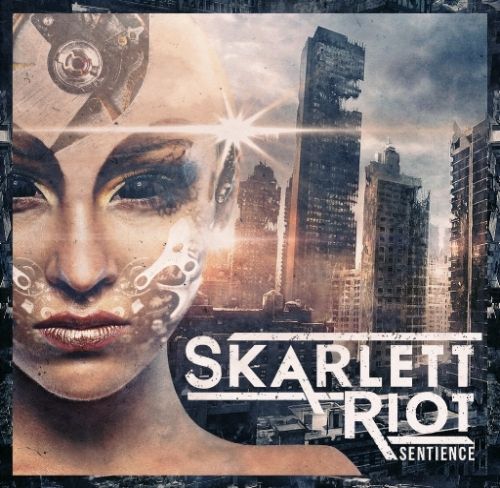 Skarlett Riot formed in 2010 and released their debut album "Tear Me Down" in 2013, having already played Download and Bloodstock following the success of their EP "Villain". They've supported or toured with some great bands, including most recently Gus G (Ozzy's guitarist) and Devilskin.
Lead singer Skarlett has an awesome voice and I'd guess from what I've seen or read a great stage presence. She frequently appeared on stage alongside Gus G during that tour and was asked to provide guest vocals on Asking Alexandria's album "The Blacks". All great rock singers need a great band though, and Skarlett's vocals are matched by some excellent riffs from guitarist Danny. Those two are very ably supported by Martin on bass and Luke on drums.
The lead off single from "Sentience" is "Voices" which was played on the Friday NI Rocks Show on 22nd April and the NI Rocks A-Z Show on 5th April. There are five tracks on the EP; the others are "Scream At Me", "Empty Inside", "Feel" and "The Wounded".
Check out https://www.facebook.com/skarlettriotuk for more info.
The recommendation for the previous EP "We Are The Brave" can be read here - http://www.rockradioni.co.uk/back-stage/music-reviews/1814-ni-rocks-recommends-qwe-are-the-braveq-by-skarlett-riot.html
Dim lights Embed Embed this video on your site
About "NI Rocks Recommends"
The simple idea behind "NI Rocks Recommends" is to acknowledge and promote some of the great music being submitted to Rock Radio NI. I'll not be giving marks or ratings or analyzing the tracks in great detail; just telling you something about the artist and the album. It's a personal recommendation to go check something out, not a traditional "review"!
My musical tastes cover most things rock; from the not too melodic to the not too heavy. The albums that I'll be recommending are merely those that I would buy myself and which you'll be hearing played on my shows on Rock Radio NI.
Check out NI Rocks on Facebook – www.facebook.com/NIRocks or Twitter - www.twitter.com/NIrelandRocks
Last Updated (Tuesday, 10 May 2016 21:39)