Many will recognise the name of Keith Slack as one time frontman for Steelhouse Lane and the Michael Schenker Group. These days he fronts the band Mother Road which has just released a great album entitled "Drive" (http://www.rockradioni.co.uk/back-stage/music-reviews/1539-ni-rocks-recommends-qdriveq-by-mother-road.html). His partner in the band is Chris Lyne (formerly of Soul Doctor). We caught up with Keith to ask a few questions about Mother Road, the new album and some of his previous work.
NI ROCKS – Keith, thanks for taking the time to sit down and answer a few questions for Rock Radio NI. Your band Mother Road has just released its debut album "Drive", so that's probably the best place to start. Mother Road is in every sense an international band. You're based in Texas and co-founder, guitarist Chris Lyne is based in Berlin. How did you initially hook up?
KEITH - Our now manager Birgitt Schwanke mentioned my name to Chris (Lyne – guitar) and then Chris contacted me from there. Chris knew of me from my first band Mudpie actually. I later learned that band had been bootlegged throughout Europe for years, without me even knowing about it.
NI ROCKS – Who brought in the other members of the band? (Allessandro Del Vecchio on keyboards, Zacky Tsoukas on drums and Frank Binke on bass)
KEITH - Chris had worked with each of the guys in the past, in previous bands, live and in the studio. He suggested each of them to me and let me hear them, then we made our decision.

NI ROCKS – How much of the writing process was done with you and Chris in the same room rather than via the internet?
KEITH - I would have to say around half or more of the record. Some of the lyrics I had previously written on my own, but I ended changing parts and phrases as we worked together in the same room and that was really a much better way to convey parts and ideas.
NI ROCKS – The record was recorded in Chris's own studio. Who was involved in the recording, production and mixing of the album?
KEITH - Yes, that's right. Chris did record most of the record at his house. However, I recorded most of the vocals at home in Texas, in my own studio. I'm used to having multiple tracks and layers to experiment with, and then I compromise until I get what I want. I'm also partial to my vocal set-up because it's tried and true and gets the sound I want. I believe Chris and Alessandro recorded the B3 and some of the back-up vocals in the Black Mamba's at Ale's studio in Italy….. And then Chris mixed and mastered it in Berlin at his studio. Now days everyone has a studio…lol!
NI ROCKS – When I posted my own album recommendation for "Drive" I included "Feather In Your Hat" as one of my favourite tracks. When I was doing a bit of research ahead of this interview I noticed that in an interview with Hard Rock Haven that you'd said that this was your favourite track from the album too. Why is that?
KEITH - It's definitely one of my favourites for sure! I really like the song because it has that raw driving, southern groove that just slaps you right in the face. I also love the breakdown part. It's one of my favourite vocal spots on the record; not because it screams out to be heard, but because it says so much without walking over the parts and over singing. I also ripped the bass line from a Frampton song (just for the breakdown), in case you didn't notice..lol. I didn't do it deliberately, it just happened and then Chris and I figured out what song it was and laughed.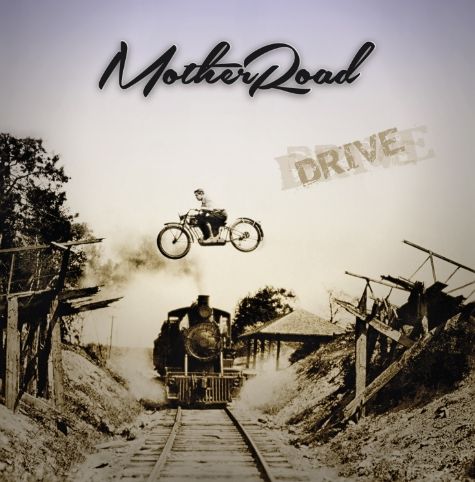 NI ROCKS – Are there plans to get the band out on the road in the near future, and will the immediate focus be on the European market?
KEITH - Yes, and absolutely YES.  Wherever it goes from here is where we will take it. If people in Indonesia dig the band, then brother we will take it there!
NI ROCKS – How would you compare the European rock scene to that in the USA?
KEITH - That's a tough question. I think that there is always a chance for our kind of music to resurge here in the U.S. I don't think it's really ever gone away. If you turn on a radio station in Austin for instance, you will hear music from the 70's, 80's and 90's all day long, mixed in with some newer rock as well.  The hard part is a new band breaking into the classic rock scene. It's tough… but not entirely impossible. My biggest bitch about the U.S. is the fact that now, 'cause there are so many people downloading music illegally, they're really aren't that many ways of making up for that, with the exception of touring. And, now the promoters and labels and who the fuck ever, want to take 30 to 40% of that money too? As we grow more independent as artistS, we have got to find more creative ways to get around these hurdles so that we can all afford to keep the lights on and keep making music.
NI ROCKS – Going back now; you started off as a drummer before switching to do vocals for your first album with Mudpie in the mid '90s. Had that been a move you'd been planning for a while or something that just seemed right at that time?
KEITH - I just got tired of dealing with asshole singers and their ridiculous egos! …LOL.
Actually, I hadn't planned it. I was sort of talked into the whole mess by a friend and then slowly adopted the idea. Now I couldn't imagine going back to just playing drums really. I tried it a couple of years ago in a Texas based band, but it just didn't work.
NI ROCKS – Shortly after the Mudpie release you hooked up with Mike Slamer to form Steelhouse Lane, a band that is still revered in the melodic hard rock community. The band released two albums in 1998 / 1999. What are your lasting memories of working with Mike in Steelhouse Lane?
KEITH - Mike and I had some great times and laughs making both of those records. There's so many great memories that it's hard to just pick a few. I've said before that being able to work for so many days in the studio and hang out with not only Mike, but Chris Thompson (of Manfred Mann), Tony Field  - of Maxwell's band at the time - Graham Bonnet and more… was just surreal.
NI ROCKS – A lot of people will also know you as the frontman for the Michael Schenker Group at one time. You feature on "The Unforgiven World Tour" live album from 1999, but were you disappointed not to get the opportunity to record a studio album with Schenker?
KEITH - You know, that whole ending is shrouded in mystery. I am just grateful for the experience and we'll leave it at that. Like I said before, working with Shane Gaalaas & Barry Sparks was worth it. Also meeting (and still to this day) having such good friends as Vinnie Moore….
NI ROCKS - I'm not a big fan of genre labels in music. I like what I like, regardless of how albums or bands are pigeon-holed. Steelhouse Lane was seen as a melodic hard rock band and indeed Melodicrock.com named you vocalist of the year at one stage, whilst Metal Hammer also named you vocalist of the year when you were with MSG. Now Mother Road is being promoted as a hard rock blues band. As the singer in all three bands what are your thoughts and how would you describe your own vocal style?
KEITH - Vocalist Of The Year? Really??? Shit man, I didn't even know that? I promise I will pay more attention from now on..lol!
I am like you really; I never got the whole 'label the music' game.  I understand people wanting to be able to put their brand on certain styles and what not, but when you start sub-dividing any one particular genre then it just starts getting ridiculous. I love many different styles of music and really never let the label game stop me from enjoying them all.
NI ROCKS – You released your own solo album "Bent, Not Broken" in 2007. Firstly, what inspired the decision to record a solo release and the title of the album? And secondly, would you consider releasing a follow up?
KEITH – "Bent, Not Broken" was a true test of myself. I wanted to prove that I could write, record, produce and play most of the instruments on the record myself. In hindsight, it was more of a burden than I needed, but I pulled it off. My writing partner at the time Gerard Garcia and I had a previous project called Start A Fire, that we never got around to recording in the studio. So I used some of those songs along with some of my own and threw them together, did a lot of soldering and wire twisting, and came out with "Bent, Not Broken."
The album title (and cover) were a tribute to the victims of hurricane Katrina. I was living in Louisiana at the time and went through both hurricanes; Katrina and Rita. Then I moved back to Beaumont and caught hurricane Ike; the front of my house was ripped off in that one and I lost a lot of gear. The title is basically about weathering the storm and staying the course, both physically and spiritually. Don't ever let anyone tell you that you can't do something. Perseverance is key!
NI ROCKS – A few quick questions that I like to ask just to finish with.
What was the first album you bought and the first concert you went to?
KEITH - My parents took me to see Three Dog Night, when I was four years old. I wouldn't leave them alone until they did…lol. "Jeremiah Was A Bullfrog" was my favourite song.
I think the first record I bought was the "Monster Mash". My parents regretted ever buying that damn record…lol. I played it over and over again until they had to take it away.
When I was six years old I begged them for "Frampton Comes Alive", and then it was on to Hendrix and Kiss.
And, my Mom had a tape cassette (when they first came out); of Jeff Beck's "Wired"; I played my little drum kit along to that tape for a long time.
NI ROCKS – What five artists might we find on your iPod or whatever if we hit shuffle?
KEITH - Oh man…. If I just glance at my I-phone right now, there is Alice In Chains, America, Badlands, Doyle Bramhall II, Dirt River Radio, Doug Pinnick, Jeff Buckley, John Lennon, Owsley, Riverdogs, Ryan Bingham, Warren Haynes, and, of course George Strait.
NI ROCKS – Any band or artists out there that you're listening to that you would recommend to Rock Radio NI?
KEITH - I'm digging Doug Pinnick's new band KXM. Great rock sound! Like the new California Breed as well. And Dirt River Radio will get you drunk and laid! Hahaha…. You have to be careful with that music. At least make sure the girl is hot before you start playing it!
NI ROCKS – Thanks again for taking the time to answer our questions. Best of luck with the new album. Hopefully we'll be able to see Mother Road in the UK sometime soon.
KEITH - Thank you so much Nigel for all of your support and coolness! Hope to see you soon on the road mate!
You can find out more about Mother Road at www.motherroad-band.com or https://www.facebook.com/themotherroad
Check out NI Rocks on Facebook – www.facebook.com/NIRocks or Twitter - www.twitter.com/NIrelandRocks