FM return to Belfast on 1st April as support to Foreigner in The Waterfront Hall. Local support comes from the recently reformed No Hot Ashes. I spoke to FM lead singer Steve Overland on the 10th February to ask him a few questions about the gig, future plans for FM, the release of his new Overland album "Epic" and a few other things.
The interview was broadcast on the Friday NI Rocks Show on Friday 14th February and again on 28th March. The show from 28th March which includes the interview can be heard at https://www.mixcloud.com/NIRocks/ni-rocks-interview-with-steve-overland-of-fm/
The full interview can be read below.
NI ROCKS – Steve, thanks very much for taking the time to talk to Rock Radio NI. We were wanting to have a chat about the upcoming FM show in Belfast, future FM plans and also the release of the new Overland album "Epic".
The shows in Dublin on 31st March and Belfast on 1st April are the first dates of your tour with Foreigner. It's not your first tour with that band of course. How would you describe your affiliation with that band?
STEVE – We toured with them a couple of years ago, we played Belfast and Dublin and did quite a few big dates across Europe with Journey and Foreigner. It was just a fantastic bill, the three bands complimented each other and we all got on really great. They were a great bunch of guys. They basically kept in touch with our management and when they were coming to the UK they requested that we do the shows. They're a great band to tour with so we're looking forward to it. The tour starts in Ireland and then goes right through the UK where Europe are on the tour. Then we're off to Europe with Foreigner as the main support again, and we're staying out in Europe and doing about six headline shows. After that we're going over to America to do a big festival over there and a couple of dates out there with some other bands. It's all working out really well.
NI ROCKS – The opening act in Belfast is No Hot Ashes. A band that features Steve Strange, FM's agent on drums. That will be something new for you I presume?
STEVE – Yeah, Steve's not just our agent, we're part of Strange World Management which is part of his management company and he's an old friend. He promoted a show for us years and years back and he's been in touch with and known the band throughout our whole career. So when we hooked up with him again it was like meeting an old friend again. He's been brilliant for us and obviously Foreigner are one of his bands. It'll be great to see Steve playing. I did see him play once – you know he's a great drummer.
NI ROCKS – No Hot Ashes only reformed for a reunion gig late last year, but now they're playing some shows in America as well.
STEVE – Yeah, they're doing a couple of things. It's the same thing as FM. They did one reunion gig and the response was so good that they want to do some more. Good luck to them. It'll be great to have them on the same bill.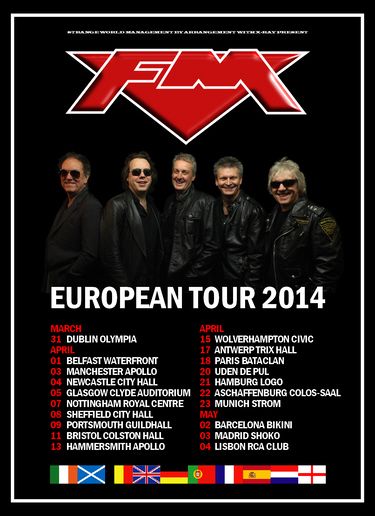 NI ROCKS - You've been regular visitors to Belfast over the years of course and I'm sure you've seen a big change in the city. This will be the fourth show here since your reunion and actually the fourth different venue. How have you found the Northern Ireland audience?
STEVE – Fantastic, that's why we keep coming back. There's a great rock fan base over there and we've always played in Northern Ireland. Many years ago we did a tour with Mama's Boys and played Belfast. We try to go to Ireland everytime we tour. Sometimes it's difficult because there are only so many venues you can play and it's hard to get the venue when you want it to fall in with the tour. But whenever we can get out there we do. Belfast is such a great place to visit and we've always been very welcome and had a warm reception, so why wouldn't we keep going there.
NI ROCKS – I was reading some of the FM tour diary entries. Merv wrote one from 2010 when you played Spring & Airbrake.  He mentions some difficulties during the "No Electricity Required" tour in the early 90s?
STEVE – (Laughing) Yeah we don't want to go into that one do we. It was a long story. We got stopped and one of the crew got taken away. It was a bit different then, but there was no problem. In the end we did the gig and it went great. It happens wherever you travel, you come up against problems. The gig turned out to be a great gig and it didn't put us off coming.
NI ROCKS – I laughed at him referring to the Spring & Airbrake as one of the worst named venues he had ever played in.
STEVE – Yeah, when it came up it was a bit like, "What"? It's a good venue though.
NI ROCKS – It's actually been done up since the last time you played here. It's now called Limelight 1. You'd played the old Limelight as well. They're now called Limelight 1 and Limelight 2 and they been done up. You'd hardly recognise Limelight 1 – all the pillars are gone
STEVE – I'm sure we'll be back. After this tour it's the 30th anniversary of the band and we're going to do the UK, Spain and Portugal. We'll be back to Ireland no doubt about it. There'll be a proper big tour next year. We're already recording a new album. We're trying to get a head start on it really. What we normally do is we leave it and we go out on the road and you find you're scratching around for studio time trying to get it done. We've done about five songs and we're really pleased with them. There's a new EP coming out for the Foreigner tour. It's a couple off records, another track that has never been recorded, a remix. It's nearly an hour long. Things are going great at the minute.
NI ROCKS – Last year saw the release of "Rockville" and "Rockville II" following a very successful Pledge Music campaign. What are your thoughts on the pledge approach to recording albums and will you be using the same process for the next album?
STEVE – Initially our management said you should take a look at this Pledge Music thing and we were like "No, no, no, let's just do a record deal for the album". We dismissed it to be honest until we looked into it and it really is a great thing. It worked great for us. It's a chance for the fans to actually have a say and a stake in what you do. We had fans at video shoots, we went out for meals with them, we had them at sound check on the last tour. They would sit beside the stage when we were soundchecking and I could have six fans asking me questions, or playing my guitars. It's just a great way of hearing what the fans actually want the band to do. Not just what record companies and management tell you. They're the people buying the records, so that feedback from people who have been there since day one is important - saying it would be great if you did this or did that. You take it onboard because those are the people that will be at the shows. They were giving us their ideas and their thoughts on the albums since we came back. It's a great thing to do.
We always record about 20 songs for an album so that we can pick the best running order for the album. And the ones that get left off are not necessarily because they're not as good, it's because if we have three ballads we can only put one on the record. We got this thing from Pledge and what they normally do is release a bonus album. They said have you got any demos to release, and we don't release demos. I don't believe in that, charging the same price for an album you've done in the studio. So we said look, we've got seven songs that are recorded and produced by the same people, mixed by the same people, why don't we go into the studio and record another three and make it a proper  record. We were on tour with Thin Lizzy at the time and on all the days off we'd head into the studio to record three more tracks. So it came out that we had two albums "Rockville I" and "Rockville II". It is what it is; it's not an album of demos. We felt that we hadn't done the fans out of anything because they are two albums that stand on their own right. So, it worked out well and it has been really well received.
NI ROCKS – What is the writing process for an FM album? Does everyone bring in certain songs or is done collaboratively when you all get together?
STEVE – We normally have the bones of a song. I'll come up with the basics of a song or maybe Jim will and I'll go round and sit down with him and do some melody lines. It's a real collaboration. Normally one or two people have got a song and then the way we get it to sound like an FM song is that everyone chucks their bit in and says why don't we try this and try that so that you kinda get that vibe on every song. It's not one writer going in and saying "right, this is how it goes, you play this, you play that" it's very much a band FM and always has been. Although in the early days me and my brother wrote a lot of the material, the band always put a lot into the actual arrangement and how the song came out in the end. But, that's how we do it now. Everyone has their input although the songs are instigated by one or two people.
NI ROCKS – My next question was going to be when might we see the next FM album, although you've kinda covered that?
STEVE – Yeah, the EP during the Foreigner tour and the new album probably early next year, just because to get it finished and get it right we're on the road so much for the next few months. So being realistic – early next year.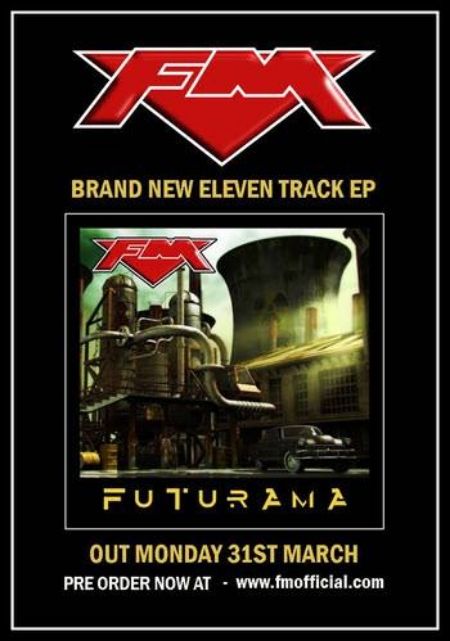 NI ROCKS – The band has been fortunate to retain the same line-up since 2008, which is the longest period without change since the original 80s line-up. That must be a positive thing? Do you think that it has helped?
STEVE – Well I think it's important for the fans and I think this line-up is the best line-up. I really do. All the people in the band gel, we have great fun and now that we're a bit older we have to get along or people wouldn't do it. We just enjoy every moment and don't take it for granted. I mean, walking our in an arena stage with Journey and Neal Schon playing guitar! To get a second chance of doing it again is fantastic. You still get the same buzz. Bringing Jim into the band – he's a bit younger and a fantastic guitar player – he kinda gives us a kick up the backside a bit. He's got a lot of ideas of where we should go and what we should do to move the band forward. Everybody has an important role in the band and we're all mates who don't mind being together for two months at a time. We talk things through and any kind of disagreement never comes to anything; we just talk it through. Everybody is really happy at the moment, it's a great line-up of the band and musically it gels brilliantly as well.
NI ROCKS – This year will be the 30th anniversary of the founding of FM in 1984. You've a headline appearance at the Cambridge Rock Festival in August, but are there any other plans to mark the occasion?
STEVE – Well we've a few plans, but I'm not going to give them all away. We've got a few things up our sleeves. As far as the set goes, as it's our 30th anniversary its going to have to be something totally different from what we normally do. It's going to be a piece of all the eras of FM, something from every record just to show the 30 years and the way the band has moved since "Indiscreet" and the different directions, the things we've gone through. There will be a totally new set with songs we probably haven't played live before and there will be some appearances by people who hopefully the fans will remember, so it should be great fun.
NI ROCKS – On top of your FM duties, you've been working on the third album release from Overland. "Epic" is released on 21st February. Can you tell us who was involved with the recording of that album?
STEVE – It's produced by a guy called Mike Slamer who has produced lots of really great rock albums. He was in a band called City Boy many years ago who were a big band in the UK. Mike has produced some big albums in his time and the record company hooked me up with him. He got some great people in to work on the record – Billy Greer from Kansas is on backing vocals, he's got a fantastic voice that blends so well with my voice. With the Overland stuff I like to make it sound a bit different from FM if I can. With FM I do all the lead vocals, all the backing vocals, everything. It's nice because Mike brought in Billy Greer and a couple of singers to do backing vocals and it gives it a totally different sound – instead of it all being me. Mike played some guitar on it. The songs were written with a guy called Christian Wolfe. It's a different way of writing because Christian just sent me some backing tracks through – so it's a song with an arrangement, no vocals, no melodies – nothing! Just music. Then I went through maybe 20 tracks saying "I like that" and "why don't we do this" ; he works on it and sends it back. Its great to do it differently from FM. It's a different way of writing and a different challenge and I' really pleased with the album, the songs are really strong. It has had a great response from the press and radio. Which is great because the process of it being made for the last two years has been tough, with FM commitments etc and we've been trying to get it right. So when we get the feedback that we've had it is very rewarding. You do lose track of it when it is done so spasmodically – I'll work on it for two months then I'll go away from it for six months then come back to it. I'm really proud of it.
NI ROCKS – Have you plans to tour with Overland at any stage this year to help promote the album?
STEVE – Definitely, yes. There's another band that I work with called Shadowman – it's Steve Morris and the guys from Thunder  - Chris and Harry. We're doing a new album with them, which will probably be later in the summer between FM stuff. The songs are written it's just time really. I've gotta tour with all the bands because the record company keeps saying can we do some dates. Really with rock music the only way to relate to the fans that support you is to do gigs otherwise it just seems like another put together band – which none of these bands are!! It's just the time frame! How do you get Chris who is in The Union, Harry who is in Thunder, Magnum, god knows how many bands, Steve Morris who plays with Ian Gillen and does sessions all the time together? But it will happen.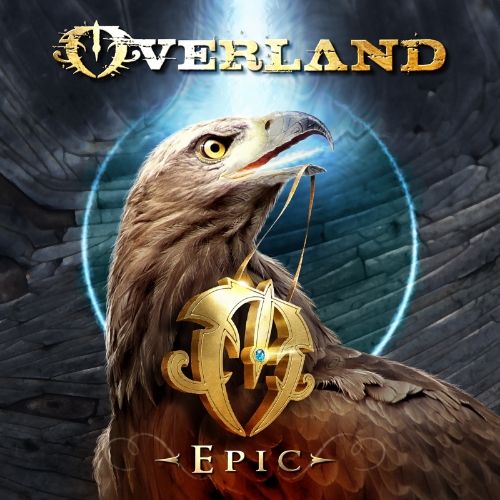 NI ROCKS - I like to finish off with a few quick general questions. What music interests you at the minute? If I was to get your iPod and hit shuffle what might I hear?
STEVE – At the moment, I'm kind of going back to my roots a bit. I've been listening to a lot of Bad Company. "Straight Shooter" was one of my favourite albums. In the middle of the night recently I was driving home from rehearsals and I heard an interview with Paul Rodgers on the radio. He was talking about his career and it kind of sparked me going back to Free and reiterated how brilliant those bands were. That's how I started really with bands like Free. Those were the bands that influenced me. It's great to go back to it and it is amazing how great those albums still sound. They're not layered with loads of over dubs. They're really striped down albums, fantastic.
And, it's a bit strange this one really, I've been getting into a bit of Americana, like Keith Urban, country rock but with heavy guitars really. A band called Rascal Flatts who I think are fantastic. They've sold about 11 million records in America but nobody had heard of them over here. I like to listen to a bit of everything. I've three sons and they play all sorts of nonsense. I'm kind of always surrounded by all types of music. I listen to everything, but at the minute it has been going back to my roots and listening to the box set of the Free albums – I'm really loving it.
NI ROCKS - Can you remember the first album you bought and the first gig that you went to?
STEVE – First album that I bought would have been one that I'd heard that a friend of mine had. Humble Pie – I bought an album called "Rockin The Fillmore". At that time it was Steve Marriott and Peter Frampton in the band. That album to me is still the best live album ever released. I loved it. Steve Marriott was such a great rock singer. That got me started really and then I went through that and started buying things like Tamla Motown because of the singing. Then it was guitar playing and I was fluctuating between singing and playing guitar. So some albums had great singers on them and some great guitarists like Jeff Beck.
First gig was a band called Wizard! I went to the Kings Lynn Corn Exchange. King's Lynn was where me and Chris, my brother, come from. It's a town in Norfolk
NI ROCKS -If you were given the opportunity to step in and cover vocal duties for any band – past or present – what band would it be?
STEVE – That's a tough one. You get offers to do those things sometimes. But, even when I was with Wildlife, the first band I had with Simon Kirk of Bad Company on drums, I felt a little bit self conscious that I didn't want to be stepping into Paul Rodgers shoes.  Bad Company hadn't announce that they'd split. This was a project between tours.
I've been loath ever since to do anything like that. I sing the way I sing. If I did it I'd so it as as me. I wouldn't want to sing it like them. Singers are such an identity thing for a band – to step in and replace a singer is something I'd always be very tentative about.
NI ROCKS - That's us. Thanks again for taking the time to talk to us at Rock Radio NI. Best of luck with the upcoming tour.
For more information check out :
http://www.fmofficial.com/fmofficial/index.html
https://www.facebook.com/FMofficial
https://twitter.com/FMofficial
{youtube}jttatiiB1AA{/youtube}
Check out NI Rocks on Facebook – www.facebook.com/NIRocks or Twitter - www.twitter.com/NIrelandRocks