Californian band Sunflower Dead recently released their second album "It's Time To Get Weird". The band came together in 2011, with their name and stage characters being based on a short story written by singer Michael Del Pizzo. The "Sunflower Dead" relates to five murdered children who return to seek revenge on those carrying out acts of evil. Check out the band's website for more info - http://www.sunflowerdead.com/about/
I spoke to Michael via Skype on 16th March and you can listen to our conversation about the band, the new album, working with Korn's Jonathan Davis, future plans and more on the Friday NI Rocks Show that was broadcast on 18th March. That Show is now available via our MixCloud page - https://www.mixcloud.com/NIRocks/interview-with-michael-del-pizzo-from-sunflower-dead-on-the-friday-ni-rocks-show-18th-march-2016/
NI ROCKS – Hi Michael, thanks for taking some time to talk to Rock Radio NI. Your band Sunflower Dead has released their second album "It's Time To Get Weird". Before we chat about that I thought we'd talk about the band itself. You're the lead singer. Who else do we have in the band?
MICHAEL – On lead guitar we have a guy named Jaboo and on rhythm guitar we have Jamie Teissere. Jamie was from the band Droid who were signed to Munky; which was Korn's record label in the mid 2000's. On bass we have Lats Kearns who was signed to Columbia I believe in a band from Australia called Memento. Then on drums we have Jimmy Schultz who has done some touring with In This Moment and now he's on our band. That is Sunflower Dead.
NI ROCKS – The story behind the name of the band and the characters that the band members portray is really interesting. It all stems from a graphic novel that you had developed I believe?
MICHAEL – Yeah, it was a short story that I wrote years ago before we started this band. I lived off Sunflower Avenue and one day I saw the sign and the words sunflower dead came to me and I thought it was cool. I started thinking up this whole story line to go with it and I wrote it down and put it aside. Then when it became time for a band name, because we'd started this band four or five years after that had happened, Jamie said I want a band name that describes both the beauty and the ugliness of our music, and I keep hearing something with a flower in it. Then I started telling the guys about the Sunflower Dead and they loved it. We wanted to start a band that was more along the lines of entertaining people. We decided to become the characters in the story.
NI ROCKS – Has the story behind the characters progressed since its conception or is that something you don't see changing?
MICHAEL – The story is the story. Even though we look like the characters, the songs themselves aren't about the story lines. But the story itself has been developing over the last few years as I'm writing and getting it ready for the graphic novel it has expanded tremendously. I can't wait until the day we can put that out there. It's going to be really interesting, even for people who don't know the band and who just latch onto it because of the graphic novel, it's going to be really cool.
NI ROCKS – You released the first self titled album in 2012, within a year of forming the band. That would suggest you were very focused on getting your music out there?
MICHAEL – Yeah, for sure. We really didn't want to do the whole play locally in southern California and do all that nonsense. We figured the music industry is kinda like the Wild West nowadays; so we took advantage of who we knew and what we knew from previous bands. We got our butts out there.
NI ROCKS – The release of the debut album was followed by several years of pretty intense touring in the US and Europe. Do you have any personal highlights from those tours?
MICHAEL – Yeah, the first time we played New York City was at the Gramercy Theater and it was just an unbelievable show. It sounded so massive and the crowd went crazy. In the US also, the couple of times that we've been to the Machine Shop which is such an amazing venue. And in Europe when we were there with Korn we got to play in Manchester and London. It was just incredible, those nights with Korn. All those people; the shows were sold out. People were so great to us. They're the shows that stood out for me.
NI ROCKS – That brings us to the new album "It's Time To Get Weird". I played the title track at the start of the interview. That track includes guest vocals by Jonathan Davis of Korn who, as you mentioned, you supported in London and Manchester last July. When did you approach him to work on the album?
MICHAEL – We were meeting with record labels last January or February. The record was completely done; we'd recorded, mixed and mastered it in the fall of 2014. One of the labels said 'you're going to Europe with Korn in the summer why don't you ask Jon to sing on one of the tracks. He's a friend with guys in the band.' And we thought that was a cool idea. We'd never really thought about that; we're always trying to do stuff on our own. We didn't sign to the label but we did use their idea. We called Jon up and he said he'd do it so we went to a studio in Bakersfield in California and me and him sat and tracked the vocals. It was awesome. So now there are two versions of the song. The one with just me isn't released; just the one with him is released.
NI ROCKS – Do you think the other version will get released at some stage?
MICHAEL – At some point, I would think so. Just as a little bonus as people might want to hear the original. It's cool to hear the two different versions. You hear where it started and what Jonathan added to it. He's so unique, it's unbelievable.
NI ROCKS - We'll play another track from the album now. Would you like to pick one and maybe tell us a little about it?
MICHAEL – Yeah, we could do the track "My Mother Mortis". This song lyrically is about dealing with anxiety. The title is my metaphor for my anxiety that I deal with. It's a cool song because it wasn't written to be a single or on the radio. It has a really killer riff that our bass player had written in the verses. We all fell in love with it and wrote this big groovin song around it. It's a live staple now and goes over great because it is so powerful and crushing live.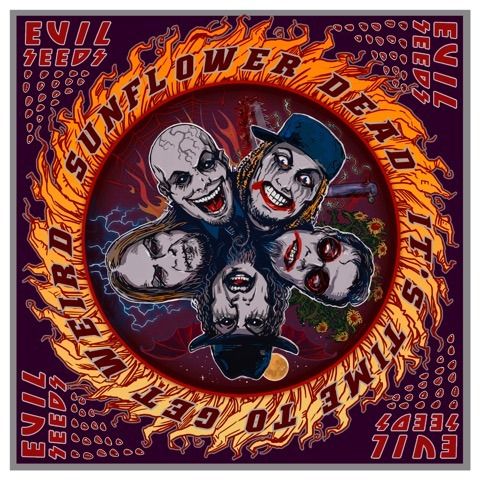 NI ROCKS – Who did you work with on the new album and where was it recorded?
MICHAEL – It was produced by Dave Fortman who had done the first two Evanescence records, some Slipknot and Godsmack records and Mikey Doling who was the guitar player in SNOT. So they co-produced the record together. We did the drums in LA and rented a cabin out in Palm Desert, California and lived there for a couple of weeks and recorded the album there in a friend's studio. We'd booked a month out there and did it in twelve days. It was such an easy going process. We tracked our stuff and had a great time. Dave took it and mixed it and made it incredible. He is a genius.
NI ROCKS – How would you compare the song writing process second time around compared to the debut album?
MICHAEL – Both times we wrote it as a band in the studio together, but the second album is the cumulative effect of touring for two and a half years and really figuring out what works and what doesn't for Sunflower Dead, what we wanted to be and how we saw the fans react. You can tell the difference with the song writing, with the polish on the record and how direct we were on this record. On the first record we almost laid out a palette of ways we could go and things we liked. After we had toured it for two and a half years it led us in this direction. We went down this tunnel and we're very happy with it.
NI ROCKS – You've already released a couple of videos from the new album – for "Dance With Death" and "It's Time To Get Weird". They're very much in keeping with the image and story of the band. How much were you involved in the concept and who did you work with on them?
MICHAEL – With the first video, I was not so involved with the concept. The director we worked with – I can't even think of his name right now – was an Emmy winning director here in the USA. He came up with the idea of just us against a green screen. The only thing I said was that I wanted something to introduce us to the world of comics because of the graphic novel that we're doing. So he interspersed this comic book story-line. It came out cool. The second video was an animated video for "It's Time To Get Weird". That was 100% me – I sat down with the band and our team and said I'm going to write the treatment for this video because it has to come out a certain way. So I wrote the treatment and everybody loved it and then our manager found the animators, who were incredible. They brought the treatment to life x 1000. Everything I envisioned it being, they made it even better. To me it's a very special video.
NI ROCKS – There's a track on the album that particularly stands out as it's a much simpler track than the others. That track is called "Nothing" and I'm going to play it next. Can you tell me about that track?
MICHAEL – "Nothing" is the one piano ballad on the record. It's one we don't get to do live yet because there's not enough time for me to sit down at the piano and sing. I feel that it's the kind of song that showcases that we are more than just a rock-metal band. We have a lot more colour and musicality to us than one might perceive, especially for a band with make-up and that kind of thing. It's actually a song that I wrote when I was probably about 19 and then re-did for this album. It's just very special for me and I love it. Me and Dave Fortman were so stoked when we were tracking it. He put all the strings and orchestration on it and it is a special one.
NI ROCKS – What does the remainder of 2016 hold in store for Sunflower Dead? More touring I presume?
MICHAEL – Wow! Over the past two weeks we've had tour offer after tour offer. We're about to announce touring that will start in May and take us all the way through to September and then we'll see what comes in the fall. All of a sudden because we're doing so well on radio here in the US we're getting offer after offer. We just signed with a booking agent here and we're going to be busy guys; which is what we wanted to happen.
NI ROCKS – Are all those dates in North America or are there any more European trips planned?
MICHAEL – Everything in the spring and summer is in North America. We did just get offered a European run in the fall. I don't know if we're going to do it yet; we're going to look at all the options. We had such a good time last summer in Europe and in the UK that we couldn't wait to get back. This just got offered to us yesterday and we're thinging should we go back already? Maybe we should?
NI ROCKS – I read somewhere that you refer to your fans as the "Evil Seeds". I could imagine that you get some pretty dedicated fans that get behind the whole concept of the band.
MICHAEL – What's cool about it is that we didn't name them that. When the band started we probably had about 50 fans and they just kinda started calling themselves that. I remember there was this thread on Facebook about it. One guy said we're the Evil Seeds; first it was the Dead Seeds then it was the Evil Seeds. We thought it was great and started saying it. You'll see it on the album sleeve and in fact the last track on the album is called "Anthem of the Seeds". It's a little dedication to the fans that have supported us so far. It's pretty cool and they've rallied behind that song which I figured would have just been a fun song. It has ended up being pretty wicked played live.
NI ROCKS – Were there particular bands that influenced you to get into music in the first place or influence the Sunflower Dead sound?
MICHAEL – As far as all of us goes, we're five different dudes and everyone comes from a different world musically. For me, I started with Black Sabbath, Zeppelin, even Twisted Sister, Guns n Roses then death metal, Pantera, Metallica and Korn; anything rock or metal was what I was about. Then girl singer-songwriters, hip-hop, classical music it all influenced me. But as a vocalist my biggest influence and idol was Steve Perry from Journey. He is unmatched vocally for how sweet his voice sounds. That hits me in a certain way and I absolutely love it.
NI ROCKS – What bands do you find yourself listening too when you get the opportunity?
MICHAEL – Lately I've been listening to a band called New Years Day; they've a couple of really good tracks.
NI ROCKS – With Ash Costello. They played Belfast recently and put on a great show.
MICHAEL – Yeah, they're pretty cool. I listen to a lot of Avatar – their last record and I'm looking forward to the new one. I was actually pretty shocked with the new HellYeah single "Human" – really great. Love it.
NI ROCKS – Which brings me on to my next question. What was the last album you bought and last gig that you went too?
MICHAEL – The last album I bought was the New Years Day album "Malevolence" – I literally just downloaded it from iTunes about three days ago. The last gig I went to was my own in Las Vegas which was like three weeks ago. We're playing in two days time in Orange County at a benefit gig for a friend who passed. We're playing a big benefit for him.
NI ROCKS – We'll finish off with another track from "It's Time To Get Weird". Do you want to pick another and tell us something about it?
MICHAEL – We'll do the first single "Dance With Death" which is also the first song on the album. This song was really a rallying call for me – I'm not going to let anything stand in my way or have any obstacles stand in front of me to achieve what I want to achieve. That is the metaphor – I'll dance with death; I'm not going to stop going after what I want.
NI ROCKS – Thanks again for taking the time to talk to Rock Radio NI.
MICHAEL – Thanks very much for having me. I appreciate it and so do the band.
Playlist for the Friday NI Rocks Show 18th March 2016
(Uploaded 17th March)
GASOLINE OUTLAWS – Nothing On Me
THE LAST VEGAS – Bloodthirsty
THE NEW BLACK – With A Grin
SUNFLOWER DEAD – It's Time To Get Weird
Interview with Michael Del Pizzo from Sunflower Dead Part 1
SUNFLOWER DEAD – My Mother Mortis
Interview with Michael Del Pizzo from Sunflower Dead Part 2
SUNFLOWER DEAD - Nothing
Interview with Michael Del Pizzo from Sunflower Dead Part 3
SUNFLOWER DEAD – Dance With Death
NEW YEARS DAY – Malevolence
BALEFUL CREED – Autumn Leaves
STONE TRIGGER – I Declare War
WIZZ WIZZARD – Rock Lives On