NI ROCKS Interview with JOE LYNN TURNER (Feb 2015)
Back in November I posted an interview with Joe Lynn Turner that we'd done via e-mail. That interview covered his latest release with Rated X and numerous other projects. (http://www.rockradioni.co.uk/interviews/1725-ni-rocks-interview-with-joe-lynn-turner.html) Since then the former Rainbow and Deep Purple singer has announced a series of solo shows across the UK, including one in Voodoo, Belfast on 4th April, so I took the opportunity to record a new interview with JLT for the Friday NI Rocks Show and get him to select some tracks to play. We chatted for about 25 minutes and JLT talks about the upcoming solo shows, his hopes for Rated X, upcoming plans including appearances on the "Rock Meets Classic" tour and working with Richie Blackmore, the Hughes Turner Project and more.
The interview was recorded on 20th February and was broadcast on Friday 27th February. It is available from the NI Rocks MixCloud site -https://www.mixcloud.com/NIRocks/interview-with-joe-lynn-turner-from-the-friday-ni-rocks-show-on-27th-feb-2015/
NI ROCKS – Joe, thanks for taking some time to talk to Rock Radio NI. I wanted to talk to you first of all about the series of shows that you're playing in the UK at the start of April. Including of course the show in Voodoo in Belfast on 4th April.
The shows are billed as "An Evening With" so what can fans expect? Will you be answering questions as well as telling some stories?
JLT – Yes, absolutely, that's why it is "an evening with" because usually someone will go on stage and do this and that and walk off. I've done these before and it really works well when you get the people involved. Sort of virtual or interactive. I know everyone has some questions. Some people will answer other people's questions by their questions, but I urge everyone to think about what they'd like to ask me – how was this, how was that, how was it written, what were you thinking about, who did what to whom – any of that stuff. We could get into all kinds of trouble, but we'll decide which ones should be fully answered or not. It's a great way to get to know each other and to be a lot closer and intimate to the audience, fans and friends that show up. So I'm really looking forward to doing the format. You do a show and you're so far away from the audience that all you get to do is say a few things then it's thank you very much and goodbye. So this will be a real pleasure.
NI ROCKS – Are you on stage totally on your own or is there someone helping you out?
JLT – I have a friend of mine Simon who will join me to play second guitar. It's always good to have a second guitarist because it fills out the sound, plus he is going to be my tour manager anyway so I might as well make him work a little bit more (laughs). He'll earn his keep just by being tour manager, but he's a fine guitarist and I'm trying to involve him in some vocals as well.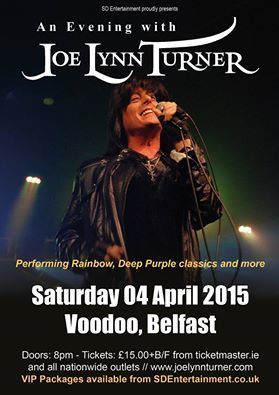 NI ROCKS – You've a huge number of albums to draw from of course, but will there be a focus on the Rainbow and Deep Purple era? What will we hear?
JLT – There's a lot of songs, from The Beatles to Van Morrison. All kinds of stuff. Deep Purple and Rainbow of course, but also a lot of my influences from when I was growing up. So we might cover some of those, such as Elvis Presley. It's just going to be loose and fun and off-the-cuff.
NI ROCKS – You've been in the music business for almost 40 years. Rainbow and Deep Purple are of course the most widely recognised names, but you've worked with a huge number of people over the years and released numerous albums. Is it possible for you to pick your own Top 5 or even Top 10 albums that mean the most to you personally?
JLT – That's pretty difficult. Most people would probably pick the most successful, but that's not it. As you well understand, there are so many projects that I have been involved in that are labours of love as opposed to commercially selling, though of course Rainbow did very well and that was just great. I mean the magic that Richie and I had was incredible. The song-writing, performances, the tours, the recordings; everything was just spot-on. So it is difficult. It is kind of like picking children. You love them all but there are some bright spots. But you hate to pick out one or two. I could run down a list and say it was great to do the HTP albums, it was great to do the Sunstorm albums, it was great to do the solo albums, I could go on and on. Not all of it is going to be to the taste of everyone, but nothing ever is.
You go through different periods in your life where you focus on different songs or styles. For example I put out a solo album called "Slam" (2001) which I thought was brilliant, but it seemed to be a dark force so to speak. People said I was a prophet of doom and I never understood that because it is a dark album. It has got some heavy statements in it, including the title track. There was, and still is, a comet heading our way and everyone is going about their business, fighting about what to wear and what TV show to watch and this that and the other. No one seems to give it any mind; it's just going to take the planet right outta the galaxy. That's what I was writing about and I don't think people want to hear that, although it is reality. I have never figured that out. Yet that was one of my favourite albums.
NI ROCKS – I guess each album means something different to you.
JLT – Yeah, you go through these periods. "Holy Man" (2000) was a great album. I loved every bit of it. I was writing and playing with Joe Bonamassa and Akira Kajiyama and many people don't even know that. Which speaks volumes about how involved they do or don't get. Joe Bonamassa was about 16 or 17 and his father came to me and said this guys a star and he was right, he was and still is. We wrote some songs and I think I still have one or two songs in the can that have never been released, which I wouldn't release of course unless I had Joe's permission as well as that is only respectful and right. Which we may do someday. No one understood what a big star he is and yet he is all over that album, on three tracks. I know he played on two albums of mine. Things like that. Strange what people pick up on and what large events they completely miss.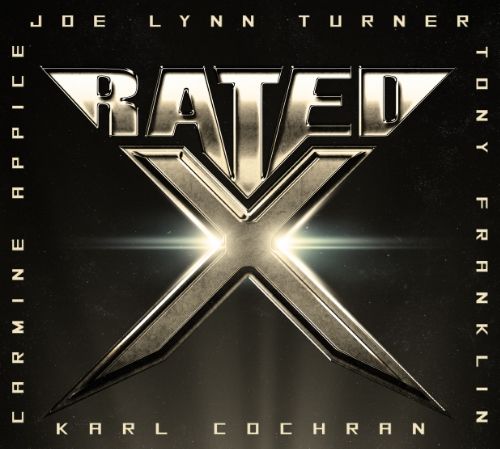 NI ROCKS – I'm not sure if any of the tracks will be included in the upcoming shows, but your latest release was the highly rated self- titled album from Rated X. The band also features Carmine Appice, Tony Franklin and Karl Cochran. Can you tell us a little about how that band came together and about the recording of the album?
JLT – We wanted a band that we could fall back on. That was the idea behind this particular album – that Rated X should be that band. The paragon of the music industry is that it is really difficult to be a band, and I say this in truth for everyone out there who is struggling. Let's face it, economics keep us together. You need the right economics, and I'm not talking about tons of money, just getting enough work to get by. You'd think with all these big names in the band that we'd have no problem but that's not the truth. The truth is that promoters say well we know Joe Lynn Turner, we know Carmine etc but we don't know them together. Even with the album, which I have to say is a brilliant album, and it has been reviewed as such, it is still difficult to get the work. In the meantime if you don't book yourself solo tours or whatever you're losing the whole concert season with spring and summer coming up. We started worked months and months ago on this for Rated X and only came up with a few dates which I'm not even sure we can do now because it is not economical. To bring the band over to Europe and play a festival one month and a festival the next is not cost effective and it interrupts all of our schedules. People might shun that, but if you don't have a nine to five job and we have no revenue stream from CD sales which has been taken away, all you have is live and merch and that is it. In order to sell merch you need to play live because that is when you sell most merch. But then to carry merch you have to be over-weight at the airline etc etc. I could go on and on about it. It is a difficult conundrum. We've been having problems so all of us are booking our own solo shows now. I think we have something booked in late June here in the States. We have a pretty good agency involved who took a liking to the band. That's the secret, is to get someone to fall in love with the band. They book dates because they love the band, think we're bringing back classic rock in an intelligent way. It has been very difficult to say the least. We never in our wildest dreams wanted that to happen. We were full of, how would you say "piss and vinegar" and wanted this to work but we're just running into trouble. It doesn't mean that we won't be out there, just not right now because we've all got families and bills like the rest of you and we gotta do things that are economical. I love doing acoustics; it is what I used to do even before Fandango. And Fandango used to do acoustic nights. It was wonderful because it was so intimate and this is going to be a great experience once again. But I would like to come back and play an electric set as well in the UK. This gives me the opportunity to come back and do that. Getting back to Rated X – great album, great line-up, great production, you name it and here we are. And it's not unusual.
There are so many great bands that have product out and they're struggling because the internet is both cruel and unforgiving. It is a blessing and a curse. It can be helpful in so many ways, but it can also bury you. Everyone is fighting for space; everyone is fighting to be heard. And most people don't even listen to albums anymore which is a shame because Rated X is an album to experience. If you listen to the whole album, that takes you on a journey.
They say that people don't listen to anything but hits; that's what the stats say. We're living in a different paragon today. The music business is completely different. The classic rockers I have to say, thank god for them, at least seem to answer the call and stand firm. God bless them. Getting a new audience is really tough. We're going to struggle along though and even go for another album and hopefully that will make more sense because people will have heard this album and see that we mean business and that we're a reality. Fingers crossed.
NI ROCKS – It was a brilliant album and as you said got rave reviews. A second album would be great.
JLT – Yeah, how do figure Nigel! Rave reviews. Amazing, brilliant, blah blah blah but here we are.
NI ROCKS – Just to back track slightly. When was the last time you were in Northern Ireland? Can you remember?
JLT – I remember kissing the blarney stone but I don't remember when it was. It had to be the early 80s. Too long is the answer really. Much too long. Beautiful people, beautiful country. I'm looking forward to it. Drink a few pints and sing a few songs. That's the other thing! I'm urging people to sing along. I hope they have voices.
NI ROCKS – You'll always get a sing-a-long here!
JLT – Yeah, it's all sing-a-long. That is the kind of atmosphere we want. Get ready for that! To have a good time. Not to be all stiff and starchy.
NI ROCKS – No we don't do that bit very well. The stiff and starchy.
(Laughs)
NI ROCKS – At this point I'm going to play a track from that Rated X album. Would you like to select a track, tell us a little about it and introduce it for us?
JLT – I could give you the single type songs which are absolutely great,  but I'd really like you to play "Journey to Lhasa" because I think that song is an epic. "Lhasa" is our "Kashmir" in my opinion. We could play "Fire and Ice" or another commercial song like "I Don't Cry No More". Again, all my children. It's difficult to pick that one that is just going to ring true with everybody; I'd hope that they all do.
Dim lights Embed Embed this video on your site
NI ROCKS – This year marks the 30th anniversary of the release of your first solo album "Rescue You" in 1985. Are there any plans to acknowledge that or any plans for a new solo album this year?
JLT – Well, no. It is nice though to have that anniversary. I love that album. I still think it stands firm to this day. Production, performance, writing everything. But, I don't think it is a benchmark right now. "Rated X" came out and we worked really hard on that. I'm going to concentrate right now on the tour. We've almost 3 or 4 months booked and it is wonderful to go round the world again and see everyone. It's very hard work I might add. A lot of people think acoustic is easy but it is not. You've actually got to use your voice much more delicately than if you were playing rock. You can get away with a hell of a lot more in rock n roll than you can in acoustic. You gotta be in good shape.
The thing with the anniversary, 30 years of "Rescue Me", brilliant album but as far as plans to do a solo album; maybe towards the end of the year in the winter I could start thinking about that. But I was really hoping that we'll get a different deal with Rated X and that we could start doing what we wanted to do on the second album. Because I still believe in this band and still believe in our visions and what we had. As you can hear, it's a great chemistry we have between us. Solo albums, you know they come and go. I've got plenty of them. But to put your feet on the ground and cement them in and ground yourself with a band, in my opinion I've always loved being in a band. It's a great camaraderie. As long as it doesn't turn into a bad marriage it is ok with me.
NI ROCKS – I know last year you were involved in the "Rock Meets Classic" Tour and in the past have been involved in other projects such as Over The Rainbow and Voices of Rainbow.  Are there any plans for you to be involved in similar projects this year?
JLT – Funny you should ask. I've just got invited to do the Wacken Festival and Rock of Ages with "Rock Meets Classic".
NI ROCKS – Oh, great!
JLT – Yeah, it's really terrific. I believe the dates are 31st July for Wacken and 1st of August for Rock of Ages. With Mat Sinner, but this time we're going to rock it up a bit more. We'll be doing "Stargazer", "Spotlight Kid" and things like that. It's gonna be great. It's strange that you asked that because it just came in today.
What else? Projects like Over The Rainbow? Well, perhaps not Over the Rainbow but perhaps maybe Rainbow! We've been talking about it a lot. Richie is finishing up a Blackmore's Night album and I'm sure he's going to tour it and has some dates planned. But after that we're supposed to sit down and see what we want to do creatively. Whether it is Rainbow itself or a Richie Blackmore tribute album or what have you, we're not entirely sure but we're going to do something. I've been screaming about it for months now and people keep knocking it on the head but truth is that it looks real good that we'll hook up again and do something.
NI ROCKS – Excellent. Towards the end of the year then possibly?
JLT – Yeah, I would think after the summer is done, but he does like to tour in late August and September so somewhere in there. It could be over the winter.
Dim lights Embed Embed this video on your site
NI ROCKS – Any other plans for further ahead?
JLT – Well there is always the constant writing sessions that go on
NI ROCKS – Do you write a lot for another people as well as your own stuff?
JLT – Well, I've a bunch of stuff. Honestly, I've always wanted to record a country album and I've wanted to record an R&B album. I have all these influences and nothing to do with them. I just want to get it out of my system, or in my system whichever way you look at it.  I've always wanted to do something different so I have to see if I can pick up a label that really wants to do that because most labels want you to be who you are. Not to move out of that box. It's time we all move out of the box.
NI ROCKS – A trip to Nashville?
JLT – Yeah, for a couple of years now I've got people just waiting to do this record. We've got excellent material I have to say and some bonafide hits. As you know all country rock really or country music is pop rock and sells really big over here and in Sweden and a few other European countries. It's not so much for that. It's because I was brought up on country music. I was brought up on Lefty Frizzell and Merle Haggard – real lonesome fugitive outlaw music. But still I followed it through the years and I like what they're doing now for most of it. It's catchy and still kinda three chords and the truth.
NI ROCKS – Bands like Blackberry Smoke are very cross-over between rock and country.
JLT – Yeah it is now. It's a hybrid. And I've got material that is exactly right there. And it is good stuff. And the R&B thing. I've always wanted to do a rock R&B versions album. I remember having "Can't Get Next To You" in the can for one of my solo albums and we just never put it out. I think it was for the "Under Cover" albums but it never came out. I'd like to revisit all that kind of stuff. All The Temptation songs, Marvin Gaye all that stuff. I grew up on that. It would be fun to put an electric guitar behind it and see what we come up with.
NI ROCKS – My final question relates to the Hughes Turner Project that saw you release two studio albums and a live album with Glenn Hughes. In a previous interview you stated that this "was a career highlight and a very creative, energizing time" for you. Do you think those albums didn't get the level of recognition that they deserve?
JLT – Absolutely not, they never did. They never got anything they deserved. I was listening to them just the other night as a matter of fact. A spur of the moment kind of thing. I was absolutely blown away by every bit of it – the production, writing, the performances – Glenn is just majestic. He's incredible. I just shake my head and say what do you have to do to get people's attention. We had two brilliant albums and wanted to do a third. We toured it and we did well but I think we just got so disappointed by the fact that we worked so hard and did such great work but it wasn't recognised. It is very disappointing and I have to say to all the young artists and musicians out there it takes the wind out of your sails. Even seasoned guys like us get down-hearted. You pull yourself up of course, because that's experience and you push on. But I don't know what you have to do. When you knock on the door loudly and you bring this kind of music to everyone! We just looked at each other and thought where do we go from here! We've done it, listen to it. You just can't get blood from a stone anymore. So we always thought we should have done a third CD. Maybe sometime Glenn might want to revisit that. That would be nice. It was his decision to knock it on the head because I'm kinda stubborn that way. He might have right. Casting your pearls before swine so he speak. I'm not calling anyone swine out there because that would get around! Its just a phrase that says that you tried to do your best, but when the reward doesn't come back the same way to reflect what you put into it, it's disheartening at the very least.
NI ROCKS – I was going to finish off with a track from the Hughes Turner Project. Is there one in particular that you'd like us to play and would you introduce it for us?
JLT – That's a tricky one. So many great tracks from Hughes Turner. "On The Ledge" is just amazing. This is not the commercial bit now! This is deep stuff. I love it all and it is difficult to pick. You need to be Solomon here! "Mystery of the Heart" I think I'll be doing acoustically, but I think "On The Ledge" is really Hughes Turner Project and is really artistic.
Playlist
BLACK STAR RIDERS – Finest Hour
THE ANSWER – Red
RATED X – Lhasa
Joe Lynn Turner Interview Part 1 (7.5min)
RAINBOW – Jealous Lover
Joe Lynn Turner Interview Part 2 (8.5min)
RATED X – I Don't Cry No More
Joe Lynn Turner Interview Part 3 (10.5min)
HUGHES TURNER PROJECT – On The Ledge
ECLIPSE – Blood Enemies
Check out JLT's website for more information on everything that he is involved in - http://www.joelynnturner.com/ or the Rated X Facebook page https://www.facebook.com/RatedXRocks
Check out NI Rocks on Facebook – www.facebook.com/NIRocks or Twitter - www.twitter.com/NIrelandRocks
Last Updated (Saturday, 25 April 2015 21:17)