NI ROCKS Interview with JOE LYNN TURNER
Joe Lynn Turner (JLT), the former Rainbow and Deep Purple vocalist is back with a new band called Rated X. The band also features Carmine Appice on drums, Tony Franklin on bass and Karl Cochran on guitar. Their self titled debut album was released on 7th November through Frontiers Records. (http://www.rockradioni.co.uk/back-stage/music-reviews/1711-ni-rocks-recommends-qrated-xq-by-rated-x.html )
JLT was good enough to answer a few questions that we e-mailed through to him, talking about Rated X and earlier projects such as Mother's Army, the Hughes Turner Project, Sunstorm and Over The Rainbow.
NI ROCKS – Joe, thanks very much for taking the time to answer some questions for Rock Radio NI. There's so much in your career that we could ask questions about, but I wanted to focus initially on the newest project Rated X.
The band's self-titled album was released through Frontiers Records on 7th November. Has this been a project you've been wanting to get completed for a while?
JLT – The project took about 1 year because we had many interruptions. We were all on tour with our solo projects and there were a few problems that occurred and we had to deal with them. We had several changes in the guitar position until we finally finished the tracks. My good friend, Nik Kotzev played guitar on some of the songs as well as Karl.
NI ROCKS – Had you worked with Carmine Appice since the last Mother's Army release in 1998?
JLT – No...not at all....co collaboration since Mothers Army.
NI ROCKS – How was Tony Franklin brought on board and did you ever consider using the name Mother's Army again rather than Rated X?
JLT – Tony was the obvious choice since Carmine played with him in Blue Murder. He is an absolute monster on the fretless bass and he brings a distinct sound to the band. There was a point when Jeff Watson was considered to be in the band and he suggested calling it Mothers Army 2 but no way would I consider it. Mothers Army was an amazing band and very under rated and over looked...we were ahead of our time.
Dim lights Embed Embed this video on your site
NI ROCKS – Who did you work with on the recording and production of the album and where was it recorded?
JLT –It was recorded in different locations and we made use of technology to make it happen. We used Skype, phones and other technology so we could keep in constant touch with each other and comment on the performances we were recording. Sometimes we had to make adjustments to the parts we played to better fit with the over all concept of our sound. I was very happy with how the product sounded... at the unity and cohesive sound of the band. It sounds like a live band in the studio playing all together....so much energy... excitement and interplay  happening at the same time! But I do believe that it takes true professionals with experience and great ability to construct such an outcome!
We worked with Pat Regan. After the great mix that he did we can hear all the separation between instruments and frequencies and realized our efforts to be special in performance ,sound and overall quality. You can hear the space between all players and yet we still sound like the same band! Alessandro Del Vecchio  was very important to the writing, playing and organization of the process. He is a gifted and talented artist in his own right and added much to help us reach our final goals.
NI ROCKS – Are there any plans in place to tour with Rated X?
JLT –We are a band! We decided that from the beginning…but I believe you can only exist as a band if you're working and these days that's a struggle with the state of the business as it is No CD sales to really speak of…music is free …and concerts are the only way to make a financial revenue to support our lives. So, we are trying to find the right agents and promoters who will take a chance with us and bring us to the fans. The fans deserve to see this band live!
NI ROCKS – I know it's early days, with the current album just being released, but are you hoping that there will be further releases from Rated X?
JLT –Let's see how this first release is received. So far, critics and fans seem to like it and feel that there was and is a need for this type of music to be out there, being performed and recorded. It started as a project...but we all wanted a band that we could call our own and that takes a commitment. So, we discussed the prospect of working as a band and the time and energy we would have to give in that the situation and we agreed to give it a shot. It's tougher these days because of the new paradigm in the music industry but we feel we have what it takes to succeed.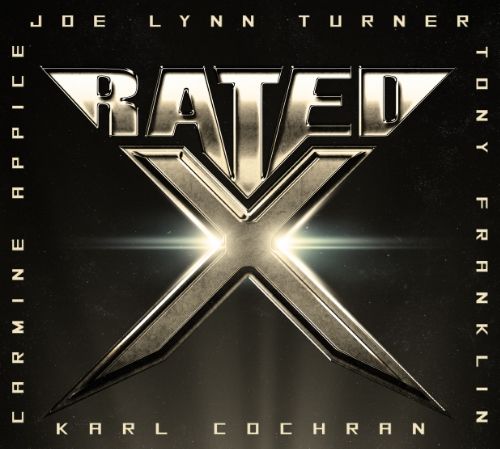 NI ROCKS – In Rainbow and Deep Purple, you've been fortunate enough to have performed in two of the most recognised bands in the history of rock. Do your own personal musical highlights relate to working with those bands or in some of the multitude of other projects you've been involved in?
JLT –Absolutely! Those bands and my experience with them will always have some influence. They were a learning and growing experience for me...both the ups and downs we faced.
NI ROCKS – You released two studio albums and a live album alongside Glenn Hughes as the Hughes Turner Project. Those albums included some notable guest performances from the likes of Steve Vai, John Sykes and Chad Smith. It's been over ten years since "HTP 2" was released. Has a "HTP 3" been totally ruled out or is it a case of never say never?
JLT – I say...never say never! HTP was a career highlight and a very creative, energizing time of my life. Working with Glenn and all of those people you mentioned was an amazing experience. But, Glenn and I are very deeply involved in our own projects and bands now.
NI ROCKS – Another project you've been involved with in recent years has been Over The Rainbow, a band that features former members of Rainbow along with Ritchie Blackmore's son Jurgen. That band was very well received by fans. What was it like working on that project and are there further tours planned?
JLT –Again...another career highlight! You are right, the fans loved OTR and playing huge festivals and seeing them enjoy the music so much was rewarding. Never say never! We could get together again for a few shows if the right situation was presented to us and if we all had time in our schedules.
NI ROCKS – One of your most recent album releases was the third album from Sunstorm called "Emotional Fire" which was released in 2012. I read somewhere that the band's first album in 2006 came about largely as a result of Frontiers Records President Serafino Perugino. What is the story there and will we see more from Sunstorm?
JLT - Sunstorm really was not a band per se. It was a studio project although we did talk casually about performing some shows. That talk never came to fruition but again I will repeat….never say never! Sunstorm was meant to be a trilogy and we did release 3 CDs. I do not see a 4th Sunstorm album in the near future but I like to keep an open mind to ideas. I hate to rule anything out.
NI ROCKS – In amongst all the bands you've been involved in over the years you've managed to make time for numerous guest appearances and of course quite a few solo albums. Are there any plans for another solo album in the near future?
JLT – Right now I am fully committed to Rated X but I will continue to perform as a solo artist. In fact, I always have show dates in the works billed as Joe Lynn Turner. As for a solo CD, I am always writing. Sometimes songs get stashed away for the future and other times I will contribute them to other projects. Certainly a solo album is possible in the future but not in my immediate plans. But I want to emphasize that I am actively booking shows as a solo artist and I will often play shows backed by excellent locally-based musicians. My booking agent contact is listed on my official website: www.joelynnturner.com We welcome all inquiries about solo performance opportunties!
NI ROCKS – The solo albums will of course involve other artists, so is it hard sometimes to define what is a solo release and what is a new project?
JLT – I think that my solo CDs have been easy to define as solo projects. Many artists have guest players on their albums.
NI ROCKS – You've worked with many, many people over the years. Is there someone specific that you'd like to work with that you haven't worked with so far?
JLT – Well...there are many artists that would be an inspiration to work with but I'm remiss to say I have no one choice.  Working in a different capacity other than singing would be a consideration ... producing... writing... etc.  That is interesting to me. I'll think about it...and let you know!
Dim lights Embed Embed this video on your site
NI ROCKS – Having fronted two of rock's iconic bands I wonder if you'd had the opportunity to front any band over the last thirty years what band would you like to have sang for?
JLT –I am more than satisfied with the positions I have been given the opportunity to be involved in. I was asked to join Bad Co. and Foreigner at about the same time as Deep Purple but of course I went with Deep Purple. I would have liked to see the work with Rainbow, Deep Purple and Yngwie Malmsteen continue longer than it did. I think the incarnations of those bands, when I was with them, were starting to really peak and we were making great music.
NI ROCKS – Finally, are there any plans for 2015 that we haven't covered in any of the previous responses?
JLT – I'll be in California/USA for the annual NAMM convention and will play a series of shows with the Extreme Guitar Tour (info on my website: www.joelynnturner.com ). There are some Rated X shows in the works. Check the Rated X Facebook page for updates. And I am always announcing solo shows. Best place to stay informed is my official Facebook Page.
NI ROCKS – Many thanks once again for taking the time to respond to a few questions for Rock Radio NI. Best of luck with the new album.
JLT- Thank you for your support!
Dim lights Embed Embed this video on your site
Check out JLT's website for more information on everything that he is involved in - http://www.joelynnturner.com/ or the Rated X Facebook page https://www.facebook.com/RatedXRocks
Check out NI Rocks on Facebook – www.facebook.com/NIRocks or Twitter - www.twitter.com/NIrelandRocks
Last Updated (Monday, 24 November 2014 09:47)