NI ROCKS Recommends "Rated X" by RATED X
Rated X is the latest project involving Joe Lynn Turner, the former Rainbow and Deep Purple vocalist. The debut, self-titled album from Rated X was released through Frontiers Records on 7th November. In the band along with JLT are Carmine Appice on drums, Tony Franklin on bass and Karl Cochran on guitar. Both Appice and Franklin were members of Blue Murder and have been involved in many bands. Cochran has worked with JLT on other projects and has been a member of Ace Frehley's band.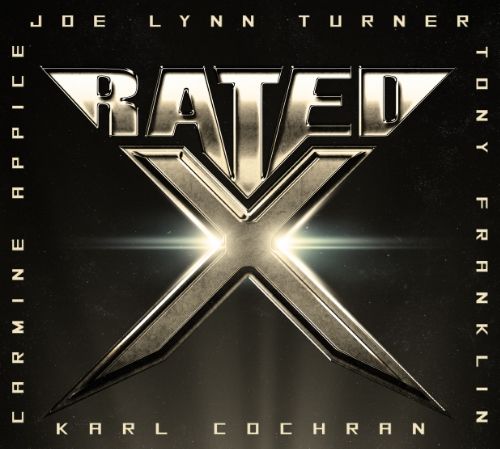 The President of Frontiers Serafino Perugino had a direct role in bringing together Rated X, approaching JLT to suggest that the time was right for such a project. Frontiers in-house producer, Alessandro del Vecchio, added keyboards on several tracks.
 The band have now released two videos – for "This Is Who I Am" and "Stranger In Us All" (lyric video).
Dim lights Embed Embed this video on your site
As would be expected from a band of this pedigree, the debut Rated X album has a great deal to offer. There are 12 excellent tracks on the album. Personal favourites would include opening track "Get Back My Crown", "This Is Who I Am", "On The Way to Paradise" (which is included on the Friday NI Rocks Show on 7th November), "Fire and Ice" and "Lhasa" (which has a particular Blue Murder vibe to it)
Check out JLT's website for more information on everything that he is involved in - http://www.joelynnturner.com/ or the Rated X Facebook page https://www.facebook.com/RatedXRocks
Dim lights Embed Embed this video on your site
About "NI Rocks Recommends"
The simple idea behind "NI Rocks Recommends" is to acknowledge and promote some of the great music being submitted to Rock Radio NI. To be honest I'm not really a big fan of "Reviews" expressing positives or negatives which essentially just represent one person's opinion. With "NI Rocks Recommends", I'll not be giving marks or ratings or dissecting every aspect of the album; just telling you that something about the artist and the album and that I like it!
My musical tastes covers most things from heavy melodic rock (anything too melodic bores me!) to the lower echelons of the metal genre (where it's not ALL growling and screaming!). The albums that I'll be recommending are merely those that I would buy myself and which you'll be hearing played on my shows on Rock Radio NI.
Check out NI Rocks on Facebook – www.facebook.com/NIRocks or Twitter - www.twitter.com/NIrelandRocks
Last Updated (Tuesday, 11 November 2014 07:54)