NI ROCKS Interview with JAMES CHRISTIAN from HOUSE OF LORDS
We recorded an interview with House of Lords lead singer James Christian on 20th February. This was originally broadcast on the Friday NI Rocks Show on Rock Radio NI on 28th February. This show was available the On Demand Player for 8 weeks. You can now read the interview in this post.
James talks about the new House of Lords album "Precious Metal", the upcoming tour supporting Robin Beck, his new solo album and much more.
NI ROCKS - James, thanks for agreeing to take the time to answer some questions for Rock Radio NI. I was wanting to talk about the new House of Lords album "Precious Metal", the upcoming tour, your solo album "Lay It All On Me" and a few general things.
"Precious Metal" is released by Frontiers Records on 21st February and features the same House of Lords line-up that released "Big Money" back in 2011. You produced the album yourself. Can you tell us a little about the production of the album – where it was recorded and who else was involved?
JAMES – We recorded it in West Palm Beach, Florida. Or the majority of it was. The guitars were recorded in a studio in New York, as well as the drums. Vocals, keyboards and pretty much everything else was done in West Palm Beach. It was done in three months – that's writing and recording – and mixed in two weeks. Typically it's usually a six months process, so this album was actually done pretty quickly. Not because we were rushing, but because things were coming out the way we wanted and we saw no reason to slow down, so we just kept up the pace.
NI ROCKS - Do the band come together in advance to write the songs or is it done at a distance with everything ready to go by the time you hit the studio?
JAMES – Sometimes we'll work together in the studio and on other songs we didn't need to. A song like "Precious Metal" was basically just me and an acoustic guitar. Once it was written I sent that to them and constructed a track around that. On tracks like "Battle" and "Swimming With The Sharks" the band was playing together.
NI ROCKS - This is the sixth House of Lords studio album since 2004. As you look back at those recent releases do you see a natural progression from the first through to the most recent? Or do you see the line-up changes in 2005 as the point when things came together? (2005 was the debut of the current line-up with Jimi Bell on guitar, Jeff Kent on keyboards,  BJ Zampa on drums and Chris McCarvill on bass).
JAMES – I definitely see a progression. There's a common thread that goes through all the CDs. If I had to pick one that possibly went back to the roots of what House of Lords was all about at the beginning it would have to be "Precious Metal". It takes from what House of Lords did in those early albums, but it's a little more modern sounding than the first album, which obviously being so many years ago you didn't want to make it sound like it had been recorded in the 80s. It also has a little bit more edge. It's a very aggressive record and different from "Big Money" or "Cartesian Dreams" or for that matter "Come To My Kingdom" and "World Upside Down". This one is definitely different.
Dim lights Embed Embed this video on your site
NI ROCKS - In the biography that you wrote for your website a few years ago you referred to House of Lords third album "Demons Down" as one of your best and as a "beautifully crafted album". The changing music scene meant it never got the recognition it may have deserved. How would you compare it to the more recent albums and are there any plans to make "Demons Down" more widely available? There are a few drifting around Amazon for anything from £30 to £70.
JAMES – "Demons Down" was a very special record to me. It as the very first record that I worked on with my writing partner Mark Baker. We wrote the whole record and worked with Bob Marlette who is a very well known producer these days. Back then he was only a staff writer and staff producer. The material from "Demons Down" was just wonderful stuff. I listen to it now and it is timeless. You can't say that about every record that you do, but on that particular record the production was outstanding. Orchestration from people who were in LA Philharmonic Orchestra. There were so many different flavours on that album. You couldn't really do that again these days because of budgets, so that album did stand out because of that. It had all the best treatment in every shape and form – all the best studios, the best we could get of everything.
NI ROCKS – Would you think of re-releasing it?
JAMES – I would love to. I've tried to get licensing for "Demon's Down" but I haven't been able to yet. Polygram has the record as they were the label for Victory Records. I don't know what they have in mind but you're not the first person to ask. A lot of people would like to see a reissue of it or maybe a re-mastering, something to just get it out there. It just didn't get the push it needed at the time because of the change in the music climate at the time it was released.
Dim lights Embed Embed this video on your site
NI ROCKS - The band tours quite extensively around Europe. Your upcoming gigs are in support of Robin Beck's "Perfect Storm" tour. Most people will know that you're married to Robin. Was the tour together something you had wanted to do or was it at the suggestion of your management?
JAMES – We actually really did want to tour together. We decided that this would be a good time because she's coming off a really strong record – the album "Underneath" got very well received – and we had "Precious Metal". We thought this would be a great time to do it. Everything is going well for the tour. Unfortunately a few of the shows in England got cancelled and there was nothing we could do about it. We had an agency that didn't really work for us and we found out that a lot of things they were saying weren't coming to fruition and so we broke ties with them. We retained three of the shows that we had – one being in Wales at Hard Rock Hell (The AOR2 Festival on 21st March), one being "The Blyth & Tyne" (19th March) and also The Robin 2 (24th March). (Note – House of Lords also play a headlining gig at The Campden Underworld in London on 25th March.)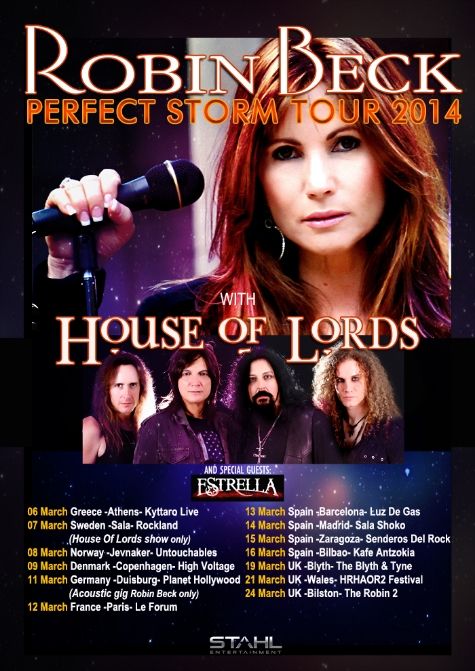 NI ROCKS - Are there plans for more House of Lords headlining dates for later this year?
JAMES – Right after Robin's tour, we're going out for another four weeks. We'll be going everywhere from Switzerland to Belgium, to Hungary, Finland, Germany and Italy. So we're pretty much covering everywhere and we're going to be out there for a while. House of Lords have always been road warriors and that's not Robin's thing. Robin is the kind of lady who has to have 4 or 5 Star hotels. The guys are pretty used to going out there and roughing it so our tours had to be separated that way.
NI ROCKS - It's been seven years since the release of "Live In The UK" with four studio albums released since then. Are we likely to see another live recording at some stage in the near future?
JAMES – Absolutely, because everything that was on "Live In The UK" was prior to "World Upside Down" and now we have a catalogue of "World Upside Down", "Come To My Kingdom", "Cartesian Dreams", "Big Money" and now "Precious Metal". So there's quite a bit of material there to do a live album and DVD. We would definitely like to do it. We just need to find the right venue to do it at, maybe run it as a free concert so we can just have a party atmosphere there where people are not concerned about anything else but having a good time. That would be a great concert to have.
NI ROCKS - You've been producing the House of Lords albums and your solo albums for some time as well as Robin's albums, including her latest "Underneath" which came out last year. Is that something you'd like to be doing more of for other artists?
JAMES – I really love to produce. I like producing records more than I like mixing them. In the future, the mixing part is going to go to somewhere else and I would just like to do the production end of it. Constructing what you hear. How the parts work together. How the vocals are arranged. How the vocal is recorded and how the vocal is actually sung. These are all things that I'm really good at after all the years of working with people like Andy Johns, David Thoener and David Foster. There's a list of people that I've had the pleasure of working with and after a while some of that stuff rubs off. So the production end of things – yes. The mixing end – no.
NI ROCKS - I was talking to a friend in Connecticut this week and mentioned I was doing an interview with you. The first thing she mentioned was your early band "EYES" who seem to have a fairly iconic status around there. You'd left the band to follow up on opportunities in California. Was there a reason the band as a whole didn't try its luck in California?
JAMES – Firstly, Eyes was really a very talented group of guys. They were very talented. It wasn't that we didn't do a lot of showcases, because we did. We had pretty good management who did everything they could to get us signed but we weren't. I had a couple of labels who were interested in doing something with me but I was not interested in doing anything solo. I didn't want to be responsible for anything, I wanted to be in a band. The guys in Eyes in Connecticut really wanted to stay local and do the club circuit and play the covers along with the originals and it just wasn't enough for me so I made the move to LA. It took about a year and in that time I did demos for people. One of the things that really helped me out was that Rick Springfield used to call me all the time to do his demos. I did 4 or 5 demos for him one. One song called "Right Planet Wrong World" and a couple of others. I was doing as much as I could so that people could hear my voice. After a while people would be calling me and one of the people was Chuck Wright who at the time was working with Quiet Riot but had just been recruited into House of Lords via Gene Simmons who was putting together a super group. So I auditioned for it and it was a long process of elimination but I guess it was just my time. The timing was right and I was ready and it worked out for me!
NI ROCKS - Last year you released "Lay It All On Me" - your first solo album in almost ten years. Was that delay due to other commitments or a conscious decision not to release another solo album during that period?
JAMES – Well, it was because I was so busy with House of Lords that I didn't have time to do a solo album. The guys were so hungry and they wanted to keep recording and keep touring. Between the recording and touring, it takes a lot out of you these days. It's not like it used to be. Like I said, we are road warriors but when I get home I really need to crash for a month or so. The pace was just amazing with House of Lords, I really didn't have time to do the solo thing. And I felt a little guilty doing the solo thing because we could be out doing things as a band. I didn't want them to think I had this second career going on.
NI ROCKS - Who worked with you on "Lay It All On Me"?
JAMES – I worked with Jeff Kent who had also worked with me on "World Upside Down" and "Come To My Kingdom" and I worked with Chris Pelcer, a writer from Australia and mostly did everything else myself. When you do a solo record that's the time you can be self-indulgent and do everything – play your keys, play the acoustics, play the bass and do all the things that you want the way that you want. The only downfall to that is that sometimes it can get a little stale sounding because you don't have the contributions of other people's musical flavours. But in this case because it was a solo record and I had access to my own studio here it was a lot of fun to do. There are some songs on it that I really really love. Nothing that I would play at a House of Lords show but I love listening to them. If you're a House of Lords fan I'm sure you'd enjoy the record.
NI ROCKS - Are we likely to see another solo album before we get the tenth House of Lords studio album?
JAMES – Another House of Lords album. Absolutely. I have no idea what it would be and no idea what direction it will be. The response to "Precious Metal" has been amazing. It's so positive that it has given me renewed hope that we can break the mould a little bit and not just be pigeon holed into this melodic lock-box. Everybody seems to think that you can't do anything outside of that little box. If you do we're gonna get pissed at you! It just can't be that way, you're going to have to expand a little bit and I think we had an opportunity to do it here. And we did it in a way that didn't piss anybody off. So that has given me renewed hope that we can continue doing stuff like this and really enjoy the process.
NI ROCKS - You've worked with many people over the years. What have been your own personal musical highlights and is there anything you look back at and wish you'd done it differently?
JAMES – I'd say my highlight was working with Andy Johns because it was my first real album and I was working with someone who was a legendary producer – we're talking Led Zeppelin, Rolling Stones – this man had stories that you could sit and listen to for hours and hours. And by the way, I had to, because he was a six foot four guy who loved to talk. We would pretty much spend half the time in the studio talking about his time working with the great bands of the 70s. I was happy listening to him and I was also happy to get input from him as a producer. Working with him in the studios, doing my vocals and some of the cues he would give me and some of the advice that he gave me lasts to this day on how I do vocals. And that is that it should never be so calculated that you work every little bit to the emotion as you're singing the song. So it got to the point that three or four takes of the song, if you know it, should be all you need to get the right vocal performance. And I try to live by that.
NI ROCKS – And anything you wish you had done differently?
JAMES – Yes, I've definitely done that. Everybody does. It's a natural thing because as you listen you think I could have done this and I could have done that, but it doesn't mean that it would have been the right thing to do. There's a few songs which I wouldn't touch – one of them is "Can't Find My Way Home", one is "Remember My Name" and "What's Forever For" on "Demons Down". Those I remember as being exactly what I would do and I wouldn't change a moment. I can't say that for every song but I remember those.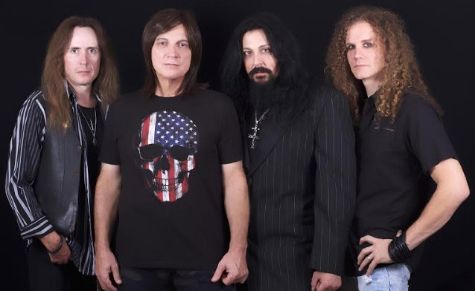 NI ROCKS - In your online biography you refer to your early days in a covers band called Hooka and how much you enjoyed doing Led Zeppelin songs. If the opportunity arose to step in as frontman for any band (past or present I suppose) what would that band be? Who would you like to front as a singer?
JAMES – Boy, you know that has changed. If you had asked me at a certain time of my life it would have been Led Zeppelin because that was a band that just drove me crazy – every song, every album. It was just one of those bands that I loved doing their songs and we were pretty much a cover band doing all Zeppelin songs back then with Hooka. But there was a point in my life when I thought I would have loved to have been in Journey but that has passed and gone. But I would say that those were the two – Zeppelin and Journey.
NI ROCKS - A couple of quick questions just to finish with if you don't mind. I always like to find out what music people are listening to. If we were to press shuffle on your iPod what five bands might we find?
JAMES – Well you know it's not so much a band right now as it is an artist. I hope I don't offend rockers with this but it's a lady called Lorde, who just amazes me. I actually really love her music. It's not rock, it's kind of alternative but she is so good at what she does that I'm really enjoying listening to that record.
NI ROCKS - And my last question, can you remember the first album that you bought and first concert that you went to?
JAMES – Yes, first album I bought…I hate to do this because I didn't buy it, my mother bought it for me (laughs) it was The Beatles and I played that record so many times. It's amazing how that record probably got played every day for like two years. I grew up a Beatles fan, that's kind of indicative of my age. Listening to The Beatles, growing up with that and graduating from The Beatles into bands like Led Zeppelin. I had a great listening experience because I grew up with some of the best music that has ever been recorded and that was the 60's and 70's. I think the 80's were really great but the 60's and 70's really defined it.
NI ROCKS – And first concert?
JAMES – Jethro Tull. In New Haven Coliseum.
Thanks for taking the time to talk to us. Best of luck with the new album and the upcoming tour.
Dim lights Embed Embed this video on your site
For more information check out http://www.jameschristianmusic.com/home.html or
http://frontiers.it/album/5186/
Check out NI Rocks on Facebook – www.facebook.com/NIRocks or Twitter - www.twitter.com/NIrelandRocks
Dim lights Embed Embed this video on your site
Last Updated (Sunday, 21 September 2014 09:39)