Jizzy Pearl comes to the UK in March on what might be the final outing for Love/Hate with Jizzy on vocals. The tour includes a date in the Diamond Rock Club, Ahoghill on 7th March. A new album entitled "Crucified" is released on 13th January. Initially planned as a Love/Hate release it is now being promoted as a Jizzy Pearl album following some threats of legal action by former Love/Hate members. Jizzy has also just been revealed as the new lead singer of Quiet Riot who are working on a new album.
Jizzy was good enough to answer a few questions for us over the Christmas / New Year holidays.
NI ROCKS – Thanks for taking some time to answer a few questions for Rock Radio NI. You're coming back to Northern Ireland in March to play the Diamond Rock Club and I wanted to talk first about that tour and the new release "Crucified".
You've said that the tour will be the last by Jizzy Pearl's Love/Late. I appreciate that you've released a statement about this, but for the benefit of any fans that may not have seen it, can you explain what has prompted you to make that decision?
JIZZY --2 reasons. First there is an ex-member that I choose not to deal with anymore and second I just joined Quiet Riot so I'll be busy for most of the new year.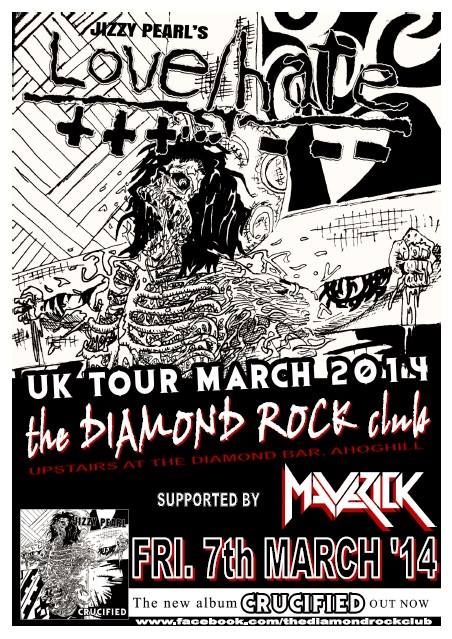 NI ROCKS – The new release "Crucified" has now been re-launched as a Jizzy Pearl album rather than Love/Hate. (We posted a recommendation on the Rock Radio NI website.) It's a great album that you just want to replay as soon as it's finished. Can you tell us a little about the recording of the album – who was involved and where it was recorded?
JIZZY –Most of the record was recorded by me in Las Vegas, written and recorded. I used Matt Starr on drums and I recruited local guitar god Mike Szuter to do the solos. Other people contributed bits and pieces.
NI ROCKS – Who will the touring members of Jizzy Pearl's Love/Hate be for the tour in March?
JIZZY –Matt Starr on Drums and 2 local Las Vegas guys on Guitar and bass, Chris Brady and Michael Ellis.
NI ROCKS – "Crucified" is now your third solo release, following on from "Vegas Must Die" in 2005 and "Just A Boy" in 2007. Personally, how would you compare the new album to the first two?
JIZZY –It is similar in that the songs are good and I did most of the playing.
NI ROCKS – Reading some of your comments about the tracks on the new album, you obviously take inspiration for song writing from many things in live.  Are you someone who is constantly writing or is it something that you take time out to do?
JIZZY –I used to write all the time, books and records and such. Not so much anymore.
NI ROCKS – It was recently announced that you would be taking over as vocalist in Quiet Riot. A new album is being worked on for an early 2014 release. Have you had a chance to get involved with song writing for this album?
JIZZY –I did not write the songs per se, but I was able to get involved in the vocal melodies and arrangement stuff. The songs are traditional rock and it came out great.
NI ROCKS – You're out on tour in March with Jizzy Pearl's Love/Hate and then have the Monsters of Rock Cruise with Quiet Riot in April. So you're fairly busy over the next few months. When do think we might see the new Quiet Riot album?
JIZZY –Soon I hope.
NI ROCKS – You've had experience of taking over as frontman before in LA Guns and Ratt, but obviously in different circumstances. How do you approach that balance of maintaining the original feel of a song with delivering it in your own style?
JIZZY –I have a unique voice; I don't sound like anyone else I sound like me. So rather than try to impersonate someone else I just do the songs justice as best I can.
NI ROCKS -  Do you think you'll be able to continue to release your own solo material whilst also fronting Quiet Riot? Your recent statement suggests that there will be no more Love/Hate recordings or tours, but hopefully that doesn't mean that there will be no more new Jizzy Pearl albums or that you won't tour under your own name?
JIZZY –I can do whatever I want outside of QR but I want to concentrate on that for a while.
NI ROCKS – Have you any confirmed plans beyond the Monsters of Rock Cruise in April or things that you hope to get finalised?
JIZZY –Quiet Riot plays all year so I look forward to staying busy with them.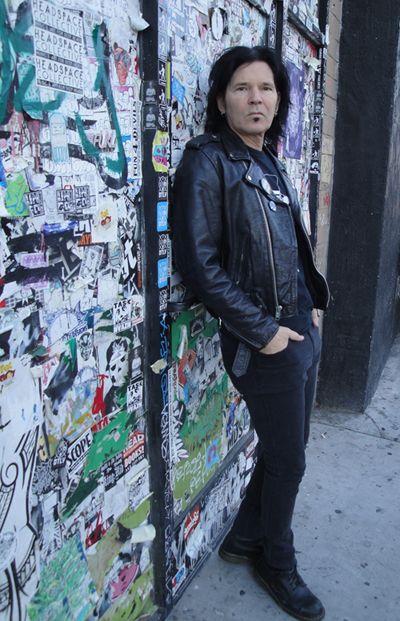 NI ROCKS – You've been immersed in the music industry for quite a few years. What do think are the main challenges now facing both established bands from the 80s/90s and new bands trying to get a break?
JIZZY –Older bands? Working, staying relevant. Trying not to get fat! Younger bands? I don't know but I would think its harder for them because of the Internet and the downloading.
NI ROCKS – Do you use social media like Facebook and Twitter much or do you prefer to leave that to the PR people?
JIZZY –Unfortunately Facebook is the only way to network and communicate in this new Era. I wish it wasn't but it is.
NI ROCKS – As 2013 has come to an end – what is your suggestion for album of the year?
JIZZY –Mine, CRUCIFIED. How easy was that?
NI ROCKS – Can you recall what the first album was that you bought and what the first gig was that you went to?
JIZZY –I cannot remember my first record, it was probably a Credence Clearwater 45. First concert was Jethro Tull when I was 15.
NI ROCKS – Presuming you have an iPod or something similar, what might the last five artists be that you listened to?
JIZZY –I listen to classical music mostly when I run. Or my new record. Other than that I like what would be called 'Classic Rock'---Zeppelin, Aerosmith, the Who
NI ROCKS – Finally, any upcoming bands that you've heard that you might recommend to Rock Radio NI?
JIZZY –I would recommend seeing Love/Hate before we disappear forever. This might be the last time I perform in the UK with that music.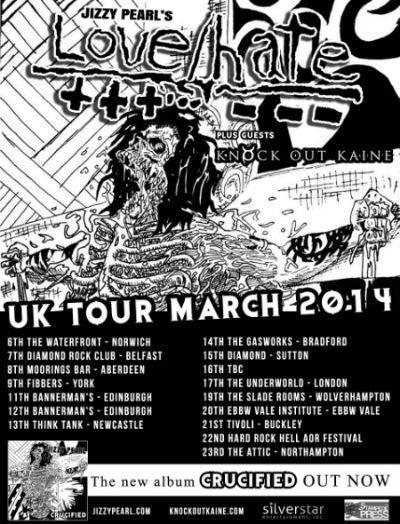 NI ROCKS – Thanks again for taking some time to answer a few questions. We wish you all the best of luck for the new album, the upcoming tour and for the new start with Quiet Riot.
For more information check out
https://www.facebook.com/LoveHatetheband
www.lovehateofficial.com
www.jizzypearl.com
NI Rocks Recommends "Crucified" - http://www.rockradioni.co.uk/back-stage/music-reviews/1391-ni-rocks-recommends-qcrucifiedq-by-love-hate.html
Check out NI Rocks on Facebook – www.facebook.com/NIRocks or Twitter - www.twitter.com/NIrelandRocks