NI ROCKS Recommends "Rock The Cradle" by DARIO MOLLO'S CROSSBONES
Dario Mollo is an Italian guitarist whose name I mainly associate with Glenn Hughes and their partnership in the band Voodoo Hill. He has also worked with former Black Sabbath singer Tony Martin on three albums and plays in his band Headless Cross. Long before he worked with either singer though, Mollo was in a band called Crossbones; releasing an album of the same name in 1989. He has now resurrected that band and through Frontiers Records released a new album called "Rock The Cradle" on 2nd December. The title track was included on the Friday NI Rocks Show on 16th December.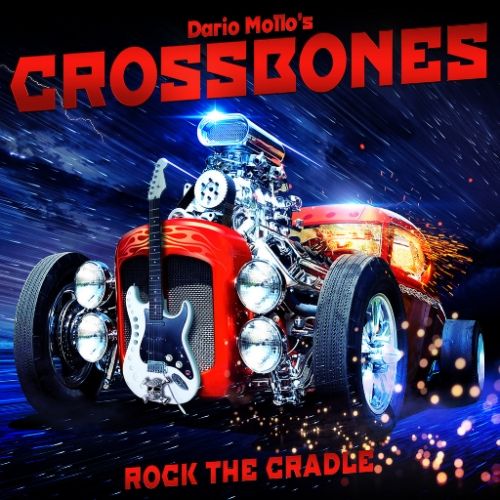 When Dario Mollo decided to record another Crossbones album he brought back original drummer Ezio Secomandi and recruited Dario Patti on keyboards and bass. For vocals he chose Carl Sentence who has sang with Nazareth, Persian Risk, Krokus and the Don Airey Band. It was Don Airey of Deep Purple who had suggested Sentence for vocals.
There are ten tracks on the album – all characterised by powerful vocals and great riffs. My favourites would be "Red", "Rock The Cradle", "I Got This Feeling", "In My Blood" and "Running From the Shadow".
Voodoo Hill released their third album "Waterfall" in October 2015 - http://www.rockradioni.co.uk/back-stage/music-reviews/2278-ni-rocks-recommends-qwaterfallq-by-voodoo-hill.html
Dim lights Embed Embed this video on your site
About "NI Rocks Recommends"
The simple idea behind "NI Rocks Recommends" is to acknowledge and promote some of the great music being submitted to Rock Radio NI. I'll not be giving marks or ratings or analyzing the tracks in great detail; just telling you something about the artist and the album. It's a personal recommendation to go check something out, not a traditional "review"!
My musical tastes cover most things rock; from the not too melodic to the not too heavy. The albums that I'll be recommending are those that you'll hear me playing tracks from on my shows on Rock Radio NI.
Check out NI Rocks on Facebook – www.facebook.com/NIRocks or Twitter - www.twitter.com/NIrelandRocks
Dim lights Embed Embed this video on your site