NI ROCKS Recommends "Kingmaker" by PRETTY MAIDS
"Kingmaker" is the latest album from Danish rockers Pretty Maids and it was released on 4th November via Frontiers Records. The band was founded back in 1981 and unlike many of the bands from that era who are around today, they've managed to continue without taking a lengthy hiatus and have regularly released albums during each of the past 4 decades. That's a pretty good achievement! I played the album's title track "Kingmaker" on the Friday NI Rocks Show on 28th October and "Civilized Monsters" on 11th November.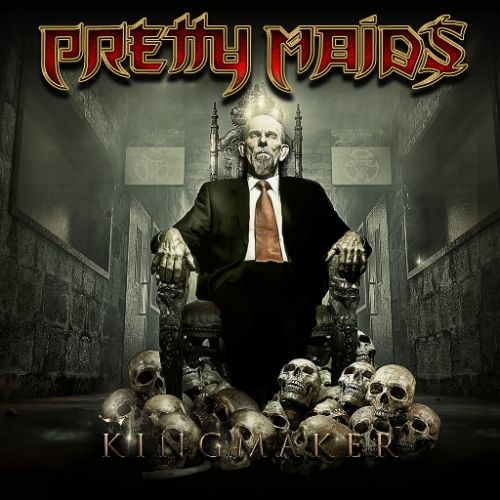 The driving force behind Pretty Maids continues to be founding members Ronnie Atkins on vocals and Ken Hammer on guitar. They have remained a constant throughout, whilst other members have come and gone. The current line-up is rounded out by Rene Shades on bass, Allan Tschicaja on drums and newest member Chris Laney on keyboards and guitar. Pretty Maids will be touring through Germany, Italy, Spain and Austria next February and March along with Gotthard.
There are 11 tracks on the album and my own favourites would be "Kingmaker", "Face The World", "Humanize Me", "King of the Right Here and Now" and "Civilized Monsters".
I posted a recommendation for the band's previous album "Louder Than Ever" back in March 2014 - http://www.rockradioni.co.uk/back-stage/music-reviews/1485-ni-rocks-recommends-qlouder-than-everq-by-pretty-maids.html
Singer Ronnie Atkins has also appeared on a couple of recent albums by Avantasia and earlier this year co-operated with Erik Martensson (Eclipse and W.E.T.) to release a self-titled album as Nordic Union (http://www.rockradioni.co.uk/back-stage/music-reviews/2466-ni-rocks-recommends-qnordic-unionq-by-nordic-union.html )
Check out the Pretty Maids website at http://www.prettymaids.dk/
Dim lights Embed Embed this video on your site
About "NI Rocks Recommends"
The simple idea behind "NI Rocks Recommends" is to acknowledge and promote some of the great music being submitted to Rock Radio NI. I'll not be giving marks or ratings or analyzing the tracks in great detail; just telling you something about the artist and the album. It's a personal recommendation to go check something out, not a traditional "review"!
My musical tastes cover most things rock; from the not too melodic to the not too heavy. The albums that I'll be recommending are those that you'll hear me playing tracks from on my shows on Rock Radio NI.
Check out NI Rocks on Facebook – www.facebook.com/NIRocks or Twitter - www.twitter.com/NIrelandRocks
Dim lights Embed Embed this video on your site