NI ROCKS Recommends "Tygers of Pan Tang" by TYGERS OF PAN TANG
October was a busy month in many regards! Which is the only reason that a recommendation for the Tygers of Pan Tang's latest album is being posted almost two weeks after it was released! (I've a bit of catching up to do!) I've had the new, self- titled album for a few weeks now – a decision on posting a recommendation was always going to be a no-brainer really. The album was released through Mighty Music on 21st October and I've played a few tracks on the Friday NI Rocks Show over the past few weeks – "Only The Brave" on 19th August, 16th Sept and "Dust" on 21st October.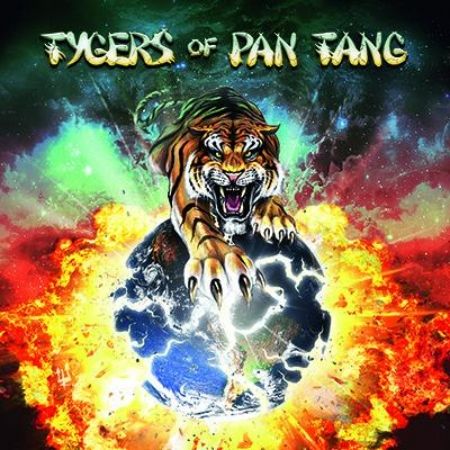 Tygers of Pan Tang were one of the first bands that I got into in the early 80's. The album "Wild Cat" was one of my first purchases and the 7" picture disc of "Love Potion No9" is one of my favourite items from that period. So you could say that I've been a fan for a few years! A lot may have changed in the music business and in the membership of the band over the last 35+ years, but I still love the music being released by Tygers of Pan Tang!
The band released their first album, "Wild Cat" in 1980 with Jess Cox on vocals and prior to their split in late 1982 had released another three albums – "Spellbound" (1981), "Crazy Nights" (1981) and "The Cage" (1982) with Jon Deverill on vocals. Many will remember the band for the inclusion of guitarist John Sykes in the line-up for a couple of years before he went on to join Thin Lizzy and Whitesnake. Guitarist Robb Weir is of course the only remaining member of the original line-up and it was he who reformed the band after a request to play the Wacken Festival in 1999. The album "Mystical" was released in 2001 with Tony Liddell on vocals and "Noises From The Cathouse" in 2004 with Angel Witch singer Richie Wicks before Italian Jacopo Meille took over on vocals.
In recent years the band has released the albums "Animal Instinct" (2008) and "Ambush" (2012) as well as EP's featuring re-recorded tracks from "Wild Cat" and "Spellbound". I posted an interview with Robb Weir back in 2012 – http://www.rockradioni.co.uk/interviews/1098-ni-rocks-interview-with-robb-weir-tygers-of-pan-tang.html
Tygers of Pan Tang tour regularly across Europe playing gigs and festivals and have just completed a UK tour to support the new album.
The current line-up features Robb Weir on guitars, Jacopo Meille on vocals, Craig Ellis on drums, Micky Crystal on guitar and Gav Gray on bass. The band signed with Mighty Music in early 2016 and worked with Soren Anderson to mix the new album and Harry Hess from Harem Scarem on the mastering.
There are 11 great tracks on the album and picking favourites is always difficult, but if pushed I'd go with "Only The Brave", "Dust", "Glad Rags", "Do It Again", "I Got The Music In Me" and "Blood Red Sky".
Check out the band's website for more info - http://www.tygersofpantang.com/official/
Dim lights Embed Embed this video on your site
About "NI Rocks Recommends"
The simple idea behind "NI Rocks Recommends" is to acknowledge and promote some of the great music being submitted to Rock Radio NI. I'll not be giving marks or ratings or analyzing the tracks in great detail; just telling you something about the artist and the album. It's a personal recommendation to go check something out, not a traditional "review"!
My musical tastes cover most things rock; from the not too melodic to the not too heavy. The albums that I'll be recommending are those that you'll hear me playing tracks from on my shows on Rock Radio NI.
Check out NI Rocks on Facebook – www.facebook.com/NIRocks or Twitter - www.twitter.com/NIrelandRocks