NI ROCKS Recommends "Cardinal" by EDEN'S CURSE
"Cardinal" is the latest studio album from Eden's Curse and it was released on 14th October by AFM Records. The melodic metal band formed in 2006 and has been through a number of line-up changes. Over the past ten years they've managed to release not only five studio albums, but a live album ("Live With The Curse" in 2015) and a couple of EPs as well. The "melodic metal" genre can be hit or miss with me personally, but I enjoyed listening to "Cardinal" and it definitely deserves a recommendation. The track "Sell Your Soul" was played on the Friday NI Rocks Show on 14th October and "Unconditional" which features former Leaves Eyes singer Liv Kristine is on the Show on 28th October.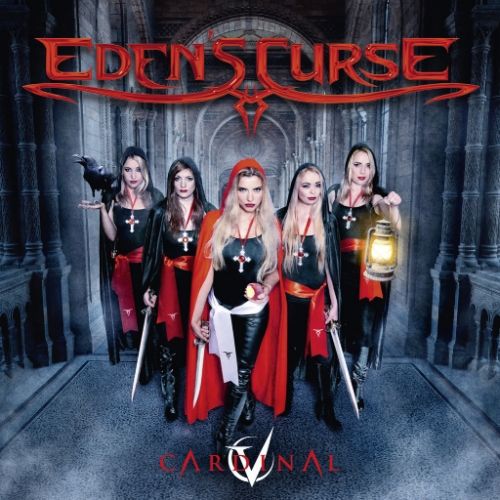 Eden's Curse formed back in 2006 when five guys from five different countries came together in what was essentially a studio project. That has grown into a fully-fledged rock band with an impressive touring history and growing catalogue of albums. Only bass player Paul Logue and guitarist Thorsten Koehne remain from that original line-up. "Cardinal" is the second album for singer Nikola Mijic and sees the debut of John Clelland on drums and Christian "Chrism" Pulkkinen on keyboards.
Dim lights Embed Embed this video on your site
The album contains 12 tracks – with most of the writing being done by Logue, Koehne and former drummer Pete Newdeck. In addition to the tracks that I've played, my personal favourites would include "Prophets of Doom", "The Great Pretender", "Find My Way" and "Saints and Sinners". The epic closing track "Jericho" also rates a mention.
Check out the band's website for more info - http://www.edenscurse.com/
Dim lights Embed Embed this video on your site
About "NI Rocks Recommends"
The simple idea behind "NI Rocks Recommends" is to acknowledge and promote some of the great music being submitted to Rock Radio NI. I'll not be giving marks or ratings or analyzing the tracks in great detail; just telling you something about the artist and the album. It's a personal recommendation to go check something out, not a traditional "review"!
My musical tastes cover most things rock; from the not too melodic to the not too heavy. The albums that I'll be recommending are those that you'll hear me playing tracks from on my shows on Rock Radio NI.
Check out NI Rocks on Facebook – www.facebook.com/NIRocks or Twitter - www.twitter.com/NIrelandRocks
Dim lights Embed Embed this video on your site
Last Updated (Thursday, 27 October 2016 21:23)