NI ROCKS Recommends "Sound of the LIVE Minority" by CRAZY LIXX
Crazy Lixx formed in Sweden in 2002 and released their debut album in 2007 before putting out three albums with Frontiers Records between 2010 and 2014. Lead singer and founding member Danny Rexon was my guest on the Friday NI Rocks Show back in October 2014 -http://www.rockradioni.co.uk/interviews/1700-ni-rocks-interview-with-danny-rexon-from-crazy-lixx.html. In the intervening period there has been a shake-up in the Crazy Lixx line-up with both guitarists leaving the band and being replaced. Crazy Lixx have now released a live album called "Sound of the LIVE Minority" which features the last performance of guitarist Andy Zata. The latter may be better known as Andreas Eriksson to anyone who has caught Inglorious on tour or checked out their debut album.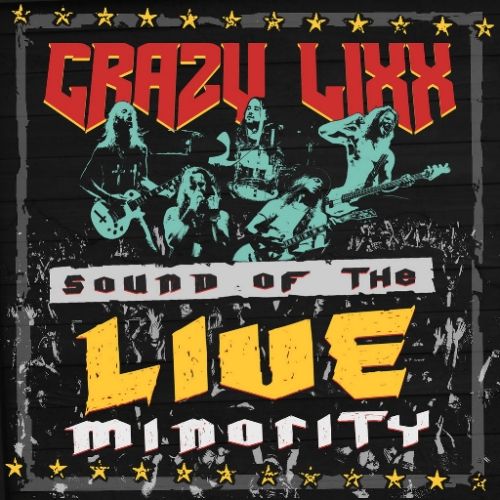 "Sound of the LIVE Minority" was released through Frontiers Records on 8th July and features a recording of Crazy Lixx's performance at the Bang Your Head Festival in Balingen, Germany in July 2015. At that point, Jens Lundgren had just replaced Edd Liam as guitarist and Andy Zata was playing his last show before later being replaced by Chrisse Olsson. The other Crazy Lixx members are Danny Rexon on vocals, Joel Cirera on drums and Jens Sjoholm on bass.
I played the live version of "Hell Raising Women" on the Friday NI Rocks Show on 22nd July. This track was originally on their last studio album, the self titled "Crazy Lixx", which I'd posted a recommendation for back in November 2014 - http://www.rockradioni.co.uk/back-stage/music-reviews/1712-ni-rocks-recommends-qcrazy-lixxq-by-crazy-lixx.html
Check the website for more info - https://www.crazylixx.com/
Dim lights Embed Embed this video on your site
About "NI Rocks Recommends"
The simple idea behind "NI Rocks Recommends" is to acknowledge and promote some of the great music being submitted to Rock Radio NI. I'll not be giving marks or ratings or analyzing the tracks in great detail; just telling you something about the artist and the album. It's a personal recommendation to go check something out, not a traditional "review"!
My musical tastes cover most things rock; from the not too melodic to the not too heavy. The albums that I'll be recommending are those that you'll hear me playing tracks from on my shows on Rock Radio NI.
Check out NI Rocks on Facebook – www.facebook.com/NIRocks or Twitter - www.twitter.com/NIrelandRocks
Last Updated (Saturday, 29 April 2017 21:49)