NI ROCKS Recommends "Fallen Angel" by PUNKY MEADOWS
There were two things that drew me to the new album from Punky Meadows when I saw the press release from Escape Music – well the involvement of two people really. Firstly, of course, there was the former Angel guitarist himself. Adding to that, the fact that the vocals were provided by Chandler Mogel, made this an album that I was definitely going to check out! One listen to the album was all it took to realise that I wouldn't be disappointed. The album "Fallen Angel" was released by Escape Music on 20th May.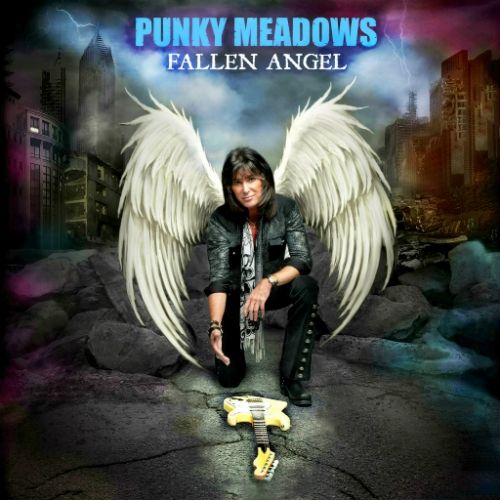 Punky Meadows was the guitarist with iconic band Angel from 1974 to 1981, releasing 5 studio albums and a live album with the band. He didn't rejoin the band when it reformed in the 90's, but continued to run his own business until he retired in 2005 (aged 55). In 2015 he announced he was coming out of retirement to release a solo album of material that he had written with Danny "The Farrow" Anniello. The latter also plays rhythm guitar on the album, whilst former Angel member Feliz Robinson plays bass, Bob Pantella from Monster Magnet plays drums and Charlie Calv from Shotgun Symphony plays keyboards.
Vocals on the album are provided by Chandler Mogel; an extremely talented singer whose work in Outloud and Radio Exile I have posted recommendations for in the past. He and Charlie Calv formed Radio Exile and wrote tracks for their album released in 2015. (http://www.rockradioni.co.uk/back-stage/music-reviews/2298-ni-rocks-recommends-qradio-exileq-by-radio-exile.html )
There are 15 tracks on "Fallen Angel" including the short intro. I played "The Price You Pay" on the Friday NI Rocks Show on 6th May. Other favourites would be "Straight Shooter", "Loaded Gun", "Lost and Lonely", "Leavin Tonight", "Shadow Man" and the instrumental "Fallen Angel".
My knowledge of Angel's music was fairly limited until last year when Angel frontman Frank Dimino released a solo album called "Old Habits Die Hard"  and I did a bit more digging into the history of the band. Punky Meadows had contributed to the Dimino album and this invariably has led to talk of the original band members collaborating again in Angel. I posted an interview with Dimino in August 2015 - http://www.rockradioni.co.uk/interviews/2142-ni-rocks-interview-with-frank-dimino-angel-dimino.html
Dim lights Embed Embed this video on your site
About "NI Rocks Recommends"
The simple idea behind "NI Rocks Recommends" is to acknowledge and promote some of the great music being submitted to Rock Radio NI. I'll not be giving marks or ratings or analyzing the tracks in great detail; just telling you something about the artist and the album. It's a personal recommendation to go check something out, not a traditional "review"!
My musical tastes cover most things rock; from the not too melodic to the not too heavy. The albums that I'll be recommending are merely those that I would buy myself and which you'll be hearing played on my shows on Rock Radio NI.
Check out NI Rocks on Facebook – www.facebook.com/NIRocks or Twitter - www.twitter.com/NIrelandRocks