NEWS UPDATE - New Video from TEQUILA MOCKINGBYRD Ahead of Album Release
Tequila Mockingbyrd who recently signed with Off Yer Rocka Recordings, have just released a brand new video for "Never Go Home". The track is a disco-punk tribute to youth, weekend antics and living life to the full, and a homage to their beloved Melbourne. The video depicts the band in 50 years' time, reliving their youth on a nostalgic rampage around their home town! Tequila Mockingbyrd will be releasing their debut album "Fight And Flight" on 24th March via Off Yer Rocka. The album was released in Australia in 2016. March 2017 will also see the band touring the UK with Bonafide.
Dim lights Embed Embed this video on your site
The following press release extracts reveal more about the new album and deal with Off Yer Rocka.
"That is incredible; those girls are so talented… what a voice… I love it!" ‐ Lzzy Hale, Halestorm
"Feisty as fuck and hugely entertaining" – Classic Rock Magazine, UK
"This is just fantastic" ‐ Darren Redick, Planet Rock Radio
"We're so happy to be working with OYR to get the album out to the world,", says Estelle. " They showed a lot of belief in the band before we even landed in the UK, so to have them backing the record is amazing. We're very happy 'Byrds right now, as we've been waiting a long time for this"
Their debut album, Fight And Flight, will be released on 24 March 2017, and contains 13 songs covering topics such as having a good time, shaking what you've got to get where you want to go, and taking chances to make things happen.  With the first single, I smell Rock n Roll, finding its way on to the playlist at Planet Rock Radio, and a further single, Never Go Home being released ahead of the album.  This exclusive release will also contain 4 live tracks, recorded at the "Flocking Off, A farewell to Oz" show in Melbourne
Following a decision, in late 2016, to relocate permanently to the UK, Tequila Mockingbyrd have been consistently touring across Europe and the UK. The band will promote the release of the album with a full UK tour as Special Guests to Swedish Rockers, Bonafide.
5 March: o2 ABC2, Glasgow
6 March: o2 Academy2, Liverpool
7 March: o2 Academy2, Sheffield
8 March: The Tivoli, Buckley
9 March: Hard Rock Hell AOR Festival, Pwllheli
10 March: Fibbers, York
11 March: Yardbirds Rock Club, Grimsby
12 March: o2 Academy2, Birmingham
13 March: o2 Academy2, London
14 March: o2 Academy2, Oxford
15 March: Rebellion, Manchester
16 March: The Waterfront, Norwich
17 March: Think Tank, Newcastle
18 March: Bannermans, Edinburgh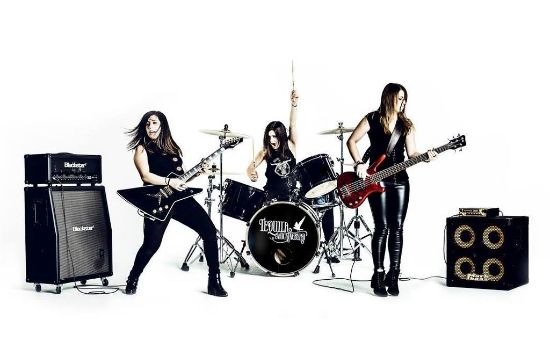 Tequila Mockingbyrd Bio:
No lemon. No salt. No chaser. Melbourne's Tequila Mockingbyrd are a shot of straight up rock n roll packing a high energy punch that will hit you from the first explosion of sound until long into the after-party. Comprised of Estelle Artois (Lead Vocals, Guitar), Jess Reily (Bass) and Josie O'Toole (Drums) the band are rapidly becoming known for their explosive live shows and punky rock sound. With an arsenal of catchy riffs and memorable choruses, Tequila Mockingbyrd pump out party anthems like Good Time and their disco-punk ode to Melbourne's iconic Esplanade Hotel, Never Go Home, then rip into bottom-heavy stomping tracks such as I Smell Rock n Roll and Everyone Down.
Since their inception in 2012, the trio has toured Australia multiple times and earning support slots with international acts such as Cherie Currie of The Runaways and punk icon Richie Ramone, whose management hand‐picked the girls for the slot having heard their cover of The Ramone's classic, Somebody Put Something in my Drink. Following relocation to the UK in September 2016, The 'Byrds continued their relentless touring schedule, notching up over 50 shows in 3 months, all over the UK and Europe. With their debut single, I Smell Rock 'n' Roll, named Team Rock "Track of the Week", and A-list airplay on the UK's biggest rock station, Planet Rock Radio, it really is a case of; Look out world, these Byrds cannot be caged!
www.tequilamockingbyrdband.com
www.facebook.com/tequilamockingbyrdband
www.instagram.com/tequilamockingbyrdband
Last Updated (Tuesday, 21 February 2017 08:28)