NI ROCKS Interview with JAMES DURBIN from QUIET RIOT
We were recently sent the new EP from a band called Maps to the Hollywood Scars that featured guitarist Alex Grossi from Quiet Riot and vocalist James Durbin who had sprung to fame in American Idol in 2011, finishing fourth. In the short time between receiving the EP called "Volume One" and arranging an interview with James it was revealed that he would be the new lead singer for Quiet Riot.
So when I spoke to James in California via Skype on 22nd March we had quite a bit to chat about. You can hear what he had to say about Quiet Riot, Maps to the Hollywood Scars, American Idol and more on the Friday NI Rocks Show this week. That Show is available now via the On Demand Player or as a podcast on iTunes - http://www.rockradioni.co.uk/hosts/ni-rocks-friday-rock-show.html (the show uploaded on 22nd March).
My other guest on the Show is Jeff Hoad, lead singer and guitarist with The Rich and Famous and previously front-man of Kings of the Sun.
Recommendation for the EP - http://www.rockradioni.co.uk/back-stage/music-reviews/3096-ni-rocks-recommends-qvolume-1q-by-maps-to-the-hollywood-scars.html
Playlist for the Friday NI Rocks Show 24th March 2017
(Uploaded 22nd March)
GASOLINE OUTLAWS – Heart & Soul
KINGS OF THE SUN – Serpentine
Interview with Jeff Hoad Part 1 (8 min)
THE RICH AND FAMOUS – Take Us to Your Leader
Interview with Jeff Hoad Part 2 (7.5 min)
THE RICH AND FAMOUS – Dirty Music
Interview with Jeff Hoad Part 3 (5 min)
KINGS OF THE SUN – First Thing About Rock n Roll I Remember
THE RICH AND FAMOUS – Rich and Famous
THE RICH AND FAMOUS – Stand Back
JAMES DURBIN – Outcast
Interview with James Durbin Part 1 (6 min)
MAPS TO THE HOLLYWOOD SCARS – Never Ending Ride
Interview with James Durbin Part 2 (10 min)
MAPS TO THE HOLLYWOOD SCARS – Till Death
Interview with James Durbin Part 3 (12 min)
JAMES DURBIN – Beautiful
QUIET RIOT – Thunderbird
SCREAMING EAGLES – Streets of Gold
IRON MAIDEN – Hallowed Be Thy Name
Dim lights Embed Embed this video on your site
NI ROCKS – Hi James. Thanks for taking some time to talk to Rock Radio NI. You've had a really eventful few weeks with the announcement that you were joining Quiet Riot. We'll talk about that a little later, as I wanted to chat first of all about the EP that you released recently with Alex Grossi under the name Maps to the Hollywood Scars. How did you and Alex end up working together?
JAMES – I was doing a residency show in Las Vegas and I happened to run into Alex at a restaurant. We had known each other through a mutual acquaintance a few years ago; around the time that I was on Idol. He ended up going to the opening night after party for my Vegas residency and he got up with the house band and we played "Sweet Child of Mine". We switched contacts and at that point fast forward to when the residency ended and Alex said what have you got going on next? I said I was going to start writing for the next album and I'm thinking about some other projects; what did you have in mind? He said he had these instrumental and that he would send them my way – just write and see if anything comes out. He sent them over and I started writing immediately and then recorded something on my laptop and sent it back to him within a couple of days. I was super stoked and kept writing! He kept sending more instrumentals and soon I had like 20 ideas, 10 of which were already recorded.  I said I'd just send them to him. Instead of wanting to release all ten at the same time, we decided to break them into two EPs of five and five.
NI ROCKS – Where did the name of the band come from? I read somewhere that you had been in a band previously called Hollywood Scars. Where did the change in name come from?
JAMES – My old band 'Hollywood Scars' happened before I was on American Idol and it ended quite abruptly. I'd always loved the name and the concept of and knew that I wanted to use it for something else in the future. This just kinda fitted the bill. Alex isn't from Hollywood, but all the time that he has spent there, he has pretty much become it – mentality wise and being in the industry. That mixed with my stuff with Idol being there. He decided to add the 'Maps to the' part of it. It's less of a band, more of an entity, more of a project, like a title. It's not really a band – it didn't start off that way. It might end up that way and maybe we'll drop the 'Maps to the' at some point, but for now that's it. Originally my idea was to do 'Hollywood Scars' as the band name and then the album title would be "Maps to the Hollywood Scars Volume 1", so it all kinda the same thing.
NI ROCKS – As you've mentioned there are five tracks on the EP and you wrote them along with Alex. Where were they recorded?
JAMES – We recorded them at Desert Moon Productions in Las Vegas which is where 'The Count' Danny Koker from the TV show over here in the States called "Counting Cars" works. He does that show and owns this beautiful facility where he customises all his cars and he has a full blown beautiful studio there as well. It just made sense to do it there as Alex had a great connection there.
NI ROCKS – Who else appears on the EP other than you and Alex?
JAMES – Dizzy Reed from Guns n' Roses plays keyboard – he did string arrangement and keys on the album in-between his shows with Guns n' Roses. That was pretty cool to have him on it. We didn't get him in the studio, but we hope to get him for a live performance for a music video or something.
NI ROCKS – The press release from New Ocean Media suggested that work on "Volume Two" had already commenced and that a release wouldn't be too far away. Any update that you give us on that?
JAMES – It is pretty much for the most part ready to go, as far as artwork and recording. There are a few things I've got to do as far as  vocal changes – go back in and fix a couple of things. But we're probably going to hold off on releasing it for a little bit; at least until the new Quiet Riot "Road Rage" album is released. I'm re-writing and re-recording  that entire album. The plate has got a little bit full at the moment but fortunately the 'Volume 2' songs for Maps to the Hollywood Scars  are already written.
NI ROCKS – We'll play a track from "Volume One" now. Do you want to pick one and tell us something about it?
JAMES – Absolutely! Let's play "Never Ending Ride". In terms of genre it's probably the most pop song on the album, but it's got these really uplifting choruses in it and its very anthemic. I feel the verses are very AFI and the choruses are My Chemical Romance; which shows a lot the music that I grew up listening too. It's personally one of my favourite songs and the next one that we're going with for radio.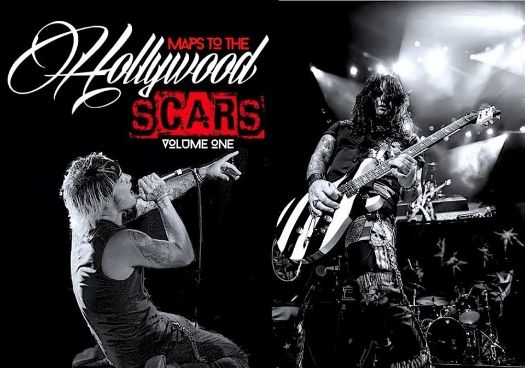 The rest of the interview will be transcribed and posted here soon.
Last Updated (Saturday, 08 April 2017 23:23)