Singer Amanda Somerville has been involved in many projects as well as releasing her own solo albums and fronting her own band, Trillium. In April, the second album from Kiske Somerville was released through Frontiers Records. "City of Heroes" once again saw Somerville working with Michael Kiske (formerly of Helloween) and Primal Fear members Mat Sinner and Magnus Karlsson. I spoke to Amanda about her work via Skype on 19th May and this interview was broadcast on the Friday NI Rocks Show on 22nd May. This show can be heard on the NI Rocks MixCloud page -
Interview with Amanda Somerville on the Friday NI Rocks Show 22nd May 2015 by Nirocks on Mixcloud
Album recommendation - http://www.rockradioni.co.uk/back-stage/music-reviews/1870-ni-rocks-recommends-qcity-of-heroesq-by-kiskesomerville.html
NI ROCKS – Amanda, thanks for taking some time to talk to Rock Radio NI. I wanted to talk first about the release of the second Kiske / Somerville album "City of Heroes" in April. The first album with Michael Kiske had been released back in 2010. Had it always been the hope to record a further album?
AMANDA- Thanks for having me. Yeah definitely. Of course it's never a given in this scene or business, so we had to go on sales, the response and everything and that was great for the first release so we were really happy. That was all the reason we needed to continue.
NI ROCKS- Mat Sinner and Magnus Karlsson are credited with much of the writing and production of the album. How much input did you have to the song writing and recording process this time around?
AMANDA – Well fortunately I'm given quite a bit of creative liberty. So if there are things I want to change lyrically or the part designation even. I did a lot of that after Mat had sent me the demos. We would have Skype sessions and discuss things. It's really important for me to have some creative input, particularly as it's my name, together with Michael's, on the cover. I don't want to just be a voice. That's fine if I'm just a voice on something that I'm doing a guest appearance on, and it's just like being a guest in somebody's house, but this is my name on the cover. It's really nice that I can have some of my songs on the album and have a say in the songs of Mat and Magnus. That's really important.
NI ROCKS – Did you all come together in the studio at the same time or was it a case of everyone recording their bit separately.
AMANDA – Yeah, as many projects are these days, it was a long-distance puzzle, patchwork kind of thing. But funny enough, having said that, I felt that it was much more of a team project for this album, even though we were all doing our own things in our little satellite studios around the world, than it was for the first one. I went to Stuttgart and recorded in a studio there with Mat Sinner for the debut album, but I'd never worked with either Mat or Michael face to face before. So I didn't know what to expect and was a little nervous and wanted to do everything right. Since then, Mat and I have toured extensively with "Rock Meets Classic", Michael and I have toured all over the world. It felt much more like a family project for this album and that was really cool.
NI ROCKS – We're going to play a track from the album now. Would you like to pick a track, tell us a little about it and introduce it for us?
AMANDA – Oh man, it's so hard for me to pick one!
NI ROCKS – You'll get to pick three if that makes it easier!
AMANDA – Ok then, I'll say "Right Now" which is the final track on the album and one I really like.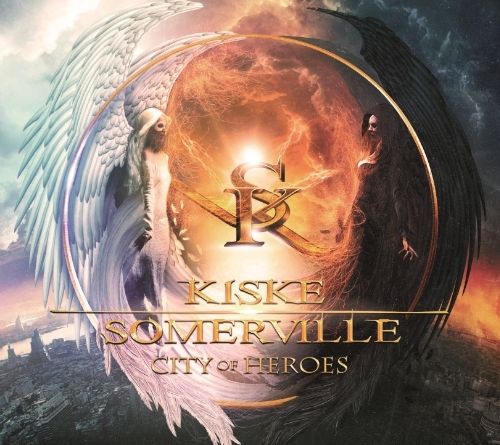 NI ROCKS – You've released your own albums and appeared on many others of course. I actually played a track by Mob Rules called "End of All Days" that you appear on at the start of the show. You appear on a few Avantasia albums and have been part of several tours. What's it like being part of the metal opera?
AMANDA – It's fabulous. It's like a constant field trip (laughs), with your favourite class mates. It's so much fun. I love the music and everybody involved is so laid back. It's really become a family, since we've been touring together I mean. Our first tour was in 2008 after "The Scarecrow" and "Lost In Space" records came out, so I've been part of the touring experience of Avantasia since its inception. It's really something that has grown, both personally and professionally, and it's a really great time.
NI ROCKS – As I've mentioned, the first album with Michael Kiske was released back in 2010. Can you tell us how you were first approached to record that album?
AMANDA – Yeah, Mat Sinner called me and asked if I'd be interested in being the other half in a duet together with Michael Kiske and I decided yeah. We'd worked together kinda from a distance and around a few corners for Aina and Avantasia. I said I'd be interested in actually working with him, where our voices are together, and in meeting him. I wanted to hear some of the music and once I heard some of the demos I was totally sold and really excited about it. That's really how all this came to fruition.
NI ROCKS – you're from Michigan originally, but have been living in Europe for some time. What first brought you over here and where do you consider home now?
AMANDA – At the time, (laughs) it was love. I was together with a German guy so I moved to Germany and ended up staying there because of the music. So I got to know Sasha Paeth and the whole Gate Studio team in Wolfsburg. That's basically what kept me here, and then shortly thereafter in 2003 I met Sander Gommans who is now my husband, and as they say the rest is history.
NI ROCKS – What do you see as being the biggest difference between the rock music scene in Europe compared to the USA?
AMANDA – Oh boy, well it's so nice that you have concentration kind of everywhere in music. It's so close together. You can have major cities within an hour of each other.  In the States it's so hard, because if you don't live in New York, Nashville or LA you can forget about a music career. I was from Flint, Michigan and Motown was long dead and there wasn't anything going on in Detroit anymore. I didn't want to go to New York, Nashville or LA, so hey why not go to Germany (laughs), and Wolfsburg, Germany of all places, but that ended up being my music Mecca and everything went from there. It's not that things are less competitive over here than it is in the States, but it's just so much harder. When you go to any of those three music Meccas I mentioned, you've got tons of amazing people that come from all over the world and all over the US, so it's a lot harder getting a foot in the door. I dunno, because I've been very fortunate. I was 19 when I moved over here and things just kinda fell into place. I guess that's my overall general observation.
NI ROCKS – You're expecting your first child with husband Sander Gommans in the next few weeks. Congratulations on that. You've managed to keep the PR train rolling and have done a few videos and photo-shoots, but I guess that it had a significant impact on any plans for touring to support the new album?
AMANDA – Yeah. I did the Rock Meets Classic tour when I was between five and a half and six and a half months pregnant and that was pretty much it. I noticed that the last three shows I was like "oh my god it's a good thing the tour is coming to an end". It's hard enough to co-ordinate mine and Michael' schedules anyway, but with everything going on this year privately it would just have been impossible. I never say never and I really hope to be able to present our music to a live audience at some point, but it's not going to happen any time soon (laughs).
NI ROCKS – It's early days, but have you given much thought to when you might get back on stage or into the studio?
AMANDA – Well I continue to work on my solo album. It's kinda hard, nesting and getting prepared for a new baby and working on an album, doing guest appearances and doing work for other bands which I've still been doing. But, I really hope that I get my solo album finished by the end of the year and then a new Trillium album is up and I imagine that a new Avantasia tour is coming up probably sometime in 2016. That's probably going to be my next tour that I do, with Avantasia.
NI ROCKS – When are you actually due?
AMANDA – July 9th. Not long. Seven and a half weeks to go!
NI ROCKS – We're going to play another track from "City of Heroes" now. Again, you get to pick one, tell us a little about it and introduce it.
AMANDA – What about if we play "Breaking Neptune". That is one of my own songs that I have on the album, that I wrote together with my husband Sander. It's kinda funny because we originally wrote it for a punk rock band several years ago and it has completely gone through a total metamorphosis to be on this album.
NI ROCKS – You've now been involved in two albums by HDK, the project started by Sander Gommans who is now your husband.  The latest album "Serenades of the Netherworld" was released last year. Can you tell us a little about that album and your involvement?
AMANDA – Yeah, to talk about Sander and HDK in general, he's so, so proud to be able to say that he was the one to bring me over to the "dark side" if you will. I started working in this scene in 2001 I think. The whole time I was working with Epica, After Forever, Avantasia, Edguy, Kamelot and all those guys I really enjoyed working with them but I could never see myself writing and performing that kind of music. Melodic metal, hardrock or whatever. Until Sander and I worked together on HDK in 2007. The German's have a saying, it's really disgusting but it kinda sums it up beautifully – once you lick blood, or get a taste of blood you want more! (Laughs) And that was kinda my experience with "System Overload" the first HDK album. That was a really aggressive, harsh, really thrash metal – no keyboards or hardly any. For "Serenades of the Netherworld", Sander really switched gears. I think for the first one he was still doing After Forever and he wanted to do something completely different and wanted to get as far away from female fronted, symphonic, gothic metal as possible. But he has kinda gone back to his roots with "Serenades of the Netherworld". It's a lot more keyboard heavy and melodic and a lot less grunting and screaming and crazy aggressiveness. It's a much different album than the first HDK.
NI ROCKS – Back in 2011, you released the Trillium album "Alloy". You've mentioned that there any plans for a follow up album. When's that likely to be?
AMANDA – The next Trillium album is for me the main priority. It's my songs, my singing on it and it's in line to do after my solo album. I think I'll probably start that in 2016 and hopefully by the end of 2016 it will be out (laughs). I'm in this 5 year rhythm for releasing my own stuff, but I really hope that is when you can expect it.
NI ROCKS – You've probably covered most of this question already. Obviously the big thing coming up in the future is the birth of your first child, but musically what are you hoping to do next?
AMANDA – Yeah. Basically keeping on keeping on and keeping my nose to the grindstone and following the path that I've been going down the last several years.
NI ROCKS – A couple of general questions just to finish if you don't mind. What artists are you listening to yourself at the minute? Anything you might recommend?
AMANDA – Oh goodness. I'm in a retro mood recently. I've been listening to a lot of Bob Marley, (laughs) Mamas & Papas and Motown. I don't have much new stuff that I'm listening to. I really enjoy Feist, Ingrid Michaelson and One Republic. I'm really sorry to all the metal fans! (Laughs). I've just listened the entire evening to Annihilator if that is any consolation to anybody.
NI ROCKS – When you were getting into music who were your influences and can you remember the first album you bought and first gig you went to? Time to get embarrassed maybe?
AMANDA – Oh goodness. I'm not embarrassed about anything. I'm not afraid to say that I love Neil Diamond (laughs). Oh shit! Sorry, I don't know if I can swear on your show! Naughty pregnant lady! For as long as I can remember music has been the biggest part of my life. My mom said I could sing before I could talk! Maybe the very first record I can remember buying is Madonna's "Like A Virgin" – like "mum, will you please buy this for me" at the record shop. I come from a family of musicians and we were always buying music so I couldn't really pinpoint that answer for you, I'm sorry.
NI ROCKS – That's ok. First gig you went to. Can you remember?
AMANDA – I think that was a John Denver concert when I was two, with my parent. That was at Pine Knob, which is now the DTE Energy Theatre. Isn't it stupid how they rename concert halls!
NI ROCKS – Amanda, thanks very much for taking the time to talk to us. I'd like to wish you and your husband all the best for the upcoming birth and for the future.
AMANDA – Thank you so much. It was a pleasure talking to you.
NI ROCKS - We're going to finish with another track, but this time I'll give you the choice of Kiske / Somerville, HDK or Trillium. In fact I'll let you pick two tracks.
AMANDA – Oh, that's naughty!! Ah come on Nigel you've got to help me out a little bit!
NI ROCKS – Ok then, three tracks. One from each.
AMANDA – Ok, let's do the title track from "Serenades of the Netherworld", from Trillium let's do "Machine Gun" and let's do "City of Heroes".
{youtube}8zOl3kg2lAE{/youtube}
Show Playlist
MILLION DOLLAR RELOAD – Roll The Dice
MOB RULES – End of all Days
Amanda Somerville Interview Part 1 (3 min)
KISKE SOMERVILLE – Right Now
Amanda Somerville Interview Part 2 (7 min)
KISKE SOMERVILLE – Breaking Neptune
Amanda Somerville Interview Part 3 (7 min)
HDK – Serenade of the Netherworld
TRILLIUM – Machine Gun
KISKE SOMERVILLE – City of Heroes
BLACK STONE CHERRY – Bad Luck & Hard Love