Guitarist George Lynch seems to be one of those artists that is always working on something, so I was grateful to get a bit of his time recently to talk to him about some of his recent releases, future plans and the Mr Scary guitars amongst other things. We spoke on 1st March and the interview was broadcast on the Friday NI Rocks Show on 6th March. It is now available to listen to on the NI Rocks MixCloud site -https://www.mixcloud.com/NIRocks/interview-with-george-lynch-on-the-friday-ni-rocks-show-6th-march-2015/
The former Dokken guitarist talks about his collaboration with Michael Sweet (Sweet & Lynch), the Shadowtrain project, KXM, T&N and Lynch Mob as well as his production of custom guitars.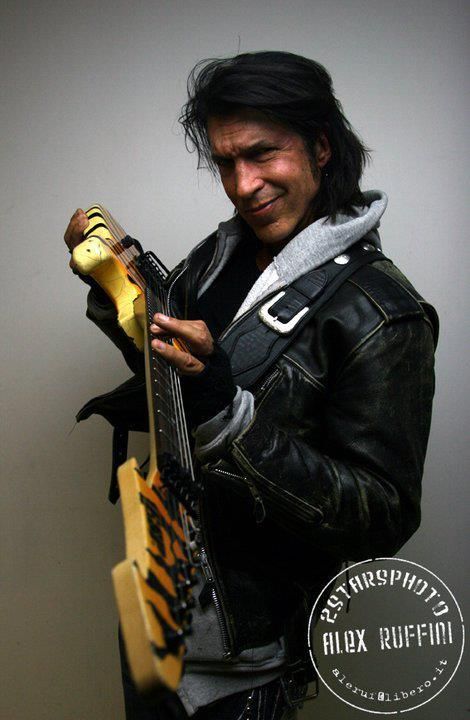 NI ROCKS – George, thanks for taking some time to talk to Rock Radio NI. I know you've been busy in the studio. I wanted to talk to you first of all about the new release with Michael Sweet. The album is called "Only to Rise" and it is released by Frontiers in the UK on 23rd January. Who first approached you in relation to the project and when was that?
GEORGE LYNCH – Initially it was the record company themselves. That's pretty different for me. I've never been approached by a record company before to do an album, but they put this project together; which is a new one for me. It was actually the brain child of the President of Frontiers Records, who wanted to put this, for lack of a better term, quasi-supergroup together. It was Mike who was the one who really cemented the deal because I really liked the idea of doing a record with him. I had wanted to do something for some time and we'd talked about it. The situation availed itself and we found an opportunity to work together so it was perfect.
NI ROCKS – Had you worked with Michael before?
GEORGE LYNCH – No, I'd wanted to, that was the thing. We thought we could bring back the sort of chemistry that existed with me and Dokken in that era. I felt that Don's voice isn't really what it used to be these days and he's kinda hard to work with and deal with. Michael is the opposite. He has really taken care of his voice. He's a phenomenal singer and obviously he is really driven and inspired. He works hard and is really straight-up and honest and dependable without any drama. It's really refreshing. It's hard enough doing this so you don't need extra grief. It was a really refreshing opportunity and a really easy record to make. I almost feel guilty that it was as easy as it was. There weren't any obstacles, everything worked. The songs came extremely easy, they sound real good. Everything just fell into place, I've no complaints. I'm not used to that! (laughs).
NI ROCKS – You have worked with James Lomenzo and Brian Tichy in the past of course. Two excellent artists who provide a solid foundation for the album.
GEORGE LYNCH – Brian and James both played stints in Lynch Mob. Brian also played on the T&N record with myself and Jeff Pilson and more recently, it's not out yet, he just played on the Lynch Mob record that I'm working on at the present. It is due out through Frontiers as well this summer.
NI ROCKS – I believe you were all never in the studio at the same time during the recording of the album. How often is that the norm now rather than the exception?
GEORGE LYNCH – That's the first time I've done a record with a band that way. I do that frequently when I work on a hired gun type project when somebody wants me to play guitar on whatever project, somewhere in the world. Or if someone is doing a private label thing, or a soundtrack thing or whatever, they'll commission me to play guitar. In that case, they send me their work, I do my thing and send it back to them. They're very rarely there in the studio, maybe occasionally. But as far as a full fledged band project I've never done that before, but it worked out great. Probably because when I was working on my own I didn't really have to think about the complexities of anyone else in the room and dynamics and opinions. (Laughs). It's like do what you want. So that made me very relaxed and made it a fun process. I didn't feel like I was under the gun. If I'd flew back east and didn't have all my gear or everything I wanted, I'd feel out of my own element and uncomfortable. Then there's the pressure of having different people around with different opinions. That's a little strange too. That could be good or it could be bad, you'll never know until you get there. But I really like the way this went down.
NI ROCKS – Are there plans to get the band together for a series of live performances? I read that there might be a Lynch Mob tour with Michael's solo band that could involve a Sweet & Lynch set?
GEORGE LYNCH – I really think that that is not going to happen, if I were betting on it. Michael is in the studio now doing a Stryper record and I'm in the studio doing a Lynch Mob record. We're both going to go out this year with our respective bands and I don't see where that leaves any room for Sweet & Lynch.
NI ROCKS – Do you have a favourite track on the album and why? We'll get you to introduce it on the show.
GEORGE LYNCH – I like different songs for different reasons. Just as a song, I really love "Dying Rose", but if I want to be selfish and think about the guitar solos then I like "Recover". It's not my favourite song my any means but I really like the solo on "Recover".
NI ROCKS – Michael has been quoted as saying that working with you was one of the things on his bucket list. Are there any artists that you haven't worked with that you'd really love to do something with?
GEORGE LYNCH – Well, I can't play with everybody and I've played with a lot of people. I'm lucky that I've been able to do that. But there are a couple of projects that I'm involved in now where I'm getting to play with a lot of people that I've really been looking forward to work with. One is called The Infidels and we recently joined forces with the singer from Fishbone, Angelo Moore, and for me being an LA guy who was around here when Fishbone were around in their heyday, they're legendary. They really affected a lot of us musicians who lived here and witnessed their live concerts, which are legendary, and are aware of the genius of the band. Kinda like the Kings X story, phenomenal; every musician respects and loves them but they just don't make it. So Angelo playing in The Infidels is for me a small dream come true.
There's another project that I have, the working title is Unimog, it's sort of a heavier, more industrial-esque kind of music. It's not really industrial, but kinda. I've got guys coming in from all sorts of places. I've got the singer from Prong (Tommy Victor) coming in to do something and one of the guys from Mastodon is singing on a track. Guys I'd probably normally have nothing to do with so it's allowing me to open up into other areas and play with other people that I really respect and enjoy their music and stretch out a bit.
That's the one nice little luxury of having somewhat of a name and being someone that is recognised, it opens some doors that wouldn't normally be available to me.
NI ROCKS – I was wanting to ask you about a project that you've been working on for some time that is close to your heart. Plans for the documentary movie "Shadowtrain : Under A Crooked Sky" were initially announced in 2011 and a funding campaign took place in 2013. The movie is about the destruction of the Native American community. I was having a look at the website recently. Where are you with that project at the minute?
GEORGE LYNCH – We just, just finished the very last technical detail of the edit and the colour correction and so forth. The things that you do to the actual sound and video of the film. I had to correct a voice-over at the weekend and now it is in the hands of the last person who will touch it and then it is going to be duplicated for shopping purposes. What that means is that now that we're done, after almost five years of work in creating the film, is to somehow market it and get it out there. It's a tough mountain to climb. There's a lot of competition and we didn't have much of a budget. There is limited appeal for these kinds of films, as important as they are when you're talking about things that matter – social justice and economic justice are the kind of things that fall on deaf ears very often. People want to go out and see the latest Spiderman movie or whatever dribble Hollywood is pumping out. But hopefully we'll get that out there this year. We have a double CD soundtrack as well by the band Shadowtrain, which is the band in the film living in the reservation.
NI ROCKS -  Last year saw the release of the KXM album on which you worked with Doug Pinnick (of King's X) and Ray Luzier (of Korn). How did that come about and are there plans for any further releases?
GEORGE LYNCH – That was like three ships meeting in the dark; all colliding and you get this musical explosion. Then we drifted off. We would all like to do another record and play together in some context. The problem at this point is that it is so hard to get a band like that out on the road because everyone is doing other things. I mean the drummer is in Korn, that doesn't leave much room for anything else. He just recently moved to Nashville and is having another baby. Doug is between here and Texas and he has a million bands and I have a million bands. We'd all love to play together but in a practical sense we just don't have the luxury to do that now. What we're thinking is that if we do another record, which was well received, we'd do what we could to support and play live. So we'd need to carve out not just enough time to write and record the album, but also to play shows and that is a considerable amount of time for people to take off from their respective projects. It is going to be very tricky but our heart is there.
NI ROCKS – Something similar then with the T&N project where you worked with Jeff Pilson and Mick Brown (releasing the "Slave to the Empire" album in 2012).  Any likelihood of something more from there?
GEORGE LYNCH – Yeah, Jeff and I spoke about that fairly recently. We've got some left over songs, about five or six, from the last album. We want to finish those up and want to do the next evolution of T&N. We don't want to call it T&N, we want to call it something else. Michael Sweet would be coming in and Michael would be the singer. So it'd be Jeff Pilson, Mick Brown, myself and Michael. We have to wait for Foreigner to let go -  a sabbatical or something! So it probably won't happen until 2017!
NI ROCKS – At this point I'm going to play a track from that "Slave to the Empire". Is there one in particular that you'd want to choose and introduce?
GEORGE LYNCH – I think "Slave to the Empire" is a pretty safe pick.
NI ROCKS – Moving on, I wanted to talk about the Mr Scary Guitars company. I believe you use the ESP Guitars workshop. How much time do you need to commit to that and do you've any idea how many custom guitars you've produced now?
GEORGE LYNCH – I limit myself to ten guitars a year. People get a hold of me through the website - http://www.mrscaryguitars.com/ - occasionally I'll advertise, and once every year or two I'll throw an ad out there in a guitar magazine. I don't work at ESP now, I do everything in my own shop, nothing is a derivative of ESP at all. Initially they were. The first three guitars that I made were based on the ESP platform. That was before I started expanding and once I got going, everything is from scratch. The only thing I do with ESP is shipping of the guitars. They're really good at that. They won't get hurt. I wouldn't take it down to the local Mom & Pop mail place, I take to the professionals as they're really, really valuable.
NI ROCKS – Any favourites that you can recall?
GEORGE LYNCH – They're all unique. Actually, I went off and did something different. I did a replica 57/58 white Flying V. Something that I don't normally do. No carving, no bones. I made it for Jeff Young, the ex guitar player with Megadeth. Building this thing I was falling in love with it more and more the closer I got to completion. It did take a while, about a year, but when I was finished with it I lived with it for a few days. Plugged it in, record with it, making sure that it settled in well and sounded right. Everything gelling and working well. This guitar just had this insane quality. I don't want to sound like Spinal Tap, but it was literally like a piano soundboard. This happens quite frequently with guitars where it is like giving away your kids. That guitar had old mahogany warmth. It was insane. I was like.. "I can't give this away!!", but the guy paid for it and it is his guitar. That happens quite a bit. What I have done is go back to some of the people I've built guitars for, when there is one that is so phenomenal or over the top that it beats everything I own and borrow them back and play them on records or even life.
NI ROCKS – It's a win – win then!
GEORGE LYNCH – Yeah, pay me to build you a guitar, I build it for you and then take it back. (Laughs). Quite honestly though, these guys are usually fans and it's great for them that their guitar is getting played on a record or live. It makes it more meaningful for them. And of course when I borrow them it's not a one way street, I'll always insist that I give them something as collateral, more valuable than what I'm borrowing. Last time I did this I gave the guy my Bones guitar and there was another time I gave the guy my Tiger guitar which is invaluable. I trusted him with it and he was very happy.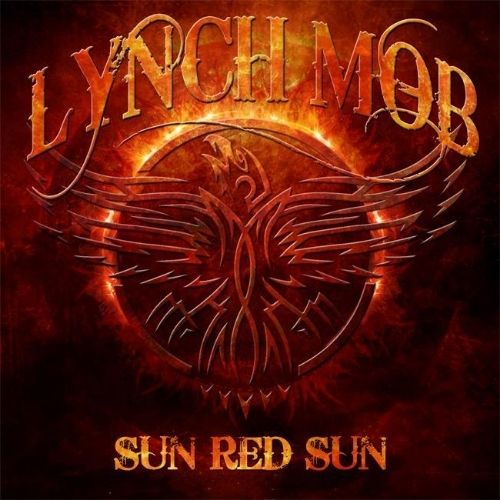 NI ROCKS – I know we're running short of time but I just wanted to ask about the new Lynch Mob album called "Sun Red Sun" which came out late last year. The title track is an acoustic number that pays tribute to the late Ray Gillen. You worked with Ray on your album "Sacred Groove" and "Sun Red Sun" was the last band he performed in. Was this a track you'd wanted to do for a while?
GEORGE LYNCH – We wrote that track when Lynch Mob were on the road. We were on the tour bus after a show with the acoustic guitars out having a couple of beers. We were playing around with these chords and came up with that beautiful chorus line. Robbie, the bass player, recorded it and sent it to us. Over the years we've all said "we've got to finish that song" it's so beautiful. So we eventually did. We thrashed it out and finished it.
It was just such a great chorus and it just came off the top of his head, or so we thought. I didn't know this and I'd never heard it, but there was a connection to Ray Gillen. I guess after the fact, we said it was a tribute to Ray. Why would we make a tribute to Ray Gillen. I'm not going to record a tribute to Ray. He's great and I love him but I don't see why that would make any sense.
NI ROCKS – You mentioned you were recording the next Lynch Mob album for a summer release?
GEORGE LYNCH – Yeah, we're just finishing off the last 3 or 4 songs vocally. Actually, Ori will be here in a couple of hours to go to the studio. We'll be working straight through, no days off until we're finished and it goes to mix. We'll be delivering it before April 1st to Frontiers Records and I presume it will get released around July. It's a full length record and it's awesome! (laughs). They're all awesome when you make them and later on if they don't do good you try and blame someone else! (laughs). It's been fun recording the album and fun to play on it. Listening to Ori I think "damn!" and he's singing his ass off. He told me this would be his last album for some reason, I don't know. He maybe thinks this is his swan-song and he is going out with a bang! There aren't too many like him – Paul Rodgers, Glenn Hughes and I don't know who else.
NI ROCKS – I'm going to finish with a track from "Sun Red Sun". Anyone in particular that you'd like us to play?
GEORGE LYNCH – We have a lyric video out for "Erotica" but I would rather play the first song "Believers of the Day", that's the one we should be pushing.
Check out http://www.georgelynch.com/
Playlist
TRUCKER DIABLO – Party Like They Started The End of the World
SWEET & LYNCH – Dying Rose
George Lynch Interview Part 1 (6 minutes)
SWEET & LYNCH – Recover
George Lynch Interview Part 2 (7 minutes)
T&N – Slave To The Empire
George Lynch Interview Part 3 (7.5 minutes)
LYNCH MOB – Believers of the Day
FURYON – Good Sky
WHITESNAKE – Child of Babylon
THUNDER – Broken
LAWLESS – The End of the World
Check out NI Rocks on Facebook – www.facebook.com/NIRocks or Twitter - www.twitter.com/NIrelandRocks