NI ROCKS interview with JOSH TODD from BUCKCHERRY
We've been big fans of Buckcherry for a long time now and were delighted to see that they were coming back to Belfast to play the Limelight on Wednesday 27th November along with Hardcore Superstar and Venrez (who since the interview was posted have been announced as the replacedment for The Last vegas on the tour). That date is followed by a gig in Dublin on 29th November. I approached the band's record label to arrange a brief interview ahead of the European tour and am extremely grateful to lead singer Josh Todd for agreeing to answer a few questions.
(Check out the interview with Venrez who have now been added to the line-up : http://www.rockradioni.co.uk/interviews/1337-ni-rocks-interview-with-venrez.html )
NI ROCKS – Thanks for taking some time to answer a few question for Rock Radio NI. The band has been busy promoting the new album "Confessions" and that includes a UK tour in November and your first appearance in Northern Ireland since 2006. Do you remember anything about the last time you played The Limelight in Belfast and your time here or do those memories just get lost in the crazy schedule of touring and constant travelling?
JOSH – It's hard to remember honestly, we're coming up on 200 shows since we recorded Confessions so my memory is foggy but it's always the same approach for us. Doesn't matter when or where we will give our rock fans 110%
NI ROCKS – Back in 2006 the band had just released the album "15" after reforming in 2005. The line-up has remained the same since then. How important do you think that has been to the continuing success of the band over the last seven years?
JOSH – It's real important because we spend so much time together you want to have guys that are great at what they do and also good to be around and we have great communication which is key.
Dim lights Embed Embed this video on your site
NI ROCKS – We travelled over to Glasgow to see you play during your last UK tour in December of last year and have to say was really impressed with the energy and enthusiasm that the band put into the live show. Is playing in front of a live audience still the thing that motivates the band rather than recording, making videos etc?
JOSH – Thanks, yes playing live is what we live for. Everything else about this business can be challenging. When you finally get to the stage that's the pay off.
NI ROCKS - The band released the album "Confessions" earlier this year. Where did the idea of recording an album based around the seven deadly sins come from?
JOSH – it's something Keith and I had talked about for a long time and we needed to do something different on this effort so it was just the right time. It's been done before but we thought we could do a good job because the sins are familiar to us.
NI ROCKS – The video for the single "Nothing Left  But Tears" looks like a mega production. Tell us a little about the video concept and the making of the video.
JOSH – it's has a dark tone to it and a cinematic quality and it's something different for us, each band member represents a sin and I play Lucifer we had a good time making it.
Dim lights Embed Embed this video on your site
NI ROCKS – The upcoming European tour sees the band on the road with Hardcore Superstar and a band from Chicago that I really like called The Last Vegas. How did that line-up come together?
JOSH – We wanted to get a bunch of rock bands together and have a good package for the fans and this made the most sense for this time of the year. We're pumped!
(Check out an interview with The Last Vegas that we did last August - http://www.rockradioni.co.uk/interviews/1091-ni-rocks-interview-with-the-last-vegas.html )
NI ROCKS – The band had been due to play the Download festival in the UK earlier this year but had pulled out. The reason wasn't really clear at the time. Was that because the upcoming tour was being planned?
JOSH – The tour got messed up it was suppose to be more than one show we never intended to come all that way for one show so we pulled out to do a proper tour, it's not something we were happy about.
NI ROCKS – The band has played with some of the biggest names in the rock world over the past eight years. What has been your own personal highlight?
JOSH – There's so many but here's a few: playing Download for the first time, Woodstock 99, millennium New Years show with Aerosmith Osaka Japan, 5 shows with AC/DC in the States.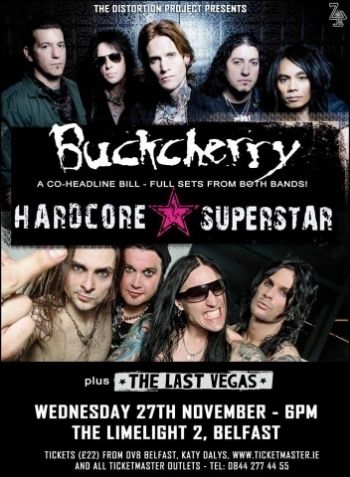 NI ROCKS – You've got the upcoming European tour of course, but what else can we expect from Buckcherry over the next year?
JOSH – Well we have a short film we're still trying to get done for the Confessions campaign, there's talk of an EP in the new year which would be awesome, and lots of touring.
NI ROCKS – Thanks very much for taking some time to answer a few questions for Rock Radio NI. We're really looking forward to seeing you in Belfast in November.
Dim lights Embed Embed this video on your site
Buckcherry are:
JOSH TODD – Vocals
KEITH NELSON – Guitar
STEVIE D – Guitar
JIMMY ASHHURST – Bass
XAVIER MURIEL – Drums
Find out more at http://www.buckcherry.com/
Or follow at https://www.facebook.com/buckcherry or https://twitter.com/Buckcherry
https://www.facebook.com/NIRocks
Dim lights Embed Embed this video on your site
UK & Ireland Tour Dates
Nov 23         Coventry, United Kingdom         Kasbah
Nov 25         Manchester, United Kingdom     The Ritz
Nov 26         Glasgow, United Kingdom         O2 ABC
Nov 27         Belfast, Ireland                         Limelight 2
Nov 29         Dublin, Ireland                          Academy 2
Nov 30         Nottingham, United Kingdom     Rock City
Dec 02         Bristol, United Kingdom             Academy
Dec 03         Cardiff, United Kingdom             Solus
Dec 04         Exeter, United Kingdom             The Lemon Grove
Last Updated (Wednesday, 16 October 2013 07:01)