NI ROCKS Recommends "Shootin' The Breeze" by BLACKWATER CONSPIRACY
Almost two years since their rebranding and the release of a four track EP, local band Blackwater Conspiracy have released their long anticipated debut album "Shootin' The Breeze". The CD and digital versions of the album were released on 9th June with a vinyl release to follow on 7th July. I played "President Joe" and "Monday Club" on the Friday NI Rocks Show uploaded on 15th June, but the four tracks from the earlier EP have been on our playlists constantly for the past two years.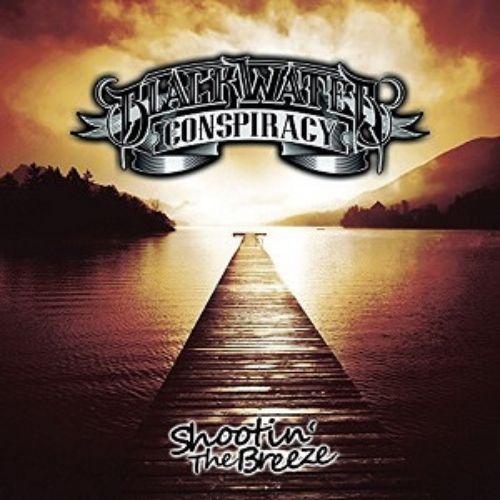 Blackwater Conspiracy launched on the night of 15th August 2015 when the band formerly known as Million Dollar Reload took to the stage for the last time and unveiled a new identity. That change of identity was largely to reflect a shift in the focus of the band and the music they were writing. We recorded an interview with lead singer and guitarist Phil Conalane that night in The Empire and you can read or listen to that interview via this link - http://www.rockradioni.co.uk/interviews/2161-ni-rocks-interview-with-phil-from-blackwater-conspiracy-million-dollar-reload.html
Blackwater Conspiracy played the Download Festival this month to coincide with the release of the album and then played an acoustic album launch gig in HMV Belfast on 12th June. The album has been getting some excellent reviews, quite a bit of airplay on Planet Rock and other stations and charted at number 5 in both the 'Jazz & Blues' and 'Independent Breakers' charts on the Official UK Album Charts.
Blackwater Conspiracy are Phil Conalane on vocals and guitar, Brian 'BAM' Mallon on lead guitar, Kie McMurray on bass, Fionn O'Hagain on drums and Kevin Brennan on keyboards.
There are ten great tracks on the album and I'm not going to try and pick out favourites – though I will say that it's great to finally have "President Joe" on an album, almost six years after hearing an early version of the track.
Check out the band's website for more info, merch etc - http://blackwaterconspiracy.com/
Dim lights Embed Embed this video on your site
Dim lights Embed Embed this video on your site
About "NI Rocks Recommends"
The simple idea behind "NI Rocks Recommends" is to acknowledge and promote some of the great music being submitted to Rock Radio NI. I'll not be giving marks or ratings or analyzing the tracks in great detail; just telling you something about the artist and the album. It's a personal recommendation to go check something out, not a traditional "review"!
My musical tastes cover most things rock; from the not too melodic to the not too heavy. The albums that I'll be recommending are those that you'll hear me playing tracks from on my shows on Rock Radio NI.
Check out NI Rocks on Facebook – www.facebook.com/NIRocks or Twitter - www.twitter.com/NIrelandRocks
Dim lights Embed Embed this video on your site
Dim lights Embed Embed this video on your site