NI ROCKS Recommends "Decennium" by SEVEN KINGDOMS
"Decennium" is the fourth album from Florida-based band Seven Kingdoms and it was released via Napalm Records on 5th May. This is actually the first time that I've checked out the power metal band, but I really liked what I heard; which isn't always the case with the "power metal" genre. The powerful vocals of Sabrina Valentine combined with some equally powerful guitars are well worth checking out. I played the track "Stargazer" on the Friday NI Rocks Show for 5th May.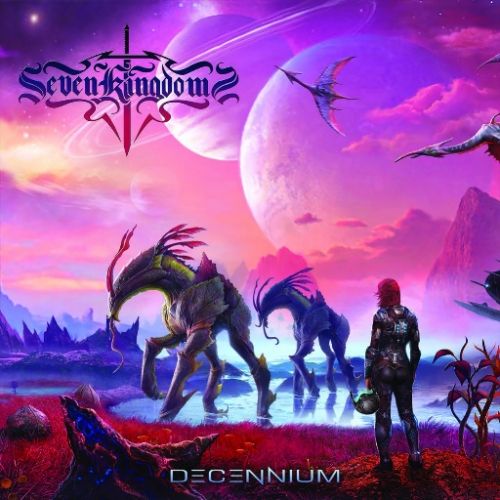 The band was formed in 2007 by guitarist Camden Cruz and original vocalist Bryan Edwards. The name of the band came from the George R.R. Martin book "A Song of Ice and Fire" (now the "Game of Thrones" TV series) and many of the songs over the past ten years have been inspired by the same books. Their first album was released in 2007, but by the time of the release of the self-titled second album in 2010 Sabrina Valentine had taken over on vocals. A change in bass player occurred before the release of the third album in 2012. In addition to Cruz and Valentine, the band members are brothers Kevin Byrd on guitar and Keith Byrd on drums, with Aaron Sluss on bass. The Byrd brothers have been with the band since 2007.
The new album was financed via Kickstarter and there are ten tracks on it; all between 4 and 6 minutes in length. My own favourites would be "Stargazer", "Undying", "In The Walls" and "Castles in the Snow".
Dim lights Embed Embed this video on your site
Dim lights Embed Embed this video on your site
About "NI Rocks Recommends"
The simple idea behind "NI Rocks Recommends" is to acknowledge and promote some of the great music being submitted to Rock Radio NI. I'll not be giving marks or ratings or analyzing the tracks in great detail; just telling you something about the artist and the album. It's a personal recommendation to go check something out, not a traditional "review"!
My musical tastes cover most things rock; from the not too melodic to the not too heavy. The albums that I'll be recommending are those that you'll hear me playing tracks from on my shows on Rock Radio NI.
Check out NI Rocks on Facebook – www.facebook.com/NIRocks or Twitter - www.twitter.com/NIrelandRocks
Dim lights Embed Embed this video on your site
Last Updated (Friday, 12 May 2017 06:34)