NI ROCKS Recommends "The Road More or Less Traveled" by TREAT
Swedish band Treat released a DVD / CD package called "The Road More or Less Traveled" ("Travelled" unless you're American!) on 21st April through Frontiers Music. This was recorded at the Frontiers Rock Festival in Italy in April 2016. The CD contains 14 live tracks covering the band's early success in the late 80's and early 90's as well as their more recent releases in 2010 and 2016.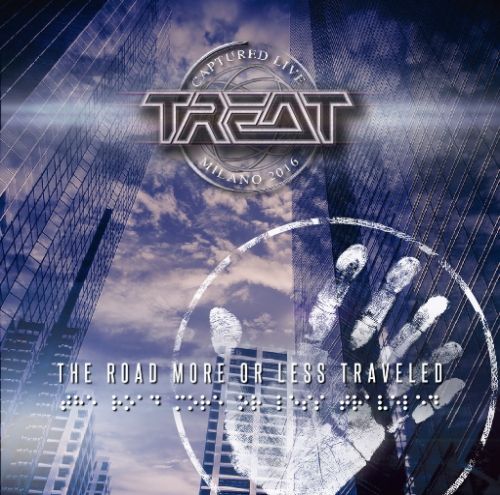 Treat emerged in Sweden in the early 80's and soon picked up a record deal with Swedish PolyGram Records. Over the next ten years or so they would release 5 studio albums before breaking up in 1993. During that period there were a lot of line-up changes, with only Anders "Gary" Wikström on guitar remaining constant throughout. Singer Robert Ernlund left the band in 1991 to be replaced by Mats Levén.
Following the release of a successful compilation album the band reformed in 2006 with the 1989 line-up with the exception of the bass player. There have been a couple of changes in bass player since then but the other 4 members are unchanged since 2006 – Wikström on guitars, Ernlund on lead vocals, Jamie Borger on drums and Patrick "Green" Appelgren on keyboards. Pontus Egberg has been the bass player since 2016.
The band released the album "Coup de Grace" in 2010, followed by "Ghost of Graceland" in 2016 (http://www.rockradioni.co.uk/back-stage/music-reviews/2577-ni-rocks-recommends-qghost-of-gracelandq-by-treat.html ). When the band performed at the Frontiers Rock Festival in April 2016 and recorded this CD / DVD, Appelgren was unavailable and Jona Tee from H.E.A.T. played keyboards.
Dim lights Embed Embed this video on your site
About "NI Rocks Recommends"
The simple idea behind "NI Rocks Recommends" is to acknowledge and promote some of the great music being submitted to Rock Radio NI. I'll not be giving marks or ratings or analyzing the tracks in great detail; just telling you something about the artist and the album. It's a personal recommendation to go check something out, not a traditional "review"!
My musical tastes cover most things rock; from the not too melodic to the not too heavy. The albums that I'll be recommending are those that you'll hear me playing tracks from on my shows on Rock Radio NI.
Check out NI Rocks on Facebook – www.facebook.com/NIRocks or Twitter - www.twitter.com/NIrelandRocks
Dim lights Embed Embed this video on your site
Last Updated (Tuesday, 09 May 2017 22:04)