NI ROCKS Recommends "Ruff Justice" by CRAZY LIXX
I post a lot of album recommendations for releases by Swedish bands and that is a reflection of course of how much good rick music comes out of that country. Just to emphasise that latter point, Frontiers Music released 3 albums by Swedish bands on 21st April and I'll be posting recommendations for all three. The first of those is "Ruff Justice" by Crazy Lixx, a band for which I've posted several album recommendations over the past few years. Lead singer Danny Rexon was also a guest on the Friday NI Rocks Show back in 2014. I played "Wild Child", the opening track of the new album on the Friday NI Rocks Show on 28th April.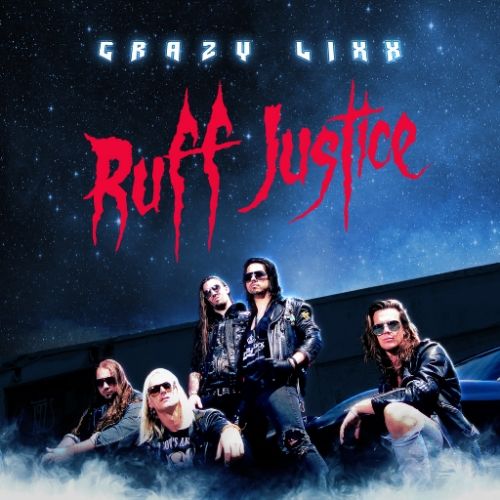 This is the first album from Crazy Lixx to feature the new line-up following the departure of both guitarists in 2015. The band, which had formed in Malmö back in 2002, has previously released 4 studio albums and most recently a live album in 2016. It was after the release of the fourth album, the self-titled "Crazy Lixx" that I recorded that interview with Danny Rexon - http://www.rockradioni.co.uk/interviews/1700-ni-rocks-interview-with-danny-rexon-from-crazy-lixx.html
The new Crazy Lixx line-up consists of Danny Rexon on vocals, Joél Cirera on drums, Jens Sjöholm on bass and Chrissie Olsson and Jens Lundgren on guitars. The two guitarists don't feature on the live album "Sound of the LIVE Minority" which was released in 2016 as it was recorded in 2015 prior to their arrival.
There are 10 tracks on the album, some of which feature in the new videogame "Friday the 13th : The Game". My own favourites are "Wild Child", "Killer", "Hunter of the Heart", "Snakes In Paradise" and "If It's Love".
Check out the band at https://www.crazylixx.com/
Previous recommendations -
http://www.rockradioni.co.uk/back-stage/music-reviews/2778-ni-rocks-recommends-qsound-of-the-live-minorityq-by-crazy-lixx.html
http://www.rockradioni.co.uk/back-stage/music-reviews/1712-ni-rocks-recommends-qcrazy-lixxq-by-crazy-lixx.html
Dim lights Embed Embed this video on your site
About "NI Rocks Recommends"
The simple idea behind "NI Rocks Recommends" is to acknowledge and promote some of the great music being submitted to Rock Radio NI. I'll not be giving marks or ratings or analyzing the tracks in great detail; just telling you something about the artist and the album. It's a personal recommendation to go check something out, not a traditional "review"!
My musical tastes cover most things rock; from the not too melodic to the not too heavy. The albums that I'll be recommending are those that you'll hear me playing tracks from on my shows on Rock Radio NI.
Check out NI Rocks on Facebook – www.facebook.com/NIRocks or Twitter - www.twitter.com/NIrelandRocks
Dim lights Embed Embed this video on your site