NI ROCKS Recommends "City of Sin" by GRUMPYNATORS
"City of Sin" is the second album from Danish band Grumpynators and it was released via Mighty Music on 24th March. This time the band have worked with Jacob Hansen for production and mixing and the result is an album with 12 hard-hitting rock tracks that are instantly etched on the brain! If you like your rock tracks to be fast and heavy with lyrics and singing rather than screaming, you'll probably want to check this out. If you like your rock bands to feature the double bass, you'll definitely what to check this out!! I played the opening track "Tears of Whiskey" on the Friday NI Rocks Show on 17th March.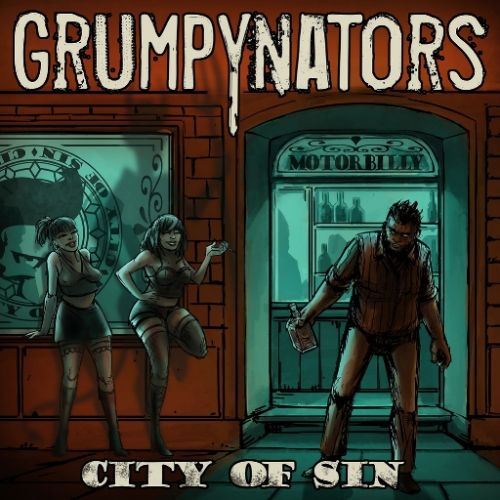 The band formed in 2011 and has many links fellow Danes Volbeat. Guitarist Christian Nørgaard had been playing acoustic guitar for Volbeat whilst the other three original members had been in the neo-rockabilly band Taggy Tones that had been supporting Volbeat on tour.    In 2013 they supported Volbeat on tour in Denmark and they released their first album "Wonderland" in 2015. On the new album, Volbeat guitarist Rob Caggiano guests on the track "Far Away" and album producer Jacob Hansen is also known for his work with Volbeat.
Grumpynators are Christian Nørgaard on guitar, Jakob Øelund on double bass, Emil Øelund on vocals and Per Fisker on drums. The latter formerly played for Jackyl and replaced the original drummer in 2012.
There are 12 tracks on the album – my favourites would be "Tears of Whiskey", "Take The Last Dance With Me", "Pretty Little Devil", "Fame", "City of Sin" and "We Are The Outcasts".
Dim lights Embed Embed this video on your site
About "NI Rocks Recommends"
The simple idea behind "NI Rocks Recommends" is to acknowledge and promote some of the great music being submitted to Rock Radio NI. I'll not be giving marks or ratings or analyzing the tracks in great detail; just telling you something about the artist and the album. It's a personal recommendation to go check something out, not a traditional "review"!
My musical tastes cover most things rock; from the not too melodic to the not too heavy. The albums that I'll be recommending are those that you'll hear me playing tracks from on my shows on Rock Radio NI.
Check out NI Rocks on Facebook – www.facebook.com/NIRocks or Twitter - www.twitter.com/NIrelandRocks