NI ROCKS Recommends "Supernova Plasmajets" by SUPERNOVA PLASMAJETS
Supernova Plasmajets are a band from Germany and they released their debut, self-titled album through AOR Heaven on 24th February. The female fronted band have a distinctly 80's glam rock look – quite possibly tongue-in-cheek! There is certainly a big glam rock influence in their sound as well. The band aren't just an 80's throw-back however, and there is a modern, contemporary rock vibe throughout – probably best evidenced in the vocals of Jennifer Crush. No matter how you try and analyse it, ultimately there is just something very catchy and addictive to the band's music. The track "Hold You Close" is included on the Friday NI Rocks Show on 3rd March.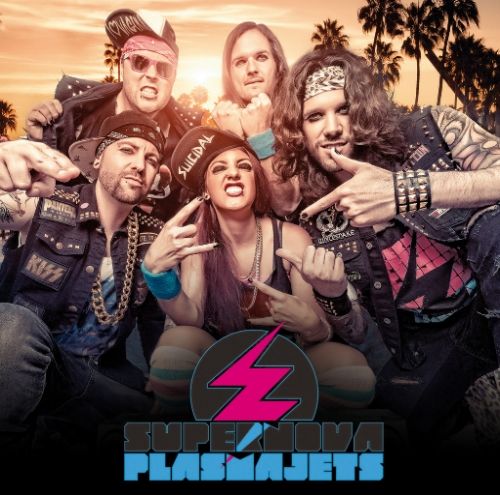 In addition to Jennifer Crush on vocals, the band consists of Manni McFly and Randy Stardust on guitars, Alexis Rose on drums and Cliff Bourbon on bass. From what I can gather, Crush joined with the others in 2014, and work commenced then on creating the Supernova Plasmajets sound. An EP was released in 2014 called "Reign in Plasma" and those tracks are included on the new album.
There are 11 tracks on the album and my favourites would be "Leave Forever", "Hold You Close", "Turn Off The Lights", "Will I Ever Know" and "Faster".
For more info check out the band at http://www.supernovaplasmajets.de
Dim lights Embed Embed this video on your site
About "NI Rocks Recommends"
The simple idea behind "NI Rocks Recommends" is to acknowledge and promote some of the great music being submitted to Rock Radio NI. I'll not be giving marks or ratings or analyzing the tracks in great detail; just telling you something about the artist and the album. It's a personal recommendation to go check someth    ing out, not a traditional "review"!
My musical tastes cover most things rock; from the not too melodic to the not too heavy. The albums that I'll be recommending are those that you'll hear me playing tracks from on my shows on Rock Radio NI.
Check out NI Rocks on Facebook – www.facebook.com/NIRocks or Twitter - www.twitter.com/NIrelandRocks
Dim lights Embed Embed this video on your site
Dim lights Embed Embed this video on your site
Last Updated (Tuesday, 28 February 2017 22:51)