NI ROCKS Recommends "Waterdevils" by APOLLO
Apollo is a Swedish singer of Greek descent who is probably best known for his time in Firewind alongside guitarist Gus G, although he has been involved in many more bands . "Waterdevils" is his first solo album and it was released on 18th November via Escape Music. I played the opening track "Revolution for the Brave" on the Friday NI Rocks Show on 11th November.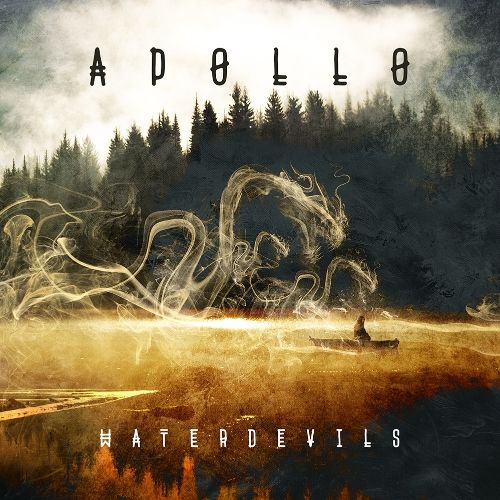 Apollo Papathanasio started performing in bands back in the 80's before doing his military service and it wasn't until 1997 that his first album was released with the band Faith Taboo. He went on to release albums with Majestic, Time Requiem, Meduza and Sandalinas before joining Firewind in 2006. Apollo released 4 albums with Firewind before leaving in 2013. During his time in Firewind he continued to record with Evil Masquerade; a band he'd joined in 2005 and also left in 2013.  However, Apollo is actually one of five vocalists on the new Evil Masquerade album "The Outcast Hall of Fame". In 2010 Apollo also joined Michael Arnott's band Spiritual Beggars and continues perform with them; releasing the album "Sunrise to Sundown" earlier this year.
Adding to his 2016 releases with Evil Masquerade and Spirutual Beggars is Apollo's first solo release "Waterdevils". The album is the product of two years writing and recording with friends from a number of bands. The title has been explained by Apollo -  "Waterdevils is a weather phenomenon. It's a small, weak whirlwind over water that's pretty rare. You never know where you'll see it or if you'll see it again. In a way it's a tribute to all of those who have contributed to this album. They showed up, unexpectedly and they might show up again, or maybe not, you just never know. Like waterdevils."
My favourite tracks from the 12 on the album would include "Revolution for the Brave", "Liberate Yourself", "Crossing The Lines" and "Stop".
Check out Apollo's Facebook page - https://www.facebook.com/ApolloPapathanasio
Dim lights Embed Embed this video on your site
About "NI Rocks Recommends"
The simple idea behind "NI Rocks Recommends" is to acknowledge and promote some of the great music being submitted to Rock Radio NI. I'll not be giving marks or ratings or analyzing the tracks in great detail; just telling you something about the artist and the album. It's a personal recommendation to go check something out, not a traditional "review"!
My musical tastes cover most things rock; from the not too melodic to the not too heavy. The albums that I'll be recommending are those that you'll hear me playing tracks from on my shows on Rock Radio NI.
Check out NI Rocks on Facebook – www.facebook.com/NIRocks or Twitter - www.twitter.com/NIrelandRocks