NI ROCKS Recommends "Solas" by THE ANSWER
I'm a huge fan of The Answer, but must admit I was getting a bit worried during the months of build up to the release of "Solas" about where the new direction was taking the band. Turns out that I needn't have been too concerned! I'd heard very little of the album prior to its release on 28th October via Napalm Records – a few tunes played in The Limelight in June, the title track and the first single "Beautiful World". "Solas" was played on the Friday NI Rocks Show on 23rd Sept and 21st Oct and "Beautiful World" on 28th Oct.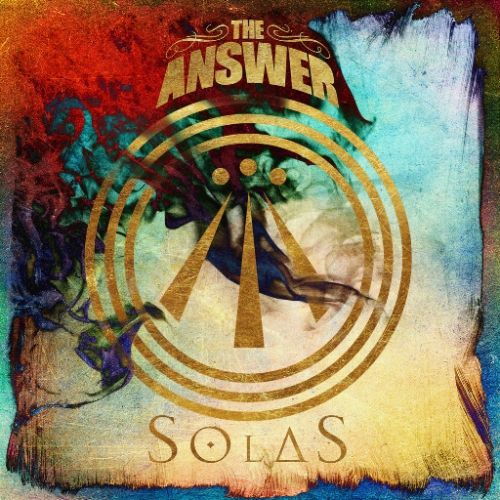 Having had a few days to listen to it properly I could probably summarise my thoughts in 5 points – (1) it's obviously a lot different than the previous 5 studio albums; (2) The Answer have excelled at recording an album that is at times hauntingly appealing and reflective and at other times seem to be about to erupt into a wild blues-rock party ; (3) there will be times when I'm in a more chilled mood that I'll sit and listen to "Solas" and then there will be times (probably more frequently if I'm being honest) when I'll just want to blast out "Rise" at high volume; (4) opinions being what they are, some people will love the album "Solas" and others will hate it; (5) people who write actual reviews will be in their element and knees deep in their "Thesaurus" looking for words to eloquently describe the exceptional musicality of "Solas".
The Answer will of course be familiar to anyone in Northern Ireland who claims to like rock music and the history of the band from their formation in 2000, through Classic Rock's "Best New Band" award in 2005, the release of the debut album "Rise" in 2006, the epic tour with AC/DC in 2008/09 etc is well documented. I've seen The Answer many times over the years but what will always epitomise them for me was the three gigs in four days in the summer of 2009 when they headlined for local fans in the Mandela Hall in Belfast, entertained a huge crowd of AC/DC fans at Hampden Park in Glasgow and then played a sweat-soaked, bunged to the rafters "intimate" gig for fans in the Classic Grand, Glasgow.
The Answer are Cormac Neeson on lead vocals, Paul McMahon on guitar (and mandolin and numerous other musical devices no doubt), James Heatley on drums and Micky Waters on bass.
A European tour with The Dead Daisies kicks off in Aberdeen on 12th November and takes them through to December. Their first gig in Northern Ireland following the release of "Solas" will be in The Diamond Rock Club, Ahoghill on 28th January 2017.
Check out The Answer's website for all the gig dates etc - http://www.theanswer.ie/
Dim lights Embed Embed this video on your site
About "NI Rocks Recommends"
The simple idea behind "NI Rocks Recommends" is to acknowledge and promote some of the great music being submitted to Rock Radio NI. I'll not be giving marks or ratings or analyzing the tracks in great detail; just telling you something about the artist and the album. It's a personal recommendation to go check something out, not a traditional "review"!
My musical tastes cover most things rock; from the not too melodic to the not too heavy. The albums that I'll be recommending are those that you'll hear me playing tracks from on my shows on Rock Radio NI.
Check out NI Rocks on Facebook – www.facebook.com/NIRocks or Twitter - www.twitter.com/NIrelandRocks
Dim lights Embed Embed this video on your site