NI ROCKS Recommends "Breakin Outta Hell" by AIRBOURNE
Airbourne are one of those bands that seem to draw their fair share of detractors. I'm guessing though that the O'Keeffe brothers couldn't give a rats arse about their detractors. Personally, I've always been a big fan of the band – I've all 4 of their albums (and the earlier 8 track EP "Ready To Rock") and have now witnessed their exuberant live performances in Belfast on 5 occasions; from June 2008 to the most recent in August 2016. Their latest album "Breakin' Outta Hell" was released on the Spinefarm label on 23rd September. The title track was released as a single in July and was included on the playlist for the Friday NI Rocks Shows on 19th August and 16th September. It was also on the NI Rocks A-Z Show on 12th July. The follow-up single "Rivalry" is included on the Friday NI Rocks Show on 23rd September.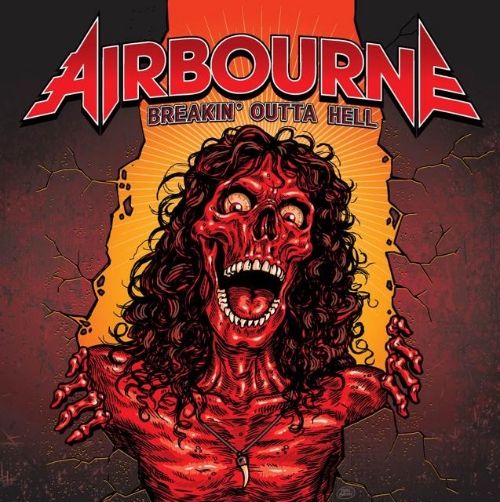 Airbourne formed in Australia back in 2003 and gained international recognition with their debut album "Runnin' Wild" in 2007. That was followed in 2010 by "No Guts, No Glory" and then by "Black Dog Barking" in 2013.
With Airbourne you always get what you expect to get when you buy the album or go to the gig. The key thing is that you're not wanting something different from what you're expecting! That's what I like about them! Obviously, if you don't like what they do, don't go buy the album! It's really as simple as that.
There was an interview with Joel and Ryan O'Keeffe that they'd recorded for AC Promotions on the Friday NI Rocks Show on 16th September. Airbourne are Joel on vocals and lead guitar, Ryan on drums, David Roads on guitar and Justin Street on bass.
Check out the Airbourne website at http://airbournerock.com/
Dim lights Embed Embed this video on your site
About "NI Rocks Recommends"
The simple idea behind "NI Rocks Recommends" is to acknowledge and promote some of the great music being submitted to Rock Radio NI. I'll not be giving marks or ratings or analyzing the tracks in great detail; just telling you something about the artist and the album. It's a personal recommendation to go check something out, not a traditional "review"!
My musical tastes cover most things rock; from the not too melodic to the not too heavy. The albums that I'll be recommending are those that you'll hear me playing tracks from on my shows on Rock Radio NI.
Check out NI Rocks on Facebook – www.facebook.com/NIRocks or Twitter - www.twitter.com/NIrelandRocks