NI ROCKS Recommends "Halfway To Hell (Deluxe Version)" by LYNAM
I've been playing tracks from Lynam's Ep "Halfway to Hell" since it was originally released in 2013 and downloaded the follow-up EP "Bombshell" from iTunes in 2015. I hadn't actually realised until now that neither of these EPs or the five earlier studio albums and live CD had been officially released in Europe. An expanded, deluxe version of "Halfway To Hell" was released on 16th September by Lions Pride Music. It contains the six original tracks plus 5 others that appeared on two of the earlier albums. The title track was included on the Friday NI Rocks Show on 16th September.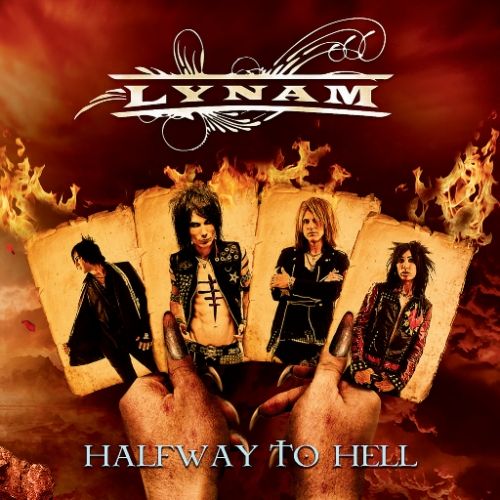 Lynam formed back in 2001 and self-released three albums between 2002 - 2004. Their fourth album "Slave to the Machine" was released through DRT / Universal Records in 2006 – the single "Tanis" from that album is included on this new release. A fifth (and to-date final) studio album entitled "Tragic City Symphony" was released in 2008 through New Ocean Media. There are four tracks from that album included on the new Deluxe Version of "Halfway to Hell". A live album called "Thank You Good Night" was released in 2010.
The band takes its name from drummer David Lynam, but vocalist Jacob Bunton is undoubtedly the best known member of the band. The others are Mark Dzier on bass and newest member Lonny Paul on guitar. The band had announced back in 2010 that they would not be releasing any more albums, but have released two EPs and continue to play gigs.
I posted an interview with Lynam frontman Jacob Bunton back in 2013 when he was singing with Adler (former Guns n' Roses drummer Stephen Adler's band)  - http://www.rockradioni.co.uk/interviews/1164-ni-rocks-interview-with-adler-frontman-jacob-bunton.html . Since then Bunton has also appeared as a vocalist on Gus G's solo albums.
Check out the Lynam website at http://www.lynammusic.com/
Dim lights Embed Embed this video on your site
About "NI Rocks Recommends"
The simple idea behind "NI Rocks Recommends" is to acknowledge and promote some of the great music being submitted to Rock Radio NI. I'll not be giving marks or ratings or analyzing the tracks in great detail; just telling you something about the artist and the album. It's a personal recommendation to go check something out, not a traditional "review"!
My musical tastes cover most things rock; from the not too melodic to the not too heavy. The albums that I'll be recommending are those that you'll hear me playing tracks from on my shows on Rock Radio NI.
Check out NI Rocks on Facebook – www.facebook.com/NIRocks or Twitter - www.twitter.com/NIrelandRocks
Last Updated (Saturday, 17 September 2016 05:50)