NI ROCKS Recommends "Albion" by TEN
"Albion" is the eleventh studio album by Ten since 1996 and was released on 24th November through Rocktopia / Cargo Records. The band of course has a big following amongst melodic hard rock fans who will purchase the latest release as a matter of principle I'm sure. I, on the other hand, might be referred to as an "occasional listener" to the band. The melodic hard rock genre can be a bit hit and miss for me personally and I guess that reflects the wide diversity of music that is branded as such!  Anyway, having now taken several listens to "Albion" since receiving it from Rock n Growl promotions I have to say that there's definitely plenty there to impress me. The first single from the album "Die For Me" has already been played on the Friday NI Rocks Show.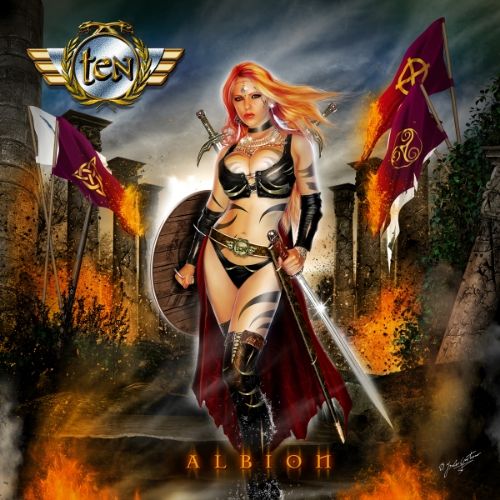 The driving force behind Ten is vocalist Gary Hughes. The band has been through many line-up changes in the course of almost 20 years of releasing albums. Previous members include several names that people should be familiar with, including Vinny Burns and Ged Rylands. For the first time the band now has seven members, including three guitarists, Dann Rosingana, Steve Grocott and John Halliwell. In addition there is Steve McKenna on bass, Darrel Treece-Birch on keyboads and Max Yates on drums.
For me personally, other than the single "Die For Me", the noteworthy tracks include "Alone In The Dark Tonight", "Battlefield", "A Smugglers Tale" and "Wild Horses". There are a couple of tracks that I'm not that fused on, but that'll be a matter of personal taste, others no doubt will love them.
For more information check out :  http://www.tenofficial.com/
About "NI Rocks Recommends"
The simple idea behind "NI Rocks Recommends" is to acknowledge and promote some of the great music being submitted to Rock Radio NI. To be honest I'm not really a big fan of "Reviews" expressing positives or negatives which essentially just represent one person's opinion. With "NI Rocks Recommends", I'll not be giving marks or ratings or dissecting every aspect of the album; just telling you that something about the artist and the album and that I like it!
My musical tastes covers most things from heavy melodic rock (anything too melodic bores me!) to the lower echelons of the metal genre (where it's not ALL growling and screaming!). The albums that I'll be recommending are merely those that I would buy myself and which you'll be hearing played on my shows on Rock Radio NI.
Check out NI Rocks on Facebook – www.facebook.com/NIRocks or Twitter - www.twitter.com/NIrelandRocks