NI ROCKS Recommends "Soulbender II" by SOULBENDER
"Soulbender II" is essentially a re-release of Soulbender's self titled debut alarm with the addition of four new tracks. However, as I never owned a copy of the original 2004 release, "Soulbender II" is all new and all good to me! The album was released through Rat Pak Records on 30th September. I've already included a couple of tracks on the Friday NI Rocks Show – "Slave to Reality" which is one of the new tracks and "Rabbit Hole" which is one of the re-mastered original tracks.
The band was formed in Seattle as a side project for Queensryche guitarist Michael Wilton, alongside Nick Pollock on vocals, Dave Groves on guitar and Wes Hallem on drums. They were joined by bass player Marten Van Keith for the recording of the original album. The band seems to have gone through a few line-up changes following the release of "Soulbender" and released a couple of tracks between 2007 and 2009 but all was relatively quiet until the original members regrouped in 2014 for this release.
For more information check out http://www.ratpakrecordsamerica.com/michael-wilton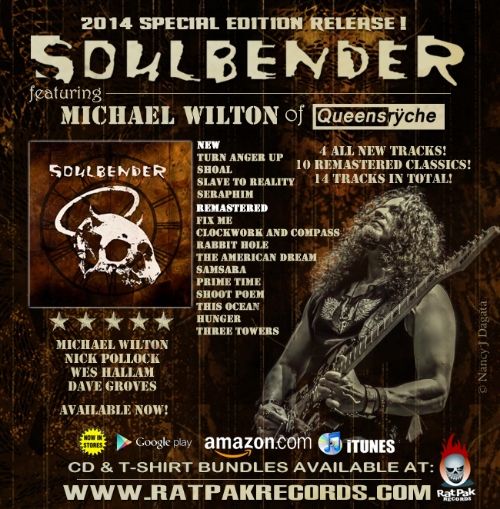 About "NI Rocks Recommends"
The simple idea behind "NI Rocks Recommends" is to acknowledge and promote some of the great music being submitted to Rock Radio NI. To be honest I'm not really a big fan of "Reviews" expressing positives or negatives which essentially just represent one person's opinion. With "NI Rocks Recommends", I'll not be giving marks or ratings or dissecting every aspect of the album; just telling you something about the artist and the album and that I like it!
My musical tastes covers most things from heavy melodic rock (anything too melodic bores me!) to the lower echelons of the metal genre (where it's not ALL growling and screaming!). The albums that I'll be recommending are merely those that I would buy myself and which you'll be hearing played on my shows on Rock Radio NI.
Check out NI Rocks on Facebook – www.facebook.com/NIRocks or Twitter - www.twitter.com/NIrelandRocks 
Last Updated (Monday, 13 October 2014 07:36)