NI ROCKS Recommends "Thrill of the Night" by GRAND DESIGN
Grand Design are a band from Sweden who have been around since 2006. "Thrill of the Night" is their third album and it is released through AOR Heaven on 29th September. The band has had a fair degree of success with the previous albums "Time Elevation" (2009) and "Idolizer" (2011) and toured throughout Europe, including the FireFest in Nottingham. Grand Design's music is influenced by that classic 80's rock sound and "Thrill of the Night" is full of tracks that are instantly likeable with great guitar riffs and addictive choruses.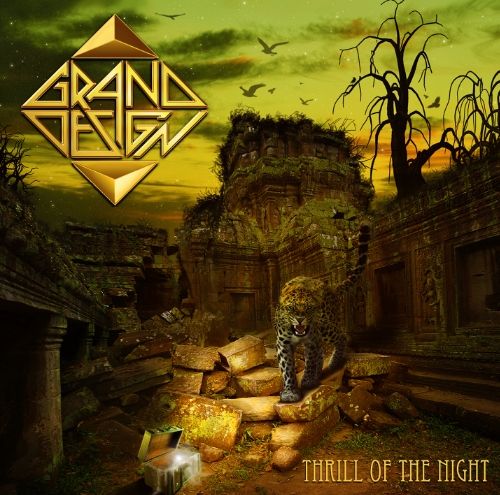 Invariably, there have been a few line-up changes over the years. The current line-up of Grand Design consists of Pelle Saether  on vocals, Dennis Vestman and Janne Stark on guitars, Mats Vassfjord on bass and Magnus Ulfstedt on drums. Saether also produced the album. For more information on the band check out https://www.facebook.com/granddesignsweden
There are ten tracks on "Thrill of the Night", ranging from big ballads to anthemic rock tunes. My personal favourites are from the latter group, including "Rawk 'n' Roll Heart Attack", "Rip Iddup" and opening track "U Got Me Good". That being said, there isn't a track on the album that I could say I didn't like, which is always a good sign.
Dim lights Embed Embed this video on your site
About "NI Rocks Recommends"
The simple idea behind "NI Rocks Recommends" is to acknowledge and promote some of the great music being submitted to Rock Radio NI. To be honest I'm not really a big fan of "Reviews" expressing positives or negatives which essentially just represent one person's opinion. With "NI Rocks Recommends", I'll not be giving marks or ratings or dissecting every aspect of the album; just telling you something about the artist and the album and that I like it!
My musical tastes covers most things from heavy melodic rock (anything too melodic bores me!) to the lower echelons of the metal genre (where it's not ALL growling and screaming!). The albums that I'll be recommending are merely those that I would buy myself and which you'll be hearing played on my shows on Rock Radio NI.
Check out NI Rocks on Facebook – www.facebook.com/NIRocks or Twitter - www.twitter.com/NIrelandRocks