NI ROCKS Recommends "Electric Wake" by RONNY MUNROE
Usually I try to get album recommendations posted around the time that the album is being released. This one slipped through the net though as it was released through Rat Pak Records on 24th June. I did play a track on the Friday NI Rocks Show recently however.  "Electric Wake" is the third solo album from Ronny Munroe, the former frontman for Metal Church. It follows on from an EP in 2007 and full length albums in 2009 and 2011.
Ronny once again has a few guest artists on the album, most notably George Lynch on "Ghosts" and Dave Rude and Pamela Moore on "The Others". Videos have been released for both these tracks and for "United" which would be another of my favourite songs on the album.
Dim lights Embed Embed this video on your site
Ronny Munroe has a great vocal range and in the past he has also worked with the Trans-Siberian Orchestra and fronted progressive rock band Presto Ballet. His vocals, supported by some excellent riff laden guitar playing, make "Electric Wake" well worth checking out.
Find out more at https://www.facebook.com/ronnymunroefb or http://www.ratpakrecordsamerica.com/ronny-munroe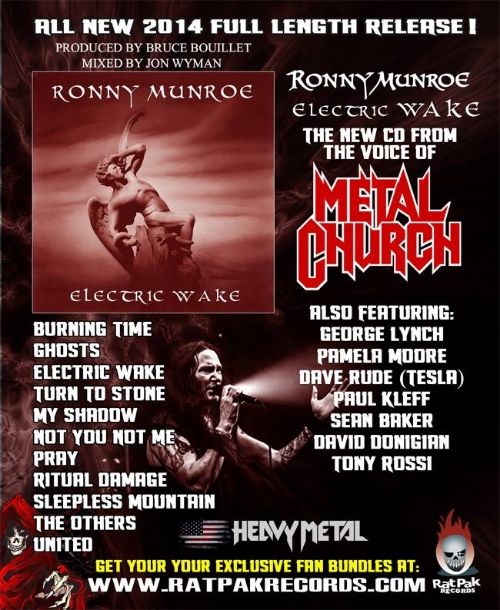 About "NI Rocks Recommends"
I'm not a reviewer and I certainly don't claim to be a journalist, but I wanted to acknowledge some of the great music being submitted to Rock Radio NI by artists, promoters and labels. That was the simple idea behind "NI Rocks Recommends". To be honest I'm not really a big fan of the whole idea of "Reviews" as they just represent one person's opinion!!  So I'm not giving marks or ratings, trying to categorise bands or compare artists. The albums that I'll be recommending are merely those that I would buy myself and which you'll be hearing played on my shows on Rock Radio NI.
Check out NI Rocks on Facebook – www.facebook.com/NIRocks or Twitter - www.twitter.com/NIrelandRocks
Dim lights Embed Embed this video on your site