NI ROCKS Recommends "High Road" by NIGHT RANGER
"High Road", the new album from Night Ranger arrived in my in-box the same day as the new Tesla album. Both albums get released in the UK by Frontiers today – Friday 6th June – ahead of their North American release on 10th June. As Tesla just happens to be my favourite band, their album kinda hogged the limelight a bit. However, as I've had a chance over the last few days to listen to "High Road" a bit more I have to admit I've been pleasantly surprised and would highly recommend checking out this album.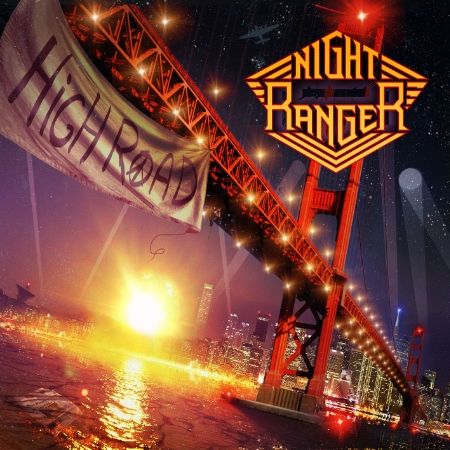 On reflection, back in the 80s my musical tastes may have been a little more narrowly focused and to be honest I wouldn't have said that I was a huge Night Ranger fan – being able to sing along to "Sister Christian" doesn't qualify me! However, on the basis of this album I'm thinking that I need to re-examine their previous ten studio albums in a little more depth. (Five albums in the 80s, 3 in the 90s and now 3 since 2007).
Night Ranger these days includes founding members Jack Blades (bass guitar, vocals), Kelly Keagy (drums, vocals) and Brad Gillis (lead & rhythm guitars) along with Joel Hoekstra (lead & rhythm guitars) and Eric Levy (keyboards).
Dim lights Embed Embed this video on your site
There are some great rockin tracks on the album like the title track "High Road", "Knock Knock Never Stop", "Rollin' On", "I'm Coming Home", "X Generation" and "Hang On". The haunting "Don't Live Here Anymore" is also a superb track.
For more on Night Ranger check out http://nightranger.com/
About "NI Rocks Recommends"
I'm not a reviewer and I certainly don't claim to be a journalist, but I wanted to acknowledge some of the great music being submitted to Rock Radio NI by artists, promoters and labels. That was the simple idea behind "NI Rocks Recommends". To be honest I'm not really a big fan of the whole idea of "Reviews" as they just represent one person's opinion!!  So I'm not giving marks or ratings, trying to categorise bands or compare artists. The albums that I'll be recommending are merely those that I would buy myself and which you'll be hearing played on my shows on Rock Radio NI.
Check out NI Rocks on Facebook – www.facebook.com/NIRocks or Twitter - www.twitter.com/NIrelandRocks