I have to admit that I don't know much about The Cyon Project and hadn't heard of them until the album "Tales of Pain" was offered to us by our friends at Stampede Press. I wasn't sure what to expect, having seen the words "death/thrash" appear in the press release. It turns out that the key phrase was probably the one stating that the band had "evolved its style once again". When I first skimmed through the album online I thought there were a few tracks with potential and downloaded it. Having listened to it several times now in full I'd have to say there are several tracks I really like and that the remainder are all fairly decent too. The first single to be taken from the album was "Mr Creosote" and this has already featured on the Friday NI Rocks Show. The album "Tales of Pain" was released on 27th January through Pavement Entertainment.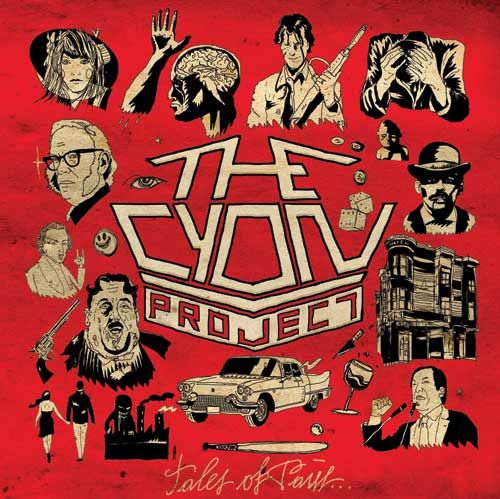 The Cyon Project come from Torino in Italy and formed back in 2009. The line-up consists of Marco Priotti on vocals, Fabio Cyon on guitar, Mad Mike on bass and Nicola Palma on drums.
In addition to "Mr Creosote", personal favourites on the album include "Cheesy Song", "Rulemaker", "Sandglass" and "Englewood's Hotel".
For more info check out http://www.thecyonproject.com/
The band actually play nine dates in England during February and would be worth checking out of if you lived in an area in which they're playing.
6th - Dover - The Priory Hotel
7th - Maidstone - The Rafter
8th - Carlton - The Dog House
9th - Derby - The Hairy Dog
10th - Sheffield - The Royal Standard
12th - Wakefield - The Snooty Fox
13th - Manchester - Blue Cat Cafè
14th - Liverpool - The Jaracanda Club
15th - Liverpool - The Bumper

About "NI Rocks Recommends"
The simple idea behind "NI Rocks Recommends" is to acknowledge and promote some of the great music being submitted to Rock Radio NI. To be honest I'm not really a big fan of traditional "Reviews" which essentially just represent one person's opinion. With "NI Rocks Recommends", I'll not be giving marks or ratings or analyzing the tracks in great detail; just telling you something about the artist and the album.
My musical tastes cover most things rock; from the not too melodic to the not too heavy. The albums that I'll be recommending are merely those that I would buy myself and which you'll be hearing played on my shows on Rock Radio NI.
Check out NI Rocks on Facebook – www.facebook.com/NIRocks or Twitter - www.twitter.com/NIrelandRocks