NI ROCKS Interview with NICK & MARCUS from VEGA
Vega released their fourth album "Who We Are" on 13th May just a couple of days after starting a three week tour with rock icons Magnum. The tour included a gig in The Limelight in Belfast on 27th May. I'd posted an interview with lead singer Nick Workman in October 2014, following the release of their previous album. I arranged to meet the guys before they went on stage in Belfast to record a short interview and catch up on what has been happening since. I spoke to Nick and guitarist Marcus Thurston.
The interview was included on the NI Rocks A-Z Show on Rock Radio NI on Tuesday 31st May, along with 4 tracks from the new album. It can now be heard on our MixCloud page - https://www.mixcloud.com/NIRocks/interview-with-nick-marcus-from-vega-on-the-ni-rocks-a-z-show-31st-may-2016/
The interview has beeen transcribed and posted below.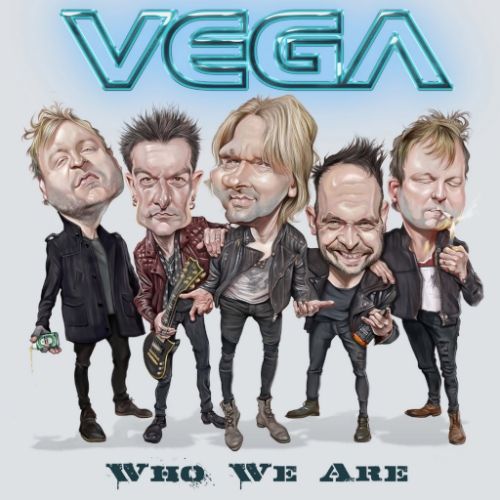 NI ROCKS – Thanks for taking some time to talk to Rock Radio NI. It's nice to meet face to face as our last interview was via Skype back in October 2014.
We're currently sitting in the Beer Garden at The Limelight in Belfast where you play tonight as part of your tour with Magnum. How's that been going so far?
NICK – Amazing. I'm not going to say better than we thought, because that would be rude. But the response that we've got has been insane. We'd been hoping to go down pretty well but our merch stand has been swamped every night, new Facebook fan groups have been started and people have been organising meets before our shows. It's just gone mental, it really has.
NI ROCKS - Just after I spoke to you last time you played Belfast for the first time, in this same venue, supporting Joe Elliott's Down n Outz. What memories do you have of your first show here?
MARCUS – I thought it was great, loved it. A really good gig and I think we even used some of the footage for our video (for "Gonna Need Some Love Tonight").
NICK – We did actually!
NI ROCKS –  Actually, that was my next question. Some of that footage was actually mine that you used.
NICK – That's right yeah! Ah, em, right....it was good to meet you (laughs)
NI ROCKS –  (laughs) Technically, it belongs to you anyway! Was that something you'd planned in advance; to record a video?
NICK –  We did shoot footage throughout the tour; just goofing around footage.
MARCUS – Yeah, we're kinda doing that now too.
NICK – Yeah, not with any massive intention really. We've been filming the last song we play every night which is "Saving Grace". Our photographer has been filming that from different angles every night and we might do something with that. The reason we did the Belfast one was that it was just such a good gig, especially that bit where we did the clever little stop!
NI ROCKS – Yeah, that fooled everybody! (laughs)
NICK – I hope that guy comes tonight, because I'll recognise him! (Laughs)
MARCUS – Was that the show that we passed around the camera? That was spontaneous, but it worked brilliantly!
NI ROCKS – Vega have just released their fourth album – "Who We Are" – via Frontiers Music. The album was produced and mixed this time by Harry Hess. Is that somebody that who you'd been wanting to work with?
NICK – No, he's a tosser!! (Laughs). No, Harry had done the mastering on our third album "Stereo Messiah" and we'd sent a few e-mails back and forward. Then we were in Milan at the same time as Harem Scarem for the Frontiers Festival and we just got pissed with him in the bar.
MARCUS – He's a cracking bloke and he likes our stuff as well!
NICK – His sense of humour and our sense of humour in the band were so the same! We weren't totally off our trolley, but we'd all had a few and it was a case of "you know what, you should do our next album" and he was "sure why not". I did a facetime with him the next night; no it was two days later as we were playing the next night. It was brilliant. What was great about him was that he had all the demos and went through all of them and really worked with us on the songs.
NI ROCKS – We'll play a track from the new album at this point in the Show. Do you want to pick one and tell us a little about it?
NICK – I'm going to go for "Saving Grace". We've been closing the show with that every night and it has gone down so well. It's just a real fun, summery song from my point of view.
Dim lights Embed Embed this video on your site
NI ROCKS – There's a quote from you (Nick) in the press release for "Who We Are" that says "the sound we have achieved is 100% Vega". How would you define that Vega sound?
NICK – I think it's just over time. We've always known that we're not just your pure rock band. As a band we've got so many different styles. Marcus is a real shredder, I like hard rock in general, Tom and James like rock, but they also like atrocious pop music and Dan likes his black metal. All that put into the mixing pot comes up with Vega. Each album as we've gone along, we feel like we've got closer and closer to what we wanted to achieve. Bands evolve anyway so bands are always going to sound like what they want to sound for each album. The vision for what Vega sound like and what the next album will sound like will probably evolve again. But right now, at this moment in time, that album is exactly who we are.
NI ROCKS – Tom and James of course are well established song-writers in their own right. Is it purely your own considerable involvement in the song writing that makes it a Vega song or do the guys approach writing for Vega differently as well?
NICK – Basically in Vega they do all the music but when it comes to the studio, Marcus will put his guitar interpretation down on it. All the vocals, lyrics and melodies come from me and that's very different from how they write a song, say for Ted Poley. (Tom and James were heavily involved in the new Ted Poley album which was released on the same day as "Who We Are").  Everybody adds their own ingredients to the cake and that's the way it is. If Tom and James wrote a song on their own it wouldn't be Vega. It's what we all do together that makes Vega.
NI ROCKS –Have you ever heard something they've written and thought I would have liked a chance to do something with that song?
NICK – In terms of what they've done? Eh, no! It's all shit! (Laughs)
NI ROCKS - (Laughs) Ok!
NICK – Where do you go with that one!? (Laughs)
NI ROCKS – There's no come back to that! You've been on the road with Magnum now for just over two weeks. Are there any particular tracks, and I might know the answer because you've already mentioned one, from the new Vega album that you've really enjoyed playing live?
NICK – You know what! All the new stuff.
MARCUS – All the new stuff, yeah. It's going down a storm. There's some stuff from the "Stereo Messiah" album that I still absolutely love playing. The song "Stereo Messiah" itself always goes down a storm when we open up with that.
NICK – When we get the full 45 minutes we're squeezing in ten songs so we're not doing too much bullshit between songs. We've got the set so well paced now and we know the kicking points from each point. We're hitting hard and fast with "Explode" at the start then drop it a bit for "Kiss of Life" which is more of a plodder. The set has worked so well.
MARCUS – It builds into a crescendo, which is what I love.
NI ROCKS – You start with "Explode" then, that's one of my favourite tracks from the new album.
NICK – There was only one way to go with that song. That was only ever going to be a set opener wasn't it.
NI ROCKS – It's a great song. I played it last week on the Show (Friday NI Rocks Show on 20th May after the interview with Bob Catley from Magnum). Ok, at this point we'll play another track from the new album. Again I'll let you decide which one and tell us a little bit about it.
MARCUS – I'm with you, I love "Explode", because I'm a guitar man and it's riffy so I love that one. Or "White Flag" – either of those! Ok, "White Flag" as it's the single.
Dim lights Embed Embed this video on your site
NI ROCKS – You've a headline gig tomorrow in Islington, then another two gigs with Magnum. What's next for Vega after that?
NICK – We're working hard now to get another support tour. We could, and may end up, doing our own tour. The impact that this tour has had for us is insane. We've got that many people saying please tour and please do your own gigs. But for us, we want to do that when we know we can pack out a good sized venue. The Magnum crowd is a very classic rock crowd – it's not a niche AOR market. It's all the rock markets in one, maybe not heavy metal, but it's just a rock crowd. That's what we really wanted to hit. So we're looking to try and get on another support tour, just so we can steal some fans from another band! (Laughs)
MARCUS – It's the way to go really! We've got to build and keep the thing rolling really.
NICK – The currency from this tour wasn't any fees or what we do on merch every night, which has been massive; it's been new fans.  We've loved it when people have come up to us and been apologetic going 'I'm really sorry, but I've never heard of you before and you're amazing!' This is what we want – we want people to say they've never heard of us before.
NI ROCKS – I've been trying to educate people on Facebook who are asking what is the support band like and I've been saying they're awesome and telling them to check out stuff or posting stuff. Some people have a tendency not to turn up for support bands, which I hate. No matter what band I go and see I always try and turn up for the support band.
NICK – On this tour we thought that as well. We said we have to be prepared lads, but every night we've been playing to the same people that Magnum play in front of. It's been brilliant. The last couple of gigs we've been on 15 minutes after doors, but when we played Glasgow the other night and came on stage it was about a quarter full. After the first song it was packed. It's been amazing for us.
NI ROCKS – You didn't do the European dates with Magnum?
NICK – No, just the three weeks in the UK. But we'll hit Europe again at some point. We've got some dates in Spain and Italy at the end of the year. We do want to get into mainland Europe.
NI ROCKS – I interviewed Bob (Catley from Magmum) a few weeks ago and he was saying he has done 31 gigs in 41 days, that's good going.
NICK – Yeah, and he's back out with Avantasia after this tour.
NI ROCKS – I'd noticed a poster on your website for a melodic rock show in Padova, Italy on 1st October. What's the story behind that?
NICK – We're trying to play everywhere we can with this album. We said we're not planning on hitting the studio for two years. We're just going to tour everywhere we can. Basically we got contacted by some guys in Italy who wanted to put on a show and start doing some Italian festivals. They made us an offer to go over there in October. It's thirty minutes drive from Venice so we thought we've gotta do this! Give me a cornetto and a gondola and I'm away! (Laughs)
NI ROCKS – You've also been lined up for the Hard Rock Hell AOR Festival next March. My wife and I are heading across to that along with quite a few others from Northern Ireland. That looks to be a great line-up and we've been told that the Hard Rock Hell festivals are always very well run events. You've played it before haven't you?
MARCUS - Yeah, we've played it before and have always enjoyed it.
NICK – Yeah, we get a nice cosy caravan. It's a great weekend and it's always very well attended. It sells out. It doesn't matter what time of day you go on, you will play to a packed house.
NI ROCKS – Lita Ford and Slaughter are headlining.
NICK – Yeah, Lita Ford, hmmmmm, grrrrrrrr
NI ROCKS – I haven't seen Lita Ford since she supported Bon Jovi in 1989 or something (actually Oct 1988 in Dublin)
NICK – I remember that I was supposed to see Lita Ford supporting Bon Jovi on the "New Jersey" tour in the NEC. We had seats quite near the front but at the side. So we could see the bands coming on and we saw this mop of blonde hair and were shouting 'right darling yeah'. It turns out that she was off sick that day and they had Shy, so I was giving it all sexy to Tony Mills. (Laughs). God, I had to go home and watch some football that night! (All laugh)
NI ROCKS – In our previous interview, you told me that the first album you bought was by Marillion. So this time I thought I'd ask you what the last albums were that you'd bought or downloaded?
NICK – I bought the last Sixx A.M. album. I haven't really got into yet, but I just haven't had time with preparing for the tour and then being on tour.
MARCUS – I can't remember the last time I bought an album. That's shocking!
NICK – It was probably Malmsteen's "Rising Force" (1984) knowing you ya tight git! (Laughs)
MARCUS – I can't answer that. I really can't remember.
NICK – They always say Marcus is good interview fodder! (All laugh)
NI ROCKS – And any bands that are really impressing you at the moment?
NICK – It seems to be certain songs that I'll pick out. There's a band called The New Roses from Germany who do a song called "Thirsty" which is really good, but it is very much Kid Rock / First Kiss. I'm going to check my phone now – The Struts, I think they're really cool. We actually have them as part of our opening music. Certain songs, not the whole album.
NI ROCKS – You've two bands supporting you tomorrow – Blood Red Saints and Psycho Kiss.
NICK – Blood Red Saints have pulled out because of a family illness, but we've got Psycho Kiss from Wales. I think Dan has got pissed with the drummer on many occasions. Whenever we come to Wales he seems to get messed up with him. (Laughs)
NI ROCKS – Thanks again for taking the time to talk to me. We'll finish off picking another couple of tracks to play on the Show.     I'll let you pick one each.
MARCUS – It's gotta be "Explode"
NICK – I'm going to go for "Hurts So Good"
Dim lights Embed Embed this video on your site
Playlist for the NI Rocks A-Z Show on 31st May
UNDERRIDE – Say Goodbye to Everything That's Gone
THE UNION – Siren's Song
URIAH HEEP – The Outsider
THE V - Again
VAIN – Beat The Bullet
VAN HALEN – Runnin' With The Devil
VARNA – Down
Interview with Nick & Marcus from Vega Part 1 (3.5 min)
VEGA – Saving Grace
Interview with Nick & Marcus from Vega Part 2 (3.5 min)
VEGA – White Flag
Interview with Nick & Marcus from Vega Part 3 (6.5 min)
VEGA – Explode
VEGA – Hurt So Bad
For more info on Vega check out their website - http://www.vegaofficial.co.uk/index.php/en/
The previous interview with Nick from October 2014 can be found here – http://www.rockradioni.co.uk/interviews/1699-ni-rocks-interview-with-nick-workman-from-vega.html
Recommendation for "Who We Are" - http://www.rockradioni.co.uk/back-stage/music-reviews/2623-ni-rocks-recommends-qwho-we-areq-by-vega.html
Last Updated (Tuesday, 28 September 2021 22:44)