NI ROCKS Interview with NICK WORKMAN from VEGA
British band Vega recently released their latest album "Stereo Messiah" through Frontiers Records (http://www.rockradioni.co.uk/back-stage/music-reviews/1695-ni-rocks-recommends-qstereo-messiahq-by-vega.html ). This is their third album, following on from "Kiss of Life" in 2010 and "What The Hell" in 2013. Vega consists of Nick Workman on vocals, Dan Chantrey on drums, Tom Martin on bass, James Martin on keyboards and Marcus Thurston on guitar.
We spoke to Nick via Skype following the release of "Stereo Messiah" and ahead of the upcoming headline tour by Vega in November and dates supporting Joe Elliott's Down 'n' Outz in December. This interview was broadcast on the Friday NI Rocks Show on 31st October along with three tracks from the new album. The Show is now available from our MixCloud site - http://www.mixcloud.com/NIRocks/interviews-with-vega-and-crazy-lixx-on-the-friday-ni-rocks-show-31st-oct-2014/
The interview has been transcribed and is posted below.
NI ROCKS – Hi Nick, thanks for taking some time out to answer a few questions for Rock Radio NI.
Vega's third album "Stereo Messiah" has just been released through Frontiers Records. Can you tell us a little about where the album was recorded and who you worked with?
NICK – We recorded it in Reading with John Mitchell who was the guitarist and singer with It Bites. We met him when we were on the FM tour a year or two ago. We got on really well with John and said "it'd be really cool to work with you one day". I think it was one of those empty conversations where you just say it to be polite really (laughs). But then we heard what he could do and we had a chat with him on the phone about what we were after and we came to an agreeable price (laughs). He was that obligatory sixth member of the band when we did it. He added a lot of good ideas and constructive criticism throughout the process and that was brilliant.
NI ROCKS – Tom and James both have a proven track record as song writers and so do you. Are most of the tracks on the album are written in collaboration between the three of you or is there of mix of writers?
NICK – No, it's pretty much the three of us. Normally what will happen is that either one or both of them will come up with a backing track and they'll send it over to me and I'll always do the lyrics and melodies for it. Occasionally Tom will come up with a backing track and I'll put something together with it and then Jim will come in and say I think we should go for this note here or that note there. So between the three of us we'll always do it. There's always three inputs into any song.
NI ROCKS – How would you compare "Stereo Messiah" to the previous album "What the Hell" or even to the debut "Kiss of Life"?
NICK – I think, and this seems to be the general consensus of opinion, that it's very much an amalgamation of the two albums. It maintains some of the dark elements that we had with "What the Hell" but it also maintains the lighter elements from "Kiss of Life", even though there were some darker elements on "Kiss of Life" as well. I think it's a really good mixed-bag of the two. That's probably normal when you come to your third album. You've got two albums to sort of pull your resources from and it's naturally going to be a mixture of the two isn't it.
NI ROCKS – "What the Hell" would be a bit heavier than the debut album, but the third one does have a mix of the two.
NICK – Yeah, I think this one sound-wise with the production by John Mitchell has massive drums and bigger guitar and it's just bigger all over so it's definitely seems more heavy and meatier in that respect. It's got a lot more of the melody and sonics if you like of the first album.
NI ROCKS – You've had a lot of publicity around the fact that Joe Elliott was involved in the album. The track "10 x Bigger Than Love" was obviously provided by Joe and he duets with you on that track. How did that come about?
NICK – I got to know Joe through a mutual friend and I got into a football predictor league with him. Actually, there's Joe, Rick Savage and Viv Campbell in this predictor league, although I only harass Joe (laughs). I was on my way up to York to do some song writing with the guys and I stopped off at a service station and I was flicking through YouTube and I put in "rare Def Leppard" or something like that and this song came up and I listened to it and thought "I quite like that song". So any excuse to send your hero an e-mail and I e-mailed him and said I'd found this song "10 x Bigger Than Love" and I'd never heard it before. Is it a demo? How do people get hold of it? It wasn't a great recording on YouTube. And he said no it was a b-side in Japan only and in the same e-mail he said you guys should cover it. I don't think he thought we'd actually do it because I do remember when we finished recording it with John and I sent it over to him. Even before I asked him to sing on it, I sent it over and said "what do you think" and his response by e-mail back was "bloody hell Nick, I didn't think you were actually going to do it" (laughs).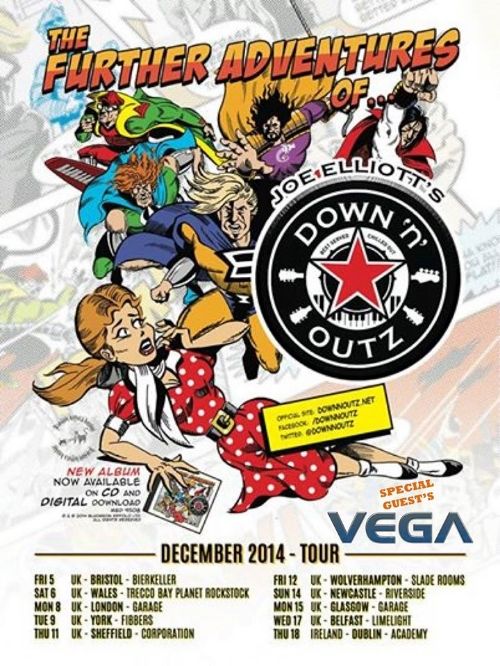 NI ROCKS – You've a short headlining tour at the start of November followed by a tour of the UK and Ireland supporting Joe Elliott's Down 'n' Outz in December. Did the latter come about as a result of working with Joe on the album?
NICK – Yeah. I've been getting to know Joe. I'm not saying we bosom buddies, don't get me wrong. I wouldn't want to overstate the relationship. Obviously over the past few years I've been sending Joe demos and asking his opinions. I've met him a couple of times. When it came to this, someone said to me did I know that Down n Outz had announced that were doing Planet Rockstock and were they going to be doing more touring? So I actually e-mailed Joe and I said just in case the Down 'n' Outz are planning on touring don't forget little old Vega. He said they were, and this was just before he was going off to go round the States with Kiss, so he told me who I needed to contact and put me in touch with the agent. It came down to Joe for the final decision in the end and good-on-him he chose us.
NI ROCKS – The tour with the Down 'n' Outz includes shows here in Belfast and in Dublin. Will these be the first dates for Vega in Belfast?
NICK – They will be yeah definitely. In terms of Belfast it's our first visit, I can't wait. I think we're going down to where the Titanic was built on our day off.
NI ROCKS – Have you heard much about Belfast as a place to play?
NICK – No we haven't and I can't wait. I'm thinking it'll be quite mental. Am I right?
NI ROCKS – Well, yeah we can be (laughs). You'll always get a good response from the Belfast crowd. We like to have a bit of a sing-along.
NICK – Brilliant, that's perfect, because that's exactly what we do. The Vega stuff is very sing-along. We played some of the new songs at like a private function. A member of our crew was turning 50 so we did their party. We played songs off the new album and no-one knew them but they were singing along by the second chorus. So we definitely hope to hear the Belfast choir then.
NI ROCKS – Yeah, and the Limelight is a good venue that you're playing in.
NICK – We seriously can't wait, it's going to be brilliant.
NI ROCKS -   Vega have already been confirmed for the Hard Rock Hell AOR festival in March. What else would be on your wish list for 2015?
NICK – Be careful what you wish for isn't it? (laughs). We'd love to do lots more festivals and obviously get another decent support along the lines of the Down 'n' Outz support. We'll keep our eyes open for that. I'm sure things will go well with the Down 'n' Outz and we'll start to get a bit of a reputation -  a good one – and that'd be really cool if we just got the festivals and another decent support slot under our belts.
Dim lights Embed Embed this video on your site
NI ROCKS -   I was wanting to ask a quick couple of questions about your former band Kick if that's ok?
Kick released some great material and it looked like they should have made a breakthrough. Why do you think that didn't happen?
NICK – I think a lot of it had to do with the record label. They just didn't know what to do with us. And from the first album that we did there was quite a dramatic change to the next album sound-wise. You have to bear in mind that the first album ("Consider This") was never meant to be as it was really; they were just demos and the label said "no-no we love it, we're just going to get it remixed and get some really good drum samples" and it ended up being the album. At that point we hadn't actually played live together as a band, so when the next album came out we'd changed a lot. The label didn't know what to do with us, then there was a big falling out with our manager at the time, who also worked for the label, so there was a bit of conflict of interest there too. In the end it was just one of those very frustrating things that just wasn't meant to be.
NI ROCKS - Do you still have any contact with brothers Chris and Mikey Jones?
NICK – With Mike I do, not so much Chris. With Mike we have the odd phone call every few months. Whenever Vega play in London he always comes along so I'll be seeing him in a few weeks. I've always got on very well with Mike.
NI ROCKS – I've a few questions that I always like to ask people I'm interviewing.
Can you remember the first album that you bought and first gig that you went to?
NICK – The first album that I bought I think was Marillion "Clutching at Straws". Bet people didn't see that coming! (laughs). And my first gig was probably the scariest experience of my life because it was the Monsters of Rock when Guns 'n' Roses played and the fans died. I was crapping myself that day. I'll never forget this guy coming through the crowd, pushing people out of the way, ended up stopping in front of me and doubled over and spewed up blood all over my shoes.
NI ROCKS – Nice first experience!
NICK – Yeah, it couldn't get any worse. It was always going to get better from then on.
NI ROCKS - If we were to borrow your iPod or whatever and press shuffle, what five bands might we find?
NICK – I've just got the new iPhone so there's not much on there yet. At the moment you'd get the new Sixx A:M album, probably a bit of Leppard, a bit of AC/DC, Aerosmith and Skid Row.
NI ROCKS – Any bands that you've heard recently that you'd recommend to our listeners?
NICK – That's a good one! A band that I think was really ignored is a band called Shotgun Messiah. The album "Second Coming" was an absolute monster and if you want to be assured of this go to YouTube and search "Heartbreak Boulevard" by Shotgun Messiah.
NI ROCKS – Finally, I was just wondering if you have any plans to record some solo material at any stage or is that something you're not interested in doing at the moment?
NICK – Solo material? I'll threaten it to the guys when they're annoying me and not doing what the singer wants (laughs). No, I'm kidding. At the moment no, it's not even on the radar. It's all about Vega and I love being in the band so why would I want to. It'd probably end up sounding like Vega anyway so might as well do the real thing than the fat-free version.
NI ROCKS – Do you want to pick a track from the album to finish off with?
NICK – I'm going to go with a song that I think is going to go down an absolute storm live so I expect to see you guys in Belfast sing along. It's "Gonna Need Some Love Tonight".
NI ROCKS – I played a track on the show last week that I really liked called "Neon Heart". "All or Nothing" would also be a favourite of mine along with "Ballad of the Broken Hearted".
NICK – "All or Nothing" is another monster live song as well. We can't wait to get out there.
NI ROCKS – Thanks for taking some time to talk to Rock Radio NI. Best of luck with the new album and the upcoming gigs.
Dim lights Embed Embed this video on your site
For more information check out the Vega website http://www.vegaofficial.co.uk/index.php/en/
Or their Facebook page - https://www.facebook.com/OFFICIALVEGA
Friday NI Rocks Show 31st October (Uploaded 29th Oct)
SCREAMING EAGLES – Vampire
VEGA – Stereo Messiah
Interview with Nick Workman
VEGA – 10 X Bigger Than Love
Interview with Nick Workman
VEGA – Gonna Need Some Love Tonight
WHITESNAKE – Child of Babylon
CRAZY LIXX – Hell Raising Women
Interview with Danny Rexon
CRAZY LIXX – Heroes Are Forever
Interview with Danny Rexon
CRAZY LIXX – Call To Action
SONS OF SIN – Whore of Babylon
SISTER SIN – Chaos Royale
Last Updated (Saturday, 03 January 2015 01:16)