Slaughter frontman Mark Slaughter recently released a solo album called "Reflections in a Rear View Mirror". This was the first album release from Mark or Slaughter in about 15 years. I posted a recommendation for the album recently (http://www.rockradioni.co.uk/back-stage/music-reviews/1994-ni-rocks-recommends-qreflections-in-a-rear-view-mirrorq-by-mark-slaughter.html ) and have played a few tracks on the show.
As a long-time Slaughter fan it was great to hear some new material being released and I figured it would be a good opportunity to try and secure an interview with the man himself. Thankfully, we were able to get things arranged and I spoke to Mark on 9th June via Skype. This interview was broadcast on the Friday NI Rocks Show on 12th June and can now be heard On the NI Rocks MixCloud Page -
https://www.mixcloud.com/NIRocks/interview-with-mark-slaughter-on-the-friday-ni-rocks-show-12th-june-2015/
We talked about the new solo album, Slaughter, the Scrap Metal project, the music industry and more. Mark also picked some tracks from "Reflections in a Rear View Mirror" to play on the show.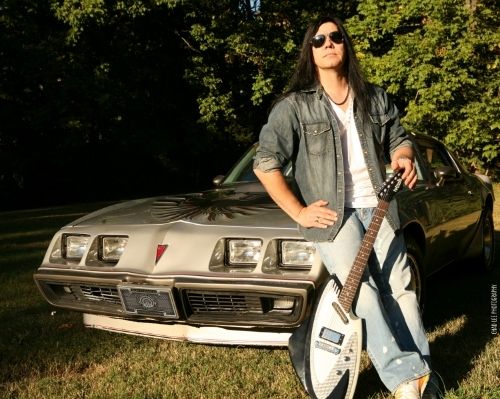 NI ROCKS – Hi Mark, thanks for taking some time to talk to Rock Radio NI. I wanted to talk to you first about your new solo album "Reflections in a Rear View Mirror" which was officially released on 22nd May. If I'm not mistaken, this is the first full album of your work that you've released in any guise in about 15 years. How does that feel and when did you start work on the project?
MARK – I started working on the project a couple of years ago, and it was really more of a song writing thing rather than into the scope of doing a solo record. But then the body of work started to present itself and I played all the instruments on it. I had a friend of mine in Las Vegas called Mark Goodin play drums on it. Before long I had a whole collection of songs and I had legendary producer Michael Wagener mix it. It was one of those things that was just as the river flowed. I really enjoyed making the record, it was a labour of love and I just threw it out there for those that like that style of music.
NI ROCKS - You mentioned that you play all the instruments on the album except for drums. Was that planned from the start or just something that happened naturally?
MARK – It was one of those things, where I just thought I had it all handled. I know a lot of players who could certainly play the parts that I'm playing even better, but it was just one of those things. I heard what I heard in my head and just wanted to continue that process of what I was hearing. So that's how I kept moving forward on it.
NI ROCKS – Where did you actually record the album?
MARK – I recorded the album at the farm. There's a farm out here and I recorded it in my home studio and then took it to Michael and he mixed it in his studio and mastered it.
NI ROCKS – We're going to play a track from the album now. Would you like to pick a track, tell us a little about it and introduce it?
MARK – Let's go with the opening track. It's called "Away I Go". Every weekend I'm on a plane going from place to place doing shows with Slaughter and it's kind of like this thing that you just keep going and keep going. I wanted to memorialise that whole event of when you push the call button for the flight and you're off and running. It was a lot of fun making the song and I think it rocks.
NI ROCKS – The first single from the album was "Never Givin Up". Some of the proceeds from which went to the Red Circle Foundation. Are there plans for another single or video to be released anytime soon?
MARK – I think we're going to release a lyric video; just with the lyrics and we're doing a thing with fans if they submit their pictures if they've faced adversity, that is people in the military or people who just face adversity period, and that is what the song is about and it's in support of those that I stand behind in that.
NI ROCKS – You're obviously busy with Slaughter, but do you have plans to tour to support the solo album?
MARK – At this point right now, I don't have any plans to go out and do shows. I wouldn't say I'm opposed to it, but I really think it's more of an artistic expression at this point. I really enjoyed doing it, it was a labour of love. And again, Slaughter are playing 50 plus shows a year and that keeps me really busy. I don't even know how I'd fit it in there.
NI ROCKS – Any chance that we might see you or Slaughter make it over to the UK in the near future?
MARK – Some time soon. We've had a few offers here and there and once something makes sense we'll get on it because it's been way too long.
NI ROCKS – You were one of the original members of the Scrap Metal project. How did that come about, how much are you still involved and is the attraction in such projects the ability to work with a range of artists over time?
MARK – There's an organisation in Nashville called the Nashville Song Writers Association and what they do is go out and lobby with our government to get higher royalty rates for song writers, in a nutshell. They were doing a concert and we, meaning Gunnar Nelson and I, started calling all our friends and put together a whole bunch of players. On stage we were playing with artists from bands like Lynyrd Skynyrd and with singers such as Eric Martin. The whole idea was to bring a bunch of lead singers who sang those songs up on stage. It was fun. It was one of those fun things that you do with your friends and you think this is what I love doing. Playing music because I love it. That's what we did. We played a few shows that way. It's still ongoing. I haven't done any Scrap Metal dates this year because I'm fully booked with Slaughter, but it is ongoing. Lita Ford just did a show with Gunnar last weekend. There's always something going on with it. It's just a good time and a bunch of people basically getting to enjoy themselves. That's what music initially started out as for all of us and I think that's the premise of it, our friends getting together to do it as opposed to doing it for the sake of money for doing something.
NI ROCKS -  You've been involved in a huge number of projects, appearing as a guest on albums and providing voice overs for media. What would be the strangest or most challenging thing you've been asked to get involved with?
MARK – There are a lot of charities that come along and people ask me to be a part of. It's kinda hard to figure out which charities you want to do things for. I do things for St Jude as well. There are some charities that people ask me to help out, for instance for a cancer benefit or for policemen or things like that. Some of those things are, not strange, but definitely off the regular path.
NI ROCKS – Time for another track from "Reflections in a Rear View Mirror". Would you like to pick another, tell us about it and introduce it please?
MARK – What about "The Real Thing". To me it's a very Slaughter-esk type of song and it's just about love and the definition of love. It does it in the chorus. When do you know it's the real thing? That's pretty much the premise of the song.
NI ROCKS – One of my favourite Slaughter tracks has always been "Old Man" from "The Wild Life" album. I've often wondered if was based on events that actually happened, so while I have the opportunity I thought I'd ask you. Was it?
MARK – My father, who passed away about 4 years ago, was a cowboy and had been his whole life. He and my mum had me quite late in life. It was pretty crazy this long haired rocker dude running with this cowboy. It was a song I just kinda wrote about there being two different sides of the perception. What an old man would think of the kid and what the kid would think of the man. In other words, the kid doesn't want to hear it. He doesn't want to hear what the man has to say. It's just that natural tension, but also resolve that happened between us. So it's partially about my dad, but we made the story as if it me meeting someone on the road.
NI ROCKS – My first exposure to Slaughter was back in 1990 when I lived in Toronto for a while and "Fly To The Angels" was a regular feature on MTV. I actually bought "Stick It To Ya" while I was out there. Do you think it's harder now trying to get exposure for a band or do you think the internet has actually made it easier, even though it may have killed record sales at the same time?
MARK – I think it has hurt record sales, but I think why we're dealing with the loss of record sales is not necessarily people not wanting to buy, it's also people are using their money for the latest iPhone or whatever else there is. There are other places that people will put their money. I can't say it's any different than Grunge. I don't think that Grunge killed the hair scene as people call it, it was just another option for people. I think if there's a place for it, there's a place. Things have changed though. I think the music scene is slowly imploding. There's no physical place to sell it in the first place. The CD's themselves in the large stores here in the States are getting down to two rows and that doesn't even cover the big hits, let alone rock music. Disc drives are starting to disappear from computers so it's becoming a complete download age. So the physical product is disappearing because technology is taking it there. And if it's a download they don't even count that as a sale – go figure!
NI ROCKS – You've been on tour with Slaughter for the past few weeks. What plans have the band for the next few months or year? Any chance we might see a new Slaughter album?
MARK – I'd love to do a new album at some point. Dana works with Vince Neil, in fact my whole band does, Blando and Zohan; they all play with Vince Neil's solo band. He's out with Motley Crue right now. On that side, as far as upcoming shows, it's too bad you're not still there, because this weekend I'm in Toronto, playing the Phoenix Theatre. As far as a Slaughter record, we'd like to but everybody is so spread out, living in different cities right now and we just haven't had a chance to get together and do it.
NI ROCKS – Any new songs even in the pipeline, as far as writing goes?
MARK – We've got some songs that we've written over the years. I was telling Dana that I'd like to get some singles out, just for the sake of having some new music out there. But he's usually looking at the bottom line of what makes sense. Do we just start giving away the music? It's hard to tell where the industry is going. We'll try to figure it out just like everybody else and in the meantime we're doing a lot of dates.
NI ROCKS – What about yourself? Are there any other projects or plans on the horizon?
MARK – I'm just going to continue to write, whether it be music for television or film or just putting out more music myself. One thing I discovered with this album is I like being an artist. I like to make music and I was born to make music. At this point in time I'm just guiding that love of where I came from. It's kinda where the whole preserve of "Reflections in a Rear View Mirror" is – moving forward, but looking back where you came from. That's what I'm doing right now.
NI ROCKS – Final question. I was wondering what music you've been listening to yourself recently? Anything you might recommend that we check out?
MARK – I'm listening to Winery Dogs. I like that. They're all nice guys and great musicians. I've said that many times. There's also a band called Big Wreck, with Ian Thornley who also did a solo project as well. More towards the newer rock sound, but it's nice to hear people who can play well.
NI ROCKS – Thanks again Mark for taking the time to talk to Rock Radio NI. Good luck with all your future plans. We'll finish with another track from the album. Do you want to pick one and tell us about it?
MARK – Thanks Nigel. I appreciate your enthusiasm and thanks for all the years. Another track from the album! Let's go with "Velcro Jesus". Watch that cross fade at the end (laughs), it goes straight into "Deep In Her Heart". It's just one of those songs that's heavy and fun and I really enjoy playing it.
For more info check out http://www.markslaughter.com/
PLAYLIST
GASOLINE OUTLAWS – Nothing On Me
TRUCKER DIABLO – Where Angels Fly
SLAUGHTER – Fly to the Angels
Mark Slaughter Interview Part 1 (2.5 minutes)
MARK SLAUGHTER – Away I Go
Mark Slaughter Interview Part 2 (4.5 minutes)
MARK SLAUGHTER – The Real Thing
Mark Slaughter Interview Part 3 (5.5 minutes)
MARK SLAUGHTER – Velcro Jesus
SLAUGHTER – Old Man
TEN – Aquiesce
THUNDER – Chasing Shadows
BLACK STONE CHERRY – Remember Me