Swedish band Adrenaline Rush released their self-titled debut album through Frontiers Records on 22nd August (http://www.rockradioni.co.uk/back-stage/music-reviews/1625-ni-rocks-recommends-qadrenaline-rushq-by-adrenaline-rush.html ). The band consists of Tave Wanning on vocals, Ludvig Turner and Alexander Hagman on guitars, Soufia Ma'Aoui on bass and Marcus Johansson on drums. Erik Martensson from W.E.T. has been heavily involved in the album from the outset.
Tave certainly has the image for leading a band and she has the vocals to match, having been involved in the music business since she was 8 years old. I spoke to Tave via Skype on 15th September and recorded a short interview which was broadcast on the Friday NI Rocks Show on 19th September. The show also features 3 tracks from the Adrenaline Rush album – and a couple by some of her favourite artists.
This show is now available from our MixCloud site -
https://www.mixcloud.com/NIRocks/interview-with-tave-manning-from-adrenaline-rush-friday-ni-rocks-show-19th-sept/
The interview has been transcribed and posted below.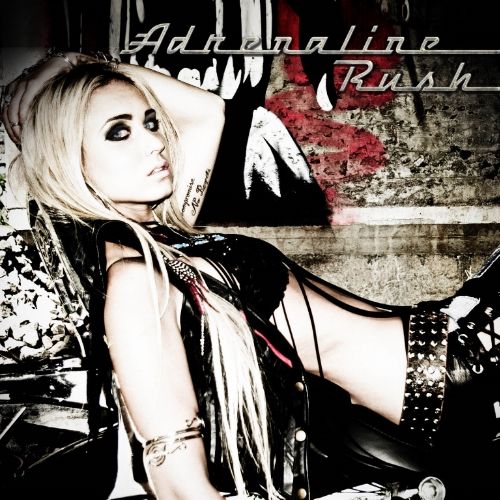 NI ROCKS – Hi Tave, thanks for taking some time to answer a few questions for Rock Radio NI. Your band Adrenaline Rush has just released their debut album. Erik Martensson (Eclipse and W.E.T.) seems to have a big role in the release of the album. How did you link up with Erik?
TAVE – Yeah, I had actually worked with him before a couple of years back, but I didn't really know him at all. Just by chance I ran into him at a concert and we got talking and decided to do some more serious work together.
NI ROCKS – Even though you're only in your early twenties, you've been around the music business for some time. When did you know that the Adrenaline Rush project was what you wanted to be doing and how did you go about recruiting the other members of the band?
TAVE – I had been playing in different bands for a long time, but nothing ever took off in a serious way, except for Peaches which was a different genre. It's hard to find a group of people who share a vision and want to go in the same direction. So we'd have a good time and some laughs but after a while of seeing the inside of rehearsal studios and doing small club gigs I knew I was ready to take my music to a more professional level, but this time with a rock n roll theme. So after the record was done I decided to contact a group of guys I knew before and they were big fans of Erik and liked the record, so I'm grateful that they wanted to join me.
NI ROCKS – Did you know exactly the kind of sound that you wanted from the band and the album from the beginning?
TAVE – Yeah, since it was Erik's work and mine before. We had the songs ready, but I wanted to be a whole band and I want them to be involved on the next record
NI ROCKS - Were there any bands in particular that influenced you musically.
TAVE – Yeah of course, I grew up listening to rock n roll and that's where my heart is. At home I probably listen more to the 60s and 70s stuff than the melodic stuff we play. But I think my voice and visual vibe sits better with the classic 80s party rock thing. My all time favourite band is Hanoi Rocks, but other than that I listen to bands like Judas Priest and Zeppelin and modern stuff like Airbourne.
NI ROCKS – Yeah, I saw a photo of you and Joel from Airbourne somewhere.
TAVE – Yeah, my Instagram maybe!
NI ROCKS – The first single from the album was "Changes". How much input did you have to developing the video for that track?
TAVE – It was my idea, the whole video actually. I wanted to have a kick ass song and a kick ass video too. So it's very party rock n roll vibe and shows you guys how we sound and look. I'm very happy with it.
NI ROCKS – Other than "Changes" which we've already played, do you have a favourite track on the album and if so why?
TAVE -   Yeah, that's a hard one. It depends on the day. "Black n Blue" is one of my favourites and "Playing to Win", our Gary Moore tune. I like them all actually.
NI ROCKS – The band's appearance at the Frontiers Rock Festival in Milan was your first gig outside of Sweden. How did you find that experience?
TAVE – We had a blast. It was actually our first big thing. We did, I think, 2 warm up gigs here in Sweden before it, but that was our first big thing. It was such a nice experience for us, meeting the guys at Frontiers, the other bands and the fans. Hopefully we'll get to come back next year.
NI ROCKS – Are there plans being developed for touring more widely through Europe?
TAVE – Yeah of course. The record is very live orientated and I'm all about the show and I want to play the tracks for you. It's the main reason I'm in the business at all. I'm a stage monkey!
NI ROCKS – Any idea when?
TAVE – No, we're going to play here in Sweden first. We're a new band so it's hard just to come out and play a lot but we're working on it. Hopefully during the festivals next summer and maybe then outside Sweden. That's my goal.
NI ROCKS – You've already a few fans here in N Ireland and I know a few people who have bought the album.
TAVE – Cool, thank you so much.
NI ROCKS – Sweden seems to produce a huge number of rock bands. Do it think it reflects something of the culture of the country or why do you think that is?
TAVE – Because it's so damned cold here (laughs). We got nothing else to do. We're dreaming about sunny LA and better times. No, I don't know. We've a lot of talent here and I'm proud to be a part of it.
NI ROCKS – What bands are you listening to yourself these days? What five bands might we find if we checked out your iPod or phone?
TAVE – All the rock 'n' roll classics. Fleetwood Mac a lot nowadays. And always Hanoi Rocks – I'm obsessed. Aerosmith, AC/DC all of them. The classic bands, but also the girls. Femme Fatale, Vixen, Joan Jett and so on.
NI ROCKS – I think I might know the answer to this before I ask it, but is there a musician that you'd really like to collaborate with on a project?
TAVE – Of course I gotta say Michael Monroe (laughs), but also Steven Tyler, Keith Richards. I don't know there are so many.
NI ROCKS – "Adrenaline Rush" has only just been released, but are you already writing for and planning the follow-up?
TAVE – We'll see how it goes. I'm happy doing what I love and hopefully you guys will love what you hear (laughs). I can't wait to do a second record, so hopefully yes.
NI ROCKS – What would you hope to have achieved with Adrenaline Rush over the next year or so – by the end of 2015 lets say?
TAVE – I hope that we're able to play here in Sweden, outside Sweden – the States or Japan something like that. Play with a bunch of cool bands and have the time of our lives.
NI ROCKS – That's all my questions, thanks for taking the time to answer a them. To finish, perhaps you'd like to pick another track from the album for us to play and introduce it?
TAVE – "Girls Gone Wild" is a favourite of mine.
NI ROCKS – Any other message for your fans in the UK and Ireland?
TAVE – Just thanks so much. I hope you enjoy the music. Come see us live and enjoy the rush!
For more information on the band check out http://www.adrenalinerush.se/ or https://www.facebook.com/adrenalinerushofficial
Playlist for the Show
SCREAMING EAGLES – All The Way
AIRBOURNE – Blonde, Bad And Beautiful
ADRENALINE RUSH – Change
Interview with Tave Wanning from Adrenaline Rush Part 1
ADRENALINE RUSH – Playin To Win
Interview with Tave Wanning from Adrenaline Rush Part 2
ADRENALINE RUSH – Girls Gone Wild
MICHAEL MONROE – Dead, Jail or Rock 'n' Roll
THUNDERMOTHER – Rock 'n' Roll Disaster
THE ANSWER – Come Follow Me
AUDIO PORN – Steeple
STEVE EARLE – Justice in Ontario
WHITE LION – Road to Valhalla
MILLION DOLLAR RELOAD – The Last Icon