NI ROCKS Interview with MIXI & DECKER from STITCHED UP HEART
I discovered American band Stitched Up Heart on YouTube last year just after they signed with Another Century and released the video for "Finally Free". That led me to order their excellent debut album "Never Alone" on Pledgemusic and I've been playing tracks from it on the NI Rocks Show quite frequently over the last few months. I arranged to speak to lead singer Mixi along with drummer Decker via Skype on 4th August, whilst they were on tour in Virginia Beach. You can listen to what they had to say along with 4 tracks from the album on the Friday NI Rocks Show that was broadcast on 12th August. That Show is available from our On Demand Player - 
https://m.mixcloud.com/NIRocks/interview-with-mixi-decker-from-stitched-up-heart-on-the-friday-ni-rocks-show-12th-august-2016
Stitched Up Heart are Alecia "Mixi" Demner on lead vocals, Merrit Alfero on lead guitar, Nick Bredrosian on rhythm guitar, Randy Mathias on bass and James Decker on drums.
For more info and all the usual links check out the band's website - http://www.stitchedupheart.org/
The interview has been transcribed and posted below.
NI ROCKS - Hi, thanks for taking some time to talk to Rock Radio NI. I wanted to chat first of all about the excellent debut album "Never Alone" which was released in June. Where did you record the album and who did you work with for production etc?
MIXI – A lot of it was done in Los Angeles with two producers Mitchell Marlow and Sahaj Ticotin. We tried out some producers and started writing with them when we first signed with Another Century and we were pretty much blown away by how much we connected with these two producers out of everybody. They're kinda like another member of the band and we got really excited. We worked on it for about six months last year, in between a fourteen week tour, and now it's finally out!
NI ROCKS - In terms of song writing was that all done within the band and had some of the songs on the album been in development for a while?
MIXI – I actually have archives of songs that we've written, but when we into the studio; usually it would be Decker, Merritt and me and the producer, I didn't dig into my song list. We wanted to start from scratch. I kinda like writing that way now because I was able to have the same consistent message throughout the record and what was happening in life at that time, rather than drawing from something in the past that I had written.
DECKER – It was very fresh and everything was very new. Even the ideas that, when we got together that day to set out and try and write a certain kind of song. The song would just take shape on its own and be a completely different song than we set out to do.
NI ROCKS - What inspires you when writing the lyrics?
MIXI – I was going through a lot of internal research at the time of the writing of the record, where I had kinda been in a dark place prior to that and was starting to see light at the end of the tunnel. You can see in the lyrics, though I didn't really notice until we'd written a couple of songs, that there was a pattern. It's really a lot of hopefulness, pulling back from a dark place and remembering what it took to get to the positive place. Trying to send a positive message so that if someone goes and listens to the record; prior to, who knows what was going on in their day and I just want to take them out of their day and engulf them in the music and a positive message.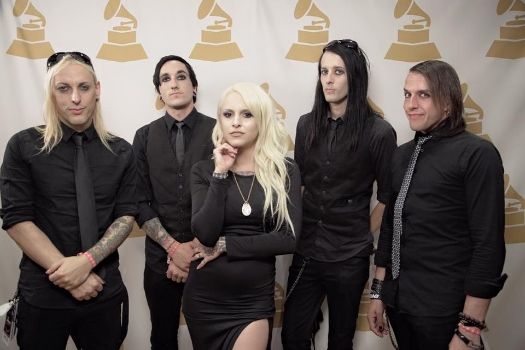 NI ROCKS - The band signed with Another Century Records in 2015. How did you make that connection?
DECKER – We'd known them for a while; Mixi specifically when she started the band in 2010 knew that they were a great team to work with and always sought help from them. They've be great about advising us throughout the years and helping us along our journey. They've watched us grow as a band. When the time finally came that we were ready, they saw that we're a hard working band and that we're going to keep doing it no matter what. They decided that they wanted to work with us and we couldn't be happier. We have such a great team of people working with us and we love everyone of them. It's like family. One of them came out to the show last night and the night before and it was like seeing a family member. We were so happy to connect with them again. We really respect and love those guys and they work hard for us and we really appreciate it.
NI ROCKS – Yeah, I see a lot of the posts on Instagram and stuff. There seems to be a great relationship there.
MIXI – It's a family. A label you'd think of as being a business, but this is the one label that I know of that it seems that everybody is just friends with each other. Everybody is there to help each other.
NI ROCKS - When I was doing a bit of research for this interview I read an interview you'd done with 'Rock Revolt' back in 2014. At that stage you'd talked about a possible album in the summer of 2015. The deal with Another Century obviously led to some adjustments?
DECKER – Yeah, a small adjustment (laughs).
MIXI – We started in April I think. That was the first time we went into the studio and then we went on tour for 14 weeks. In between, I think we'd written about 7 songs.
DECKER – Yeah, that would have been during the summer (of 2015) and then it was in the Fall that we hit the road.
MIXI – Then we came back and finished the rest of the record in January and February and were just waiting for the right time to release it.
DECKER – They have a whole plan as to how to release a record. If it was up to us we'd just put it out there, but we don't know what we're doing and luckily they do!
MIXI – They know how to release a record; we don't! (laughs)
DECKER -  We'd just give it to people – "here it is"!
MIXI – "Done" (laughs)
NI ROCKS - We'll play a track from that new album now. Do you want to pick one and tell us a little about it?
MIXI – We'll start with our first single "Finally Free" which is a wind in the hair,motorcycle on the highway near the ocean in summer kinda song. On a sunny day. It's a feel good song.
Dim lights Embed Embed this video on your site
NI ROCKS - You formed Stitched Up Heart in LA back in 2010 and released your first EP in 2012. What bands were influencing back then and did you have a firm idea of the kind of sound you wanted to deliver?
DECKER - I think our influences have changed over the years. Initially it was Bullet For My Valentine
MIXI – Bullet For My Valentine was a huge record and we were listening to it over and over again. I actually had a couple of friends who were in bands, like the Butcher Babies. We were friends with them before Stitched Up Heart started and they were an influence. I even asked to be in the band at one point – I was like, I'll wear that (laughs). It was really funny. Friends really do influence us. Also, any band that we go out on tour with, we are always inspired by them. Everybody helps each other.
DECKER -  All the bands we've toured with are our friends now. Back when we were starting to write Pierce The Veil was a big influence and some of the other post-hardcore bands that were around at that time. Though we have our own sound.
NI ROCKS - The second EP was released in 2014. Were those both released independently or were you with another label then?
MIXI – We did everything DIY up until we signed last year. The way we used to write was that we'd write about 30 songs at practice and then pick the six best ones that we liked out of those. The only problem was that we weren't focusing on every song. It was like, there's another song; ok that one's done! What we did differently on this record was that we really focused on every word, every note, every message and every concept! We really paid attention. On the other ones it wasn't as detail orientated.
DECKER – We grew as writers. Originally we thought let's just have as many songs as we can have. Now it's lets have the best songs that we can have.
MIXI – Quality over quantity!
NI ROCKS - It'd be fair to say that since signing with Another Century, you've been rather busy. What have been your highlights from the past year?
MIXI – We've been pretty much on the road since April. Right now it looks like we might go home in September but it probably won't happen!
DECKER – Highlights are, we love being on the road. This time around it has just been bigger tour after bigger tour and a lot of festivals that we hadn't really gotten to play until we signed with Another Century. That's such an amazing experience; to be on the same stage as some of the bands that we idolised and listened to and looked to for inspiration. And to be able to meet those people and be peers with them on a certain level. I think that has definitely helped us to grow as a band as we see where those guys are at and how they conduct themselves and to learn how to grow as a band. That's what we're trying to do.
NI ROCKS – You mentioned that your hectic schedule continues at least into September. I take it you get used to living out of a suitcase and being on the road? When was the last time you were actually home?
DECKER – April 12th
MIXI – Yeah April 12th. We've been driving six people in a 15 passenger van for 200,000 miles now. (See picture below taken when they left LA in April) The van is kinda making it but it's time to upgrade and hopefully we'll be able to have a new home!
DECKER – It'll live until we find a new one.
MIXI – Decker is trying to kill us all and run it into the ground! (Laughs)
DECKER – The van is so great that we have to graduate to the next great thing!
MIXI – Yeah, the van is sooooo great!
DECKER – It's sooooo great. It's amazzzzing! It doesn't smell at all.
NI ROCKS - The tour dates on your website take you as far as Vamp'd in Las Vegas. I noticed you've made an announcement about a cruise next year. Are there more dates planned beyond that and any chance of some dates in the UK or Europe in the near future?
DECKER - We would love to go to the UK and Europe and we've heard whisperings but we don't have anything concrete in front of us. We're always the last to know these things, so you will probably know before we do. We really want to go there and I think our management are just waiting for the right tour to get us over.
MIXI – I think it'll definitely happen, we just don't know exactly when.
DECKER – We definitely what to go see Europe.
MIXI – Yeah, we do!
DECKER – We should just like go!
MIXI – We should just fly over, we don't need to have a tour, we'll just come and say hi! Yeah, we'll just stay there and they can build a tour around it.
NI ROCKS - I've been a fan of the band since I heard "Forever Free" on YouTube. Musically and vocally, the band ticks the right boxes for me but sometimes rockers of my age-group can be a bit guarded about new, younger bands. What is your fan-base at gigs? Is it mostly the younger generation or do you get people like myself who are slightly older shall we say?
MIXI - It's a mix really. We tailor a little bit to the younger generation who understand a little bit of screaming. We don't really scream too much, but they like that. But there is a lot of the radio market that we've been hitting that brings in an older fan-base as well. That and a lot of military. But really it just ranges.
DECKER – A lot of times we'll have kids and their parents come to the shows and they're both fans.
MIXI – That's really cool. We see that a lot. Mum and daughter. And sometimes they bring us cookies!
DECKER – We get some cookies, but not enough, because we love cookies! Yeah, we get parents and kids. We get the 20 to 40-somethings and also the teenagers.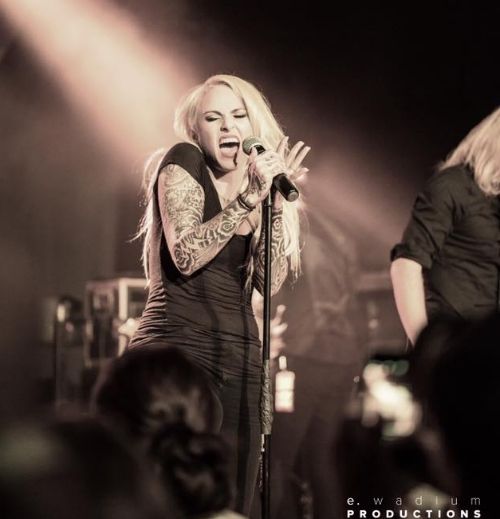 NI ROCKS – The band are well represented on all the social media platforms and seem to have a dedicated following. Is it hard to keep up with everything and how do you manage that?
MIXI – I try to talk to everybody I possibly can. Sometimes you can't though. When it comes to messaging and in-boxing I'm not good at checking my inbox (Laughs)
DECKER – If you start to reply to everybody then all of a sudden you get twice as many messages. You've already got a full inbox  and then you've got twice as full inboxes. We try to talk to as many people as we can, but the easiest way is through our comments if they want to be seen or heard. Honestly, stuff gets buried in those inboxes.
MIXI – The easiest way actually is to come to a show. We're always hanging around and watching the other bands. We don't hide too often, unless we're really tired, but most of the time we're out hanging out, watching the other bands and connecting with people, making new friends.
NI ROCKS - We'll play another track from the album now. Again, I'll let you pick one and tell us a little about it.
DECKER – We'll do "Monster". It's our second single from the record and it's about everybody having this monster inside of them. Mixi was writing and she felt this kinda crazy coming out of her.
MIXI – It doesn't take much! (Laughs)
DECKER – It's just about letting that break free. Just let it out.
MIXI – It's about being pushed up against a wall and fighting back. Let that inner beast that we can all have in us shout and challenge what's thrown at you and fight it.
Dim lights Embed Embed this video on your site
NI ROCKS – This question is for you Mixi. The tattoos! I love the work you've had done on the sleeves.  Did you go to one particular artist and did you have a firm plan for what you wanted for the sleeves?
MIXI – Yeah, I have a favourite artist that I use and his name is Mr Monster, which is really quite funny because the day before we started writing "Monster" I went to get tattooed and he asked me to write a song for him (laughs). So it was an idea to start a song and it went from there. So, his name is Mr Monster and he out in North Hollywood, California at The Electric Pen.
NI ROCKS - When and what was the first tattoo?
MIXI – I got the tramp stamp! That was my very first tattoo (laughs). I was in high school and I used to draw and paint a lot so I drew up this whale tail that I thought was so cool and got it done at a tattoo party back in Florida. I wasn't old enough yet! Then once I got my first tattoo, all these other artists thought I was old enough to get tattoos and I just kept sneaking in and getting tattooed.
(Read more about Mixi's tattoos here - http://www.tattoo.com/blog/exclusive-interview-stitched-heart?nopaging=1 )
NI ROCKS - Ok, from tattoos to cats! Anyone that follows you on social media will know you have a love of cats and do some charity work. Tell us about that?
MIXI – Mother of kittens! (Laughs). Yeah, we donate a percentage of our merchandise sales to http://www.kittenrescue.org/ which is a rescue in LA that mainly focuses on orphan kittens that don't have mothers and need to be bottle fed. They try to pull them from the shelters because the shelters don't have the resources to take care of them. They try to save as many as possible. We've raised $3,100 so far for them and when we're back home we can foster kittens and cats and dogs.
DECKER – Even on the road, like yesterday, we did an acoustic set for a radio station that helped to benefit four different animal shelters that were in that area in New Jersey. We just showed up and played with some puppies and took pictures with some of our fans but it helped get people there and get some awareness for those shelters. I think they had a fundraiser going on there too. We try and do as much as we can to help out with animals because they're really lazy and they don't get jobs to help themselves (laughs). So we try and do it for them.
MIXI – We try to help pay the cats bills (laughs)
DECKER – Yeah, they can't pay those on their own. They are cute though, so that helps.
NI ROCKS – And onto music now! Can you remember the first album you bought and the last one?
MIXI – The first album I ever bought, was a cassette actually, and it was Wu-Tang Clan and "36 Chambers". The last album I bought was a 9Electric album.
DECKER – My first one was AC/DC and "Back In Black" and my last one was 9Electric's "The Damaged Ones".
NI ROCKS - And the first gig that you went to and the last one.
MIXI – The first show I ever saw was Less Than Jake.
DECKER – The first show I saw was Chicago and The Beach Boys and our last show was last night.
MIXI – Gemini Syndrome and 9Electric
DECKER – And some other band called Stitched Up Heart.
NI ROCKS - Do you get much opportunity to listen to music and what have you been listening to recently?
DECKER – Mostly they listen to what I play when I drive. Whoever is driving gets the radio. Usually everybody is sick of listening to music by the time that it's their turn to drive because I'll drive for like seven hours.
MIXI – And his playlist sucks! (laughs)
DECKER – It's an awesome playlist and I sing every song really loud, and they have to listen to it!
MIXI – You need to update it. I've actually been listening to a lot of Halsey recently. She's an amazing vocalist, you should check her out.
NI ROCKS - What do you hope to have achieved with Stitched Up Heart by this time next year?
DECKER – Hopefully we'll be in Europe. We want to go to Europe!
NI ROCKS – That's all the questions I have. Thanks again for talking to Rock Radio NI.
MIXI – Thank-you for taking the time to talk to us, we appreciate it.
NI ROCKS - We'll finish with another track from the album and once again I'll ask you to pick one and tell us a little about it.
DECKER - Why don't we do "Event Horizon"
MIXI – Yeah, think of space when you listen to it. Just imagine that you are floating in space
DECKER – Then a black hole sucks you in and you don't know what happened.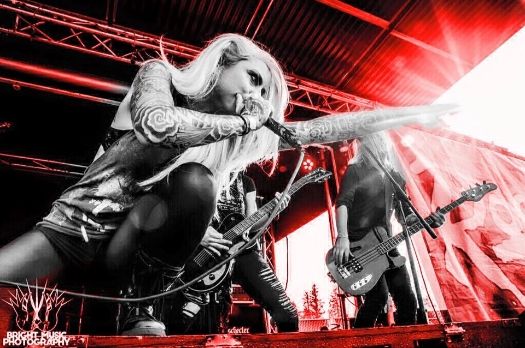 Playlist for the Friday NI Rocks Show on 12th August
NEW YEARS DAY – Malevolence
STITCHED UP HEART – Never Alone
Interview with Mixi & Decker from Stitched Up Heart Part 1 (5.5 min)
STITCHED UP HEART – Finally Free
Interview with Mixi & Decker from Stitched Up Heart Part 2 (9 min)
STITCHED UP HEART - Monster
Interview with Mixi & Decker from Stitched Up Heart Part 3 (5 min)
STITCHED UP HEART – Event Horizon
SIXX:A.M. – Prayers for the Damned
KING OF THE NORTH – Hard Wired for Hard Times
HIGHLY SUSPECT – Blood Feather
KILLIT – See The End
SAFIRE – Fallen Angel
GASOLINE OUTLAWS – The Shrouded Wolves
METALLICA – Enter Sandman
Last Updated (Thursday, 29 November 2018 13:59)