NI ROCKS Interview with TRACII GUNS
The name Tracii Guns is fairly synonymous with the whole LA rock scene from the 1980s – the story of LA Guns, Guns n' Roses etc is well known. Since then Tracii has been working constantly on one project or another, some that seem quite far removed from the sound that most people will associate with him. He is currently involved in two projects that are in the spotlight at the moment. His band Devil City Angels releases their highly anticipated self-titled album in Europe on 11 September. In addition he goes on tour with Gunzo in the UK from Monday 7 September; finishing off in Voodoo in Belfast on Wednesday 16 September.
I spoke to Tracii via Skype at his home in LA on 1 September for about 25 minutes, talking about Devil City Angels, Gunzo, League of Gentlemen and more. This interview appeared on the Friday NI Rocks Show that was broadcast on 4 September. The show is now available via our MixCloud site -
Interviews with Mike Tramp and Tracii Guns on The Friday NI Rocks Show 4th Sept 2015 by Nirocks on Mixcloud
The interview has been transcribed and posted below.
NI ROCKS – Hi Tracii, thanks for taking some time to talk to Rock Radio NI. I wanted to focus mainly on some of the stuff that you have happening over the next few weeks. Namely, the release of the Devil City Angels album and the UK tour with Gunzo.
TRACII – That's right, those are the things that are coming up right away. We were talking about Devil City Angels today, trying to figure out when we're going to tour when this record comes out. Apparently people like it and that is always a scary thing because that means you have to go and support it (laughs). Rikki and I were throwing some ideas back and forward, but we'll see what happens. The album comes out over there shortly – the 11th September and the 18th in the USA.
NI ROCKS - For anyone who isn't aware do you want to tell us who is in that band with you?
TRACII – In Devil City Angels we have Rudy Sarzo as the bass player now, Rikki Rockett from Poison and a relatively unknown fella called Brandon Gibbs is the singer. Rikki had known him for years before we decided to do this band – hell of singer, hell of a guy and really easy to work with. Fits the formula really well – the guy is great.
NI ROCKS – The album is being released a little later than originally planned. Why is that?
TRACII – I don't know really. It's funny, when you go into a situation in a band; it always starts off as a band and a lot of time it ends up being a project for one reason or another. When things become projects because people have other things to do then scheduling and a million things change. We were originally signed to a different label before we finished the record and we were doing a PledgeMusic campaign on the internet for pre-sales for this other label and then that label actually lost their funding. So we ended up going over to Century Media and when that happened it was a huge mess because we had to figure out to abandon the PledgeMusic campaign as Century Media didn't want anything to do with that. So there's a bunch of idiot musicians, including myself, being asked all these things that are complicated to do and everybody just kinda ran away, and I thought man, I'm gonna have to deal with this! (laughs).
NI ROCKS – You got there anyway! Where was it recorded and who has produced and mixed it?
TRACII – In the beginning, Rikki and I pretty much handled all the recording duties up at his place. He has a pretty nice studio on his property where he lives. We recorded all the physical music there and in the same place, Shane Fitzgibbon, who is the drummer for Gunzo actually, ended up taking over production of the vocals, engineering the vocals and all that kind of stuff. It was a very two part kind of thing. When vocals start happening I gotta run because it's too stressful; for me anyway! I got the recordings sent to me about one in the morning when they were doing it and I didn't have too many comments. I thought everything sounded pretty good and we got it off to Nashville to our friend Anthony Focx who mixed it. So it didn't really matter how we recorded it because the guy is such a great mixer it's going to sound good. (laughs).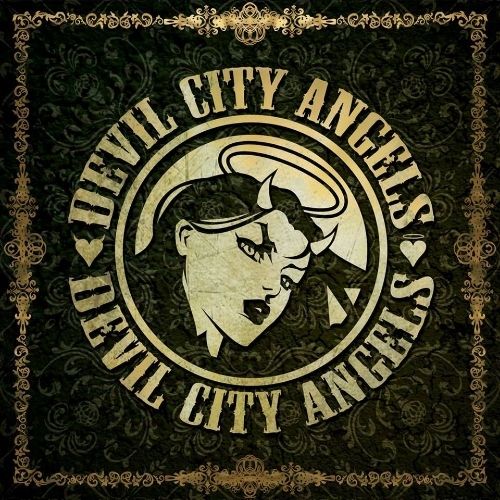 NI ROCKS – I noticed that Blabbermouth called it a "laidback though tight blues rock romp". How does that fit as a description?
TRACII – Yeah, certainly the general vibe is that. The influences for the record were very specific. It was to be a 70's classic rock meld of Cheap Trick, Billy Squire, Aerosmith and things like that as opposed to a really hard hitting heavy rock album. Stylistically and vocal wise too, there are different sensibilities in the structure of the vocals than a typical hard rock album. Which means it could appeal to more people than the normal headbangers; which completely sucks! (laughs).  That was the intention of the record. I've heard it described a lot of ways, but the most common description is that it has a high tech 70's vibe about it. I feel good about that.
NI ROCKS – From what I've heard, it sounds great. You mentioned earlier that there might be plans to get Devil City Angels out on tour?
TRACII – Yeah, we're talking about it. The thing is that we have an agent in the UK who's our main agent, then we have a couple of agents in the US and everybody is trying to get things done and they're crossing paths and things like that. So there's a little confusion at the moment and we as band need to get together and talk about what we want to do and how we're going to do it. Meantime, Rudy and I have Gunzo and we're preparing to record an album and I'm also doing a show in Vegas that just came up for about a month and a half so I'm pretty busy at the moment; but I want to do everything.
NI ROCKS – I saw that announcement recently that yourself and Doug Aldrich were coming back (to "Raiding the Rock Vault" in The New Tropicana, Las Vegas).
TRACII – It's a weird thing. He took my place in the Show, then he ended up quitting a month or so ago and they came to me to replace Doug. After a bit of negotiation and arm turning we figured it out and what is going to happen from now I suppose is that we're going to take turns and won't ever really be there at the same time. I'll do a month and a half, he'll do a couple of months. You know Vegas is a wild place; it's not really a great place to live (laughs).
NI ROCKS – It's early days I know, but has thought been given to a second album from Devil City Angels?
TRACII – Well, we got to get through this one first. We definitely have plenty of material written, so at any time it would be fairly simple to get the songs that were incomplete finished and move to a great album. That would be great to have any kind of longevity in the music business these days. Every time there are plans made for something those plans change; it is so difficult to predict or see where things are heading ever these days. It's so strange.
NI ROCKS – As we've said, the album is released in the UK on 11th September and the States on 18th, but two tracks "Boneyard" and "All I Need" have already been released. We're going to play a track now. Do you want to pick one and tell us a little about it?
TRACII – "Boneyard" is an interesting song. It was something that Brandon and his brother had written about 8 years ago; I can't remember what the title of it was before. During the writing sessions Eric Brittingham (Cinderella) was in the band at that time, and he really liked that song and suggested that we listen to it. I heard that song and it was like a song that really stood out, but also had a real weird part to it too. There's another song on the album like that called "All My People". As soon as I heard "Boneyard" or whatever it was called before, I heard something different for it and it was very immediate and over the years those have been the things that people gravitate towards, from a purely listening point of view. Something that is very immediate or that happens very quick; if the musician likes it right away then generally other people will like it right away. The way that I describe that tune is that it's kind of like a Keith Richards style riff with Angus Young playing it kind of vibe and a sort of pop vocal over it. A fairly simple formula, but that's one of the songs that I really like. I listen to that one probably more than any other on the whole album, it's very immediate, punchy, raunchy and a little bit dirty.
Dim lights Embed Embed this video on your site
NI ROCKS – Even before "Devil City Angels" is released, you head off to the UK for 10 shows with Gunzo. The line-up of that band has changed a little. Who is in the band that will on tour from next Monday?
TRACII – It's Rudy Sarzo and I with Shane Fitzgibbon who is just an incredible musician period. From a production standpoint and his drumming is ridiculous! Sometimes drummers get so good at playing drums that they end up doing other things; it's a phenomenal thing. He happens to be one of those guys, but he still loves playing the drums and at 26 years old the kid kinda has the world by his teeth – incredible. Then we actually have a different singer than we've been playing with here. A guy called Michael O'Mara who really fits the bill. At this stage we're still playing catalogue music; stuff from our pasts. It's a really powerful heavy rock band; we play everything from Dio to Ozzy and LA Guns, Whitesnake and Quiet Riot. We put them all together in one set and try and alter our sound as we go from band to band. It's a really powerful band playing these songs and there's a bit of improvising going on within every song. It's a real early 80's feeling power house band and is definitely the band that I would call my main band at the moment. I definitely get the most joy out of playing live with it and every song is a hit song which is great for the audience. That relationship that we have with the audience is incredible. It feels very good. I can't wait to unleash the original material because it's very reminiscent of what we're playing now. We're taking our time with singers and we need that guy, that incredible guy, and we gotta find him.
NI ROCKS -  You've probably already answered part of this question; the website for the band states that it celebrates the music of LA Guns, Ozzy, Dio, Montrose, Whitesnake and Quiet Riot. Is that a fair description of what fans can expect when they turn up at a gig?
TRACII – Absolutely! We do 12 songs and the audience will know every song and sing along. It's all good and so much fun.
NI ROCKS – Will there be any track from Brides of Destruction in the set-list?
TRACII – Not lately, but it gets brought up more and more often these days. People asking for Brides of Destruction songs. I just need to find the time to get the band together to listen to some Brides songs to see what we can do. We just haven't had time to get to that point yet.
NI ROCKS – You've already mentioned something about this but you can tell us more - has any thought been given to recording an album as Gunzo – either of covers or new material?
TRACII -  Yeah, that's the intention. I've been writing music for this band for the past six months and it's a different level of metal really; is the only way that I can describe it. I'm really studying classical music right now and new age music believe it or not, to add a different style of melodic language to the metal; but it's definitely heavy metal. I feel it has to be very special and very well thought; just considering where we come from. There's no sense in making just a simple rock 'n' roll record; I can do that anytime. I did that with Devil City Angels and it's wonderful, but sometimes you gotta flex your muscle and this is the right band to do that with.
NI ROCKS – In 2012 you took the decision to disband LA Guns, though of course Phil Lewis continues with his own version of the band. You went on to form Tracii Guns' League of Gentlemen and have now released two albums with that band.
TRACII – Yeah, League of Gentlemen was pretty much put together so that I could make records that I want to listen to. That's the problem when you get older and are still in the music scene; I really stopped loving new music somewhere around 1990. Not a lot has come out since then in rock 'n' roll that has appealed to me at all; unless it's a throwback thing. I missed having a record that I could put on, from front to back, that is more about the atmosphere, energy and the story of the whole album. If I'm proud of anything, I'm proud of those records. I produced them myself and recorded them myself. Really big projects. They were like arts and crafts albums almost. Get out the glue and the enamel and stick it in the stove and see what comes out. If it's not good the first time, you do it again and again. I'm always creating something; that's why I'm here.
NI ROCKS – Who worked with you on those albums and is there likely to be a third one?
TRACII – I would definitely say there will be a third one at some point in time. The guys that I worked with are guys that I've known forever. Doni (Gray), the drummer, has been one of my best friends for years; he played with Izzy and the Ju Ju Hounds and in Burning Tree. He's a real soulful drummer, not so much a hard hitter, but come from a more jazzy, R&B, psychedelic place. Rock 'n' roll really starts with the drums and he's really the right engine for this band. Patches or Craig (McCloskey), the bass player is a Paul McCartney / John Paul Jones style melodic, over the top bass player. Our singer Scott Harris is a real throwback to the late 60's. That band is really special to me and the guys in it are amazing.
NI ROCKS –The blues-rock genre has been a label applied to both bands - League of Gentlemen to that from Devil City Angels. How would you compare the bands personally?
TRACII – Yeah blues rock makes sense. The League of Gentlemen stuff is way more psychedelic and the songs settle in more; they're like 4 to 6 minutes long, whereas the Devil City Angels songs are more up-tempo shorter songs. Not as groovy or introspective. League of Gentlemen is for hippies! (laughs).
NI ROCKS – We're going to play another track now. I'll let you decide if you want to pick something from Devil City Angels or League of Gentleman.
TRACII – League of Gentlemen, that would be great. Something like "Sugar Momma" off the first record or from the second album "White Rabbit". Talk about two different things – "Boneyard" then "White Rabbit" – awesome.
(Listen to the show to hear "White Rabbit" – I couldn't find a video for it so here is "The Sound" off the first League of Gentlemen album)
Dim lights Embed Embed this video on your site
NI ROCKS – Are there any other projects that you're working on at the moment?
TRACII – Yeah, I'm signed to the Universal Music Library, Paris to create library music for television, movies and things like that. In between the cracks that's generally what I'm doing and raising a nearly 7 year old boy. So yeah, I got stuff to do! (laughs).
NI ROCKS – You've worked with many musicians that rock fans will instantly recognise by name. Is there anyone you haven't worked with that you've fancied doing something with; or indeed someone who you've worked with before that you'd like to work with again?
TRACII – I always had this thing for Glenn Danzig, I always thought that if he and I collaborated on a 50's, crooner, real dark kind of ballady record it would be incredible. The thing is that he's busier than I am it seems for the last 10 years, so the reality of that as time goes on gets less and less. That's just a vision I have and if I could make that reality it would be pretty incredible I think.
NI ROCKS – You've worked quite a bit with Gilbey Clarke in the past. Any chance we might see more collaboration there?
TRACII – Yeah I don't see why not. He pretty much sticks to the Keith Richards rock 'n' roll stuff and is always doing something; and I'm always doing something. I just finally saw him, we were in the same room together, for the first time in like 10 years. He's one of my oldest friends; we've known each other since I was 16. He's a great guy and great friend.
NI ROCKS – You've released about 20 studio albums now from my count ( inc 10 LA Guns, 1 solo, 1 Contraband, 2 Brides of Destruction, 2 League of Gentlemen, 3 Gilbey Clarke, 1 Devil City Angels). Is it possible to pick out a handful that you would say define Tracii Guns? Or personal favourites.
TRACII -  I had a conversation today with someone I'm collaborating with – the toughest thing about everything that I do is really getting to relax and enjoy it. To really get to know it after it's done and comes out, because I'm always on to the next thing. The only time that I really get to listen to stuff, apart from sometimes in my van when I put League of Gentlemen on, is when I have to relearn it for something. You know, if you're going to do a show with someone or if I get together with Phil from LA Guns I have to relearn LA Guns songs. Then it's like "Wow! I remember this!" - It's really cool. But then being almost 50 and playing something that I recorded when I was 21 or 22 has a completely different perspective. My music personally, if I was going to do like a Tracii Guns all-encompassing thing, I have no idea where I'd start or how it would end up. One thing about me, is that my lack of focus is very predominate! I focus on one song at a time, never on an overall kind of sound or something that lasts eternally. I'm very good at confusing people! (Laughs).
NI ROCKS – The music scene has obviously changed considerably in the last 30 years, but what is your take on the whole "rock n roll is dead" debate that was stirred up a while back?
TRACII – I don't know. Certainly in the business world but people get into the music business for different reasons. I think rock 'n' roll is a flavour or taste, and millions of people love rock 'n' roll, millions of people love speed metal, millions of people love disco. What's sellable if you're in the business of making a product that sells? In the marketplace rock 'n' roll as we envisage it is not very sellable, but at the same time there aren't very many other things that are very sellable, that people really love. Rock 'n' roll's not dead by any stretch, but in a business sense it might be for the moment. That could change at any minute, it depends who puts out a great rock 'n' roll song and everybody loves it all of a sudden.
NI ROCKS – What do you think the biggest obstacles are now for musicians like yourself or for new bands trying to make a breakthrough?
TRACII – It's always a business isn't it! Hopefully musicians are passionate about what they do and love what they do, so that's why they're doing to do it. To have that kind of motivation that I did when I was a teenager to be a big time guitar player and that kind of stuff! I must have been severely brain damaged or something! You can't will it, you gotta bring the goods and even then there's zero guarantees that you will make one penny or get one page of notoriety as a musician; that's just the reality.
NI ROCKS – Do you get much time to check out newer bands or what do you find yourself listening to when you get some time?
TRACII – People send me links to stuff and I check it out, but there's just not a lot of time put into the building of music it seems. I hear a cool rock 'n' roll song here and there, then I forget about it the next day. That's not to take anything away from the musicians, it's just that I feel that there is so much new stuff that is rushed and hurried and thrown in everybody's faces. No one has time to decide if they like it. It's very confusing.
NI ROCKS – That's all the questions I have. Many thanks for taking the time to talk to me. We'll finish off with another couple of tracks. I'll leave it up to you if you want to play.
TRACII – Thank-you. What about Turbonegro – from "Apocalypse Dudes" the track "The Age of Pamparius". What about, from Brides of Destruction – "I Don't Care". And to finish off "Communication Breakdown" from Led Zeppelin – it can never fail.
Dim lights Embed Embed this video on your site
Playlist for the Friday NI Rocks Show on 4th Sept.
GASOLINE OUTLAWS – Heart & Soul
MIKE TRAMP – Counting The Hours
Interview with Mike Tramp – Part 1 (5.5 min)
MIKE TRAMP – Give It All You Got
Interview with Mike Tramp – Part 2 (7 min)
MIKE TRAMP -  High Like A Mountain
Interview with Mike Tramp – Part 3 (6.5 min)
MIKE TRAMP – Wait Till Forever
BLACKWATER CONSPIRACY – Penny For Your Dirty Mind
LA GUNS – Sex Action
Interview with Tracii Guns – Part 1 (9.5 min)
DEVIL CITY ANGELS - Boneyard
Interview with Tracii Guns – Part 2 (8.5 min)
TRACII GUNS' LEAGUE OF GENTLEMEN – White Rabbit
Interview with Tracii Guns – Part 3 (7.5 min)
TURBONEGRO – The Age of Pamparius
BRIDES OF DESTRUCTION – I Don't Care
LED ZEPPELIN – Communication Breakdown
LIFELINE – Jezebel
SCREAMING EAGLES – Ready for the Fall
Dim lights Embed Embed this video on your site
Dim lights Embed Embed this video on your site
Dim lights Embed Embed this video on your site
Dim lights Embed Embed this video on your site
Last Updated (Tuesday, 03 November 2015 23:11)