NI ROCKS Interview with DAVE MENIKETTI of Y&T
Iconic rockers Y&T return to Belfast on 12th November to play a gig in The Limelight. We spoke to singer and guitarist Dave Meniketti to record an interview for Rock Radio NI. This was broadcast on the Friday NI Rocks Show on Friday 25th July. It is now available on our Mixcloud site - https://www.mixcloud.com/NIRocks/interview-with-dave-meniketti-from-yt/
Amongst the topics discussed are plans for celebrating the band's 40th anniversary, a new Y&T studio album, potential future releases and tours by the Meniketti band, musical influences and the current music scene.
NI ROCKS – Dave, thanks very much for taking the time to talk to Rock Radio NI. You're returning to Belfast again in November as part of the bands extensive 40th anniversary tour in Europe. You always get a great welcome here. What are your memories of playing here in the past?
DAVE – It's always been a good thing, ever since our first time playing Belfast after not playing there for three decades pretty much. It was a great experience right from the very beginning. That just meant that we had a new home to go to. Every time we come back there's been a great response from the Belfast audience. It's one of our favourites on the European tour.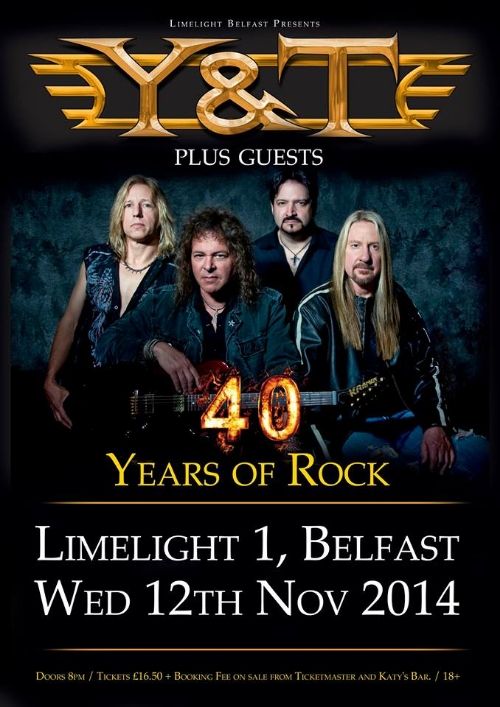 NI ROCKS – There are very few rock bands still playing that can demonstrate the degree of success and support that Y&T have had for forty years. How much do you think that is due to the determination of the band and how much to having that loyal fan base?
DAVE – Well, it's a combination of the both. The loyal fan base of course keeps us in business so that we can keep touring, but the determination of the band to play live is always there. We would play until we couldn't play anymore basically, but the fans have to be there for you to do that so it's a combination of the two. The band just loves playing live. That's our forte, that's what we like to do most of all. Even when we're off for just a few weeks we feel we've been off for a couple of years, its like come on lets get a gig!
NI ROCKS – You released a box-set covering the A&M years last year. Are there more plans to celebrate the band's 40th anniversary?
DAVE – Basically the box set was released by the record company that we were on, which ended up being Universal. It was their idea, we didn't really know much about it until it was already in motion. They have the right to do that, as most record companies do with most peoples' back catalogues. It's a nice collection. They put some interesting little tit-bits on there, some different things for the fans and I think it's a good thing.
As far as our own 40th anniversary celebration what we've been occasionally been doing on some shows on the tour is to try to play at least one song from every record that we've ever recorded, and that's been a bit of an effort because it makes it a lot harder to come up with the perfect set list when you put a lot of different songs in that you're not used to. It's worked out pretty good. We don't do it every night but in general we'll do that on this tour just to celebrate the whole of the band.
NI ROCKS – The last studio album from Y&T was the excellent "Facemelter" from 2010. Are there any plans to get the band back in the studio for another album?
DAVE – Yes, that will probably happen next year. We'll have to carve out the time in advance so that we can be certain that we can get into the studio and finish the record. We've been so busy on the road, it's not conducive to sitting down and writing and keeping that flow going. That at least is the plan, we'll see what happens. And we're also working on another thing that hopefully might get released before the end of the year. I can't really say much more about it, but it's kinda going to be a celebration of our 40th year in business as well. A retrospective sort of thing. We're working on that currently.
NI ROCKS – Sounds interesting. Something different! Will it be released before you're in Belfast in November?
DAVE – No, it'll be afterwards that it is released. Probably just in time for the end of the year. Or maybe early next year at the most. That's what we're shooting for but we'll see what happens.
NI ROCKS – At this point during the broadcast of the interview I'm going to play a track from "Facemelter". Would there be a specific track you'd pick as a favourite from that album and why?
DAVE – There's no favourite per se, but there's a lot of tracks on there that we've played live and some we haven't got around to yet that we're waiting to see what it's going to sound like. I think I'll go with "On With The Show" just because it's a great energetic beginning to the record and it's very thematic of the record and the band.
NI ROCKS – I sometimes play it at the start of a show. It's one of those tracks that just sets things off.
DAVE – Yeah, of course the lyrics say it all. That's really what it is all about for us. Just constant playing all the time and never knowing what's going to happen from one night to the next.
Dim lights Embed Embed this video on your site
NI ROCKS – The video for "I'm Coming Home" from "Facemelter" has proven to be very popular. Did you consider releasing any further videos from that album at any stage?
DAVE – Yeah, we were going to release a second video at some point. We had talked about doing "Shine On" as a second video or possibly "Blind Patriot" but it just never came to fruition. It was going to be too expensive to do right after the other one was done and we'd have to have relied on record company support for it and so on and so forth and it was just never going to happen. We're trying to work on getting more videos out there that are produced by ourselves and we have a couple of guys on our crew who have turned into videophiles and they're shooting everything they can at every show, backstage and all kinds of different things. We're going to try to get a little bit more prolific as far as getting our own production videos out there.
NI ROCKS – It's been quite a few years since you released your solo material. Have you ever considered doing more solo work or is the focus very much on Y&T particularly during this anniversary period?
DAVE – Certainly this year it's going to be all about Y&T, as it has been probably for the last ten years. It's been a long time since the Meniketti band has played a show, maybe 2003 or 2004 something in that range. But it is something that has always been there at the back of my brain that I want to continue that sort of thing. It's always felt natural to me to play that style of music as well as Y&T obviously. I miss not being able to play those songs live and flesh them out. I have a different style of guitar playing that goes with those songs that stretches me out a bit more and I really enjoy doing that so at some point within the next couple of years I'm hopeful to finish another solo record and finally get over to tour in Europe with the Meniketti band.
NI ROCKS – When we talked previously you'd mentioned getting quite a bit of interest from promoters over here about getting Meniketti out on tour.
DAVE – It's something I have been talking about off and on for about the last six years. As we've been touring and doing the festivals there are some promoters out there who have been asking about the Meniketti project and wondering if I was ever going to bring it to Europe. There seems to be a little bit of interest and regardless I'd certainly like to do it because I know how good the band was when I was doing it ten years ago. Not very many people got a chance to see that. We only played a few gigs in the Bay area and did a tour of Japan. But unfortunately when we toured in Japan I was very sick and wasn't at my best, but it's something that is always there. We'll eventually get back around to it.
NI ROCKS – You feature on a great track called "Lipstick, Smoke & Gasoline" on Frank Hannon's "Six String Soldiers" album.  How did that come about and do you work much with other artists?
DAVE – I occasionally work with other artists. That was just something that Frank asked me do for him and I was more than happy to do it. He had a lot of great guitarists and musicians on that album and I was happy that he wanted to include me. I'll do that for certain guys. People will ask me if I want to be on their record or do them a favour and sing something or play a solo. I usually oblige them no problem. It's kind of like a code, among the people out there touring and doing this kind of work. It's a cool thing to do and I like the effort of getting involved with something that's not just the standard and do something a little different once in a while.
NI ROCKS – The influence that Y&T had on many bands in the early 80s is well known, but you're often quoted as a personal influence as well. I was wondering, as a guitarist who you would identify as your own influences and secondly looking at the present day who do you rate as being amongst the best in the business?
DAVE – As far as what I was influenced by, certainly mostly early on in my career was the most impressionable time for me when I was starting to learn how to play guitar. Those were really inspirational days for me because I was so into guitar and being a guitar player and loving guitar players. So I would say, obviously Jimi Hendrix for me because that was the perfect timing, when I started playing guitar in the sixties. Outside of Hendrix, all kinds of different types of guitar players that were playing different styles. Most of the guitar players that I was most interested in were guys that were playing blues based rock n roll kind of stuff.  I have mentioned on and off over the last many years, that although he wasn't my biggest influence, one of my influences that I don't think gets enough credit was Leslie West from Mountain because he had such great attack with his guitar playing and a lot of soulfulness. I think that he definitely gave me a bit of style that is in there amongst all the other things that I've picked up over the years. Others would include Duane Allman, Dickey Betts, Jeff Beck and I think Michael Schenker to some degree. When we were first starting to play in bands everyone was playing some sort sort of UFO song, "Doctor Doctor" or something. There were a lot of other guitar players out there who have influenced me. Those are some of the ones that I can think of off the top of my head.
As far as who I think is still doing it and one of the best in the industry. AC/DC for me is one of the classic rock bands of all time. I love their material and having toured with them a couple of time, still brings back great memories of touring and being in the industry as a musician. They're still out there doing it even though Malcolm isn't well and I know they'll forge forward and still do great shows. To me they are the quintessential rock n roll band. There are others out there for certain, but that's just my own personal favourite. Whenever I hear an AC/DC track come on anywhere it always makes me feel great.
NI ROCKS – At this point I'll be playing another Y&T track. I was wondering if you had to pick three Y&T tracks to represent the band what would they be? Not necessarily the most successful, but on a personal level.
DAVE – Certainly "Forever" would be one because I think that song embodies pretty much what Y&T is all about. A band that plays with a lot of passion and a lot of energy, but at the same time we're known for our ballads and our melodic sense. And all of that is in that song to some degree or another. It's not a ballad but it has a lot of melodic sense to it, both in the instrumental intro and the melodies and the song. The pace and the rhythm and the attitude and the straight ahead fire that is in that song I think make it one of the classics for all time for us.
Another classic for us has always been "I Believe In You", that's been a great track. We really didn't know how far reaching that song was going to be. When we started touring worldwide we found that it was a favourite of people all over the world and the more we played it the more we honed that song in. It has become sort of an expression moment for me especially in every set that we play, because every night when I do the extended solo at the end it's always different. It's whatever I feel at that moment. Sometimes it can be absolutely brilliant and sometimes you never know (laughs), but that's what playing live is all about. It's what happens in that room with that crowd at that moment and how you feel. Sometimes things are just magic and that song among a few others in the set can really set the tone for what's happening that night.
So those two and let's see, something a little different. Let me think….I'll say "I'm Coming Home", that's a good one as well.
NI ROCKS – When we talked before you mentioned "This Time" as well being one of your favourite tracks as it meant a lot to many people.
DAVE – Yeah, any day that you ask me for my three favourite tracks it's gonna be all over the place. "This Time" is one of those songs that people maybe don't talk about everyday, but there are many fans that have come up to me over the last 30 years to tell me how important that song was to them or how they had used it for a wedding or something like that. When I go back and listen to the tune over again I think yeah that really did have a vibe to it and is something special. So if we can get our act together here and finally get around to working it up so that it sounds good and get it ready for the European tour this year and play it because we've only played it two or three times live the entire time. We don't like to play too many ballads in the set, and we like to structure our set so that it keeps moving. We usually play two ballads, two and half if you say "Rescue Me" might be a semi-ballad but it's not really, it gets going. So we'll swap about once in a while but we usually play "I Believe In You" all the time and for the last many years we've been doing "Winds of Change" because it's a great song to play live and a great song overall. But we'll see if we can't throw in "This Time" on the tour.
Dim lights Embed Embed this video on your site
NI ROCKS – I have to say I've always had a particular affinity to Y&T because the first big concert I ever went to was AC/DC in the Glasgow Apollo on the "For Those About to Rock" tour back in 1982, and opening that show was of course Y&T. Can you remember the first band that you saw live and where it was?
DAVE – Yes. My sister had a high school or grade school party, I can't remember the exact year but I was quite young, around 10 or so. They had this party out in the park land area and they had hired a band, where most of the guys were in their teens. It was the very first time that I ever heard rock music being played through amplification and live. It was absolutely brilliant, it set me back. I was like "oh my God what is this?" The sound of live guitars coming through amplifiers and bass and drums and vocals and all that kind of stuff. The first time that you experience live music is a shock to your system, and a good shock at that! Ever since I experienced that live performance by a band I knew it was going to change what was going to happen to me because I was just such a music fan anyway, even when I was a kid constantly playing music in the background. To see someone performing live set the tone for me.
NI ROCKS – The music industry has of course changed hugely over the past 40 years. Y&T have a great following amongst those of my generation. Do you see a lot of younger fans coming along to the gigs, perhaps influenced by their parents or whatever. How do you try and target that audience at all or just go with the flow?
DAVE – Yeah, just go with the flow. We don't really target anything. The music scene is full of people who can change attitudes depending on the trend of the moment. Y&T has certainly been pressured by record companies through the years to do certain things, especially in the mid 80's but outside of that timeframe I'd say we're really independent guys. I mean we don't care about anything as far as trends and so forth. We just care about playing music that turns us on. Whatever we come with at the moment is just from us and there are no pre-conceived ideas. We don't write for young people or any age, or any time if you know what I mean. It's always just what is happening at the moment and what we're going through. Maybe by chance, or just the way things are going lately in the last 10 or 15 years we've noticed a whole generation of younger people coming to shows, and not just our shows, classic rock shows in general. At the shows in Europe I notice it especially more so and we talk to these people at the meet and greets and you can tell they're seriously into the music. Whether they've found out about it from their parents or it's just one of those things where they were trying to investigate all the stuff that was out there and stuff that influenced the new bands and so forth. That's part of what is cool about music is getting with your buddies and trying to find new stuff and stuff from the past that you didn't know about previously and say "oh my God did you hear this band". It's great to see this whole thing turning around for bands from the 60s, 70s, 80s or whatever. Good music is good music and hopefully that is the reason that these people are coming out to see us.
NI ROCKS – What bands would you be listening to yourself these days?
DAVE – I listen mostly to jazz, rhythm & blues, classical and certainly rock n roll as well. I have a varied interest in music and like all different styles of things and types of music. I'm not a big country & western fan, that would probably be my least favourite thing and I'm not a big hip hop fan, but hey whatever. It's more about melodic stuff for me. There are a few bands out there that I listen to a little bit more so. The classic guys that I grew up listening too. There are also bands like the band out of Australia - Electric Mary. They opened up for us in Paris a couple of years ago, that was the first time we knew about them. We watched their performance and thought these guys are absolutely awesome. They turned us on to a few of their records and I started listening to them and this is the kind of music I love. Straight ahead riff rock music, like a heavier version of that AC/DC kind of vibe or something. It has a lot of attitude and I like that kind of thing.
NI ROCKS – They're a great band. I haven't seen them live yet but they're playing Northern Ireland later this year (Diamond Rock Club – 7th November) and I'm looking forward to seeing them then.
DAVE – Yeah, they're great. Of course there's a band that keeps the classic rock thing going.
NI ROCKS – Finally, beyond the 40th anniversary tour, what do you hope to achieve with Y&T over the next few years?
DAVE – We don't have any basic huge goal of any sort, other than constantly keeping the machine running with live performances and keeping some new material flowing. Though we're not the fastest at getting new albums out all the time, we will eventually get doing that like I said. Next year we'll sit down and really try and get a record of new material out. We just want to keep out there, being creative and coming up with new material and keep out there playing. The band just keeps getting better every year.  It's not like we just keep repeating the same thing, we always try and do different songs every time we tour from the tour before. Like I said, I don't how it's possible but seemingly every year we tour people keep telling us you guys were better than the last time. I think that shows you how much we really love playing.
NI ROCKS – Thanks very much for taking the time to talk to us and I look forward to seeing you over here in November.
DAVE -  Sure, my pleasure.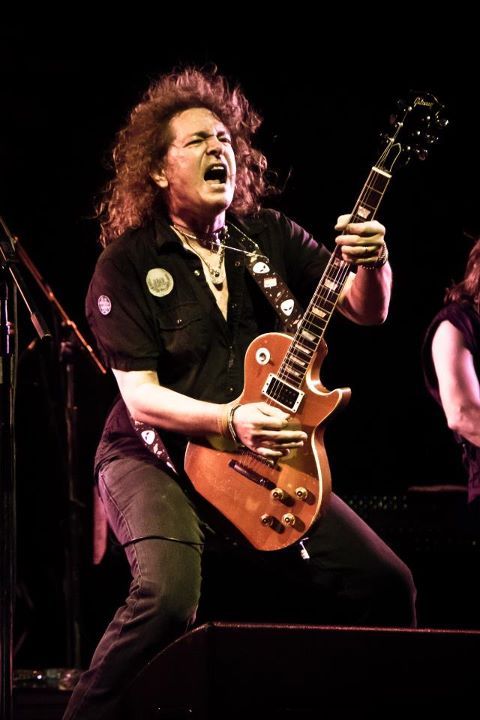 For more details on Y&T and Dave Menketti check out https://www.facebook.com/YandTRocks or http://www.yandtrocks.com/
Check out NI Rocks on Facebook – www.facebook.com/NIRocks or Twitter - www.twitter.com/NIrelandRocks
Photos of Dave Meniketti taken by Jill Meniketti
Last Updated (Thursday, 09 November 2017 22:51)