NEWS UPDATE - Live Album from ARMORED SAINT and Tour Dates
It was announced recently that Armored Saint would be playing gigs in Dublin on 20th March and Belfast on 21st March ahead of their appearance at HammerFest in Wales. Prior to those dates, the band release a live album called "Carpe Noctum" via Metal Blade Records. The album features recordings from 2015 when Armored Saint toured to support the release of the album "Win Hands Down" (http://www.rockradioni.co.uk/back-stage/music-reviews/2071-ni-rocks-recommends-qwin-hands-downq-by-armored-saint.html ). Metal Blade have provided the following press release.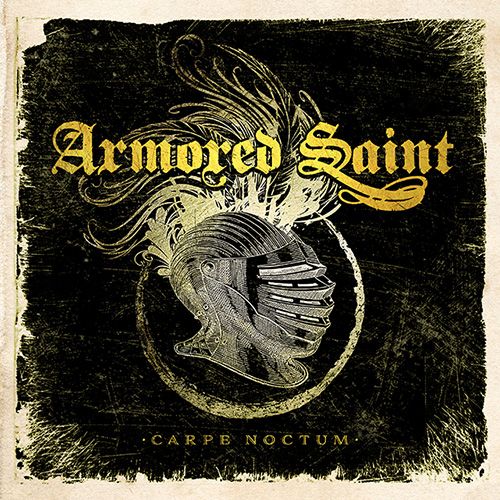 On February 24th, Armored Saint is releasing their new live album, Carpe Noctum. Having toured with Metallica, Whitesnake, Alice Cooper, The Scorpions, and many other artists since their inception in the early 80s, Armored Saint has always been a highly regarded live act - not only in their hometown of Los Angeles, but also around the world. The only official release to capture this, however, is 1989's live album, Saints Will Conquer - until now, with Carpe Noctum, which was recorded at the band's 2015 Wacken festival set, as well as their headlining show in Aschaffenburg, Germany.
For a preview of Carpe Noctum, a live video of "March of the Saint" from the Aschaffenburg show, filmed by Oliver "Bomber" Barth, can be viewed at: http://metalblade.com/armoredsaint/ - where Carpe Noctum can also be pre-ordered in various formats. Purchase your exclusive shirt, vinyl, and more now!
Dim lights Embed Embed this video on your site
To view Armored Saint's PledgeMusic campaign - where every "pledge"/purchase receives a digital download of Carpe Noctum, plus behind-the-scenes content (including footage from Wacken 2015, plus 2016's Ozzfest and Queensryche appearances, and more!) - please visit: http://www.pledgemusic.com/projects/armoredsaint
In regards to the PledgeMusic campaign, Armored Saint comments: "Why PledgeMusic? Our fans have been extremely supportive over the years. We want to share the process of realizing this project with you by giving you the chance to be a part of it, from start to finish. How does it work? You place your orders here and when the album is released, you will get your items in the mail. But throughout the process, you will have access to the regular updates that we will post on this page."
"Carpe Noctum" track-listing
1. Win Hands Down (Live)
2. March of the Saint (Live)
3. Stricken by Fate (Live)
4. Last Train Home (Live)
5. Mess (Live)
6. Aftermath (Live)
7. Left Hook from Right Field (Live)
8. Reign of Fire (Live)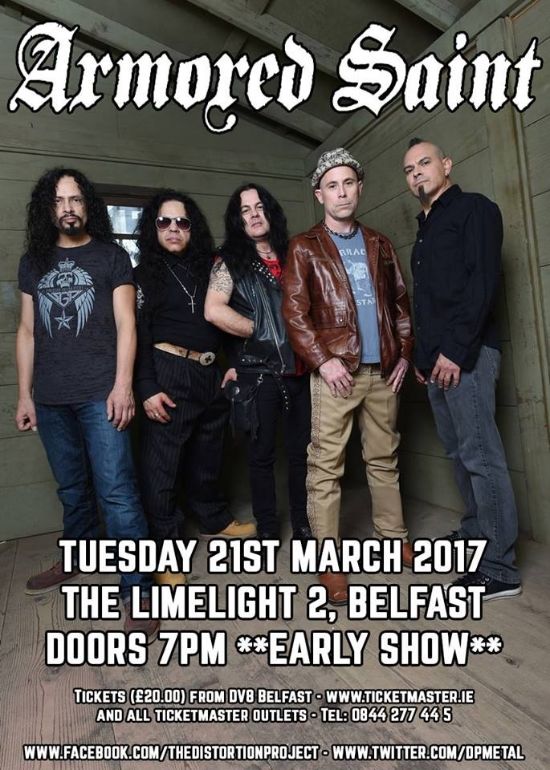 Armored Saint will return to Ireland and the UK this March (appearing in some cities for the first time!), before playing select USA dates in May. Joey Vera (bass) comments: "We're really looking forward to playing these select UK shows in March. We've never played in Dublin, Manchester, Birmingham or Wales, so we're super excited to play in these places - as well as in Belfast, which we'd played only once before. We get a lot of requests from our UK fan base and since we were offered the headline spot at Hammerfest, we decided to hit some of these other UK cities. So, here we go!"
Armored Saint tour dates
Mar. 20 - Voodoo - Dublin, Ireland
Mar. 21 - The Limelight - Belfast, Ireland
Mar. 23 - HammerFest - Gwynedd, N. Wales, UK
Mar. 24 - The Rebellion - Manchester, UK
Mar. 25 - O2 Academy 3 - Birmingham, UK
May 18 - Route 20 Outhouse - Sturtevent, WI
May 19 - Q and Z Expo Center - Ringle, WI
May 20 - Reggie's Rock Club - Chicago, IL
Armored Saint online:
Last Updated (Saturday, 14 January 2017 01:46)