Press Release from Duff Press and additional input from RRNI
Scottish heavy rock titans Attica Rage are set to kick-of their UK / Ireland tour following the release in June of their new studio album "Warheads LTD" via Off Yer Rocka Recordings. The tour includes a show in The Limelight 2, Belfast on Saturday 22nd October with support from Donum Dei and Conjuring Fate.
Attica Rage 2016 Tour Dates

29/09      NEWCASTLE UPON TYNE Head of Steam
30/09      WORKINGTON Carnegie Theatre
01/10      MANCHESTER Rebellion
14/10       CARDIFF, Fuel
15/10      LIVERPOOL The Krazyhouse
21/10      DUBLIN On The Rox
22/10      BELFAST Limelight2
28/10      GLASGOW O2 ABC2
03/11      LEICESTER Duffy's Bar
04/11      CAMBRIDGE Portland Arms
05/11      LONDON Black Heart, Camden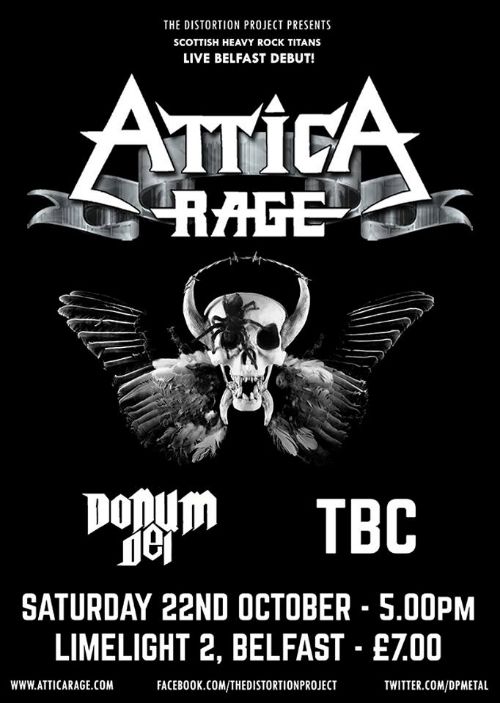 "Warheads Ltd" was produced, engineered and mixed by singer/guitarist Jonny Parr in Attica Rage HQ throughout 2015, with drum tracking and final album mastering completed by longstanding Attica producer/mixer Roddymacaudio. The striking cover art and sculpture was created and designed by Scottish artist Suzanne McAleer with photography by Russell McGovern. A collection of exclusive artworks are featured throughout the CD sleeve and booklet and will be used for single releases from the album.

"Warheads Ltd" is Attica Rage's fourth studio album containing 10 tracks and a total running time of 44 minutes. It is a diverse mix of catchy rock anthems, heavy metal riffs, epic ballads and even a bass solo instrumental track. Lyrically, the album addresses a wide variety of topics including the Scottish independence debate, the business & profits of war, Alzheimer's Disease and the pressures of modern life. Musically, Attica Rage continue to push boundaries and blur the lines between rock and metal with a liberal dose of punk, blues, Southern rock and orchestral scores thrown into the pot.
Album Track-listing
01             Beyond the 45
02             Falling Down
03             Warheads Ltd
04             El Chupacabra
05             All Summer Long
06             Lost In Memory
07             Into the Ether
08             New World Decay
09             Haunted (Prelude)
10             Haunted

Dim lights Embed Embed this video on your site

A healthy appreciation of Black Sabbath, Ozzy Osbourne and Black Label Society can be heard throughout, with the sneer, grit n' snarl of The Almighty and Motörhead. Iron Maiden, Metallica and Anthrax can be referenced too, but delve a little further into the album and there are nods to the Southern-rock roots of Blackfoot and the atmospheric blues of Gilmour's Pink Floyd. Attica Rage proudly wear their influences on their tattooed sleeves.

"Warheads Ltd" is the first Attica Rage album to include bassist Matthew Ward who joined the band in May 2014 and has co-written 2 of the 10 tracks. The line-up is completed by founding members Richie Rage (drums) and his brother Jonny Parr (vocals & guitar) with Stevie Bell (guitar).

Comments Jonny, "Our fans have been waiting long enough for a new Attica Rage album and they deserve something special. 'Warheads Ltd' is our strongest collection yet and we're really excited to finally deliver it to them. We spent a lot of time and effort on each stage of the album creation - from the song writing to the musicianship and performances; to the production & mixing (a huge challenge and learning curve for me personally), right through to the dark, film noir-esque artwork. 'Warheads Ltd' is 100% organically-produced Attica Rage and we guarantee it will have been worth the wait!"

Lead track "Falling Down" was released via Off Yer Rocka in May as a digital single with accompanying video and includes two live bonus tracks: Killer Carousel and a cover of Motörhead classic Overkill, in tribute to Lemmy who passed away at the end of last year.The latest single "All Summer Long" includes a bonus live recording of their cover of The Osmonds "Crazy Horses".
Dim lights Embed Embed this video on your site


Website: http://www.atticarage.com
Facebook: https://www.facebook.com/AtticaRageOfficial